Tue, 30 Dec 2003, 11:33 PM



Reggie Showers to Sit Out 2004 NHRA Season



Courtesy of Star Racing
Photo by:Auto Imagery, Inc.



PHILADELPHIA --
NHRA Pro Stock Bike standout Reggie Showers, whose performance excited the drag racing world in 2003, today announced that he would be taking a sabbatical from the POWERade Drag Racing Series in 2004. The 39- year old Philadelphia native cited the lack of necessary funding and the desire to spend more time with his family as the reasons for taking the year off.
"After much thought, I am going to sit out the 04 NHRA POWERade championship season," said Showers. "I could easily race in 04 and expect to finish somewhere in the top 10, but after the effort that was put forth this year by myself, Prosthetic Design and Star Racing, The NHRA POWERade Pro Stock Bike Championship is my only goal. Pro Stock Bike, like all of the other professional classes, is so expensive to race in and until I secure the needed funding to win the championship I will not compete."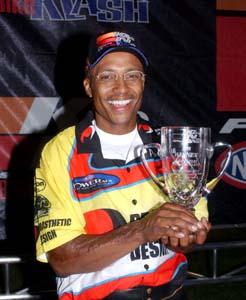 Reggie Showers
Showers, a double amputee whose remarkable comeback from a childhood accident gained him nationwide attention, had a career year in 2003. A nine-year Pro Stock Motorcycle veteran, Showers teamed with championship tuner George Bryce of Star Racing, with the association delivering immediate results.
A threat to win at every stop on the circuit, Showers rewrote his personal record books, scoring the first two national event wins of his career in Indianapolis, IN and Memphis, TN. He also advanced to the championship round in Joliet, IL, earned the first No. 1 qualifying position of his career in Brainerd, MN, and recorded his quickest elapsed time (7.07 seconds) and fastest top speed (194.27 mph).
The highlight of Showers and Bryce's year came during the prestigious US Nationals in Indianapolis, IN, where the Prosthetic Design team won both the biggest race of the drag racing season and the K&N Filters Pro Stock Bike Klash, an annual all-star event also held at Indianapolis Raceway Park.
Of Showers' decision to take 2004 off, Bryce wished him well, saying, "It was an unbelievable opportunity for me to coach Reggie to his NHRA victories and watch him complete his life story of overcoming the odds and achieving his goals. Everyone worked hard to form a remarkable team. The entire Star Racing family will miss him and we look forward to the day when he can return to the racing tour."
Tracy Slemker, Prosthetic Design's owner said, "Reggie has come far, and we've been there with him all the way over the last four years, and we're proud of what we've accomplished together. This year, he's shown potential sponsors what he can do with a well-funded engine program, and a dedicated, professional crew chief. I'm sure that when he chooses to come back to the NHRA, he can come back strong."
"Sitting out the 04 season was a tough decision to make but I have to make it clear that drag racing does not define who Reggie Showers is," said Showers. "I am blessed to have so many more talents other than racing motorcycles. I am truly looking forward to developing those talents in other areas of my life. I have immediately expanded my motivational speaking engagements. During the last few seasons I had to turn down so many requests due to my racing commitments. I am very passionate about reaching out to the world with my personal message of positivity and believing in yourself to accomplish any goal." Showers continued, "this semi-retirement will also allow me more time at home with my family. My daughter Autumn is 5 years old and before you know it she will be asking for my motorcycle keys. I want to be there for my parents as they age as well. I am very excited about this new path that God is leading me down. Thank you for all of your support Racers For Christ."
Showers also took time to recognize those responsible for his success on and off the track. However, he was quick to point out that his days as an active participant in the NHRA's professional ranks were not over, and cautioned his competitors to be prepared for his return to the quarter-mile in the near future.
"I can promise you that I will return to NHRA POWERade competition, but only when the time is right for me," said Showers. "I am currently building a sportsman motorcycle that will allow me to stay sharp with my riding skills. Much "thanks" to all of the NHRA fans, staff, media, ESPN, and my sponsors. And to my competition, I hope you guys are ready for me when I return, more determined than ever."