Tue, 30 Dec 2003, 11:19 PM



And The Winner Is….



By Bob Frey
Photo by:



Last week I mentioned something about the new driver of the
John Force
car being mentioned on some web sites and I said
not to believe everything that you read on the internet (other than this article, of course). Well, this week I have to give props to some folks on the internet who had the story about the AT & T deal going south…and it did. I spoke with three of the teams this week who had been in the running for the deal and they all got the same "Dear Team" letter just two days before Christmas. It seems that the phone giant has decided to put their drag racing plans on hold until the 2005 season. Financial commitments to the upcoming Olympics was mentioned as the reason along with one or two other things. So, one of the most talked about and anticipated new sponsorships in quite some while won't happen…at least not now.
This can be looked at in two ways. First, it's nice to be considered for sponsorship by a company of AT & T's magnitude and the teams who submitted the proposals have to realize that being accepted or rejected is all part of the bidding process. The other way to look at it is that here is a missed opportunity and I know that we all would have liked to see it come to fruition. The unfortunate part is that the news got out in the first place. As one who ran an agency and represented clients for eighteen years I always tried to keep a lid on the deals that were "90% done" or "sure thing" because it seems that they often have a way of not happening. Now let's hope that these teams get another chance to pitch for the '05 season, although I know for a fact that it is a crushing blow to one team.
While John Force may not bring out his dragster and Don Schumacher may not add another car to his fleet, there is at least one team that could be on the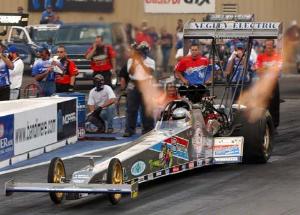 Cory McClenathan
sidelines now and that wouldn't be good for anyone….I spoke with
Darrell Gwynn
this past week and he was hoping to get a positive reaction from the AT & T agency and it will be interesting to see what Darrell does for 2004. He did tell me, in a lighter moment, that he suffered his first (and maybe history's first) wheel chair "blow-over" the other day. Seems Darrell had taken the wheelie bars off his chair because he thought he didn't really need them. Well, it turns out he did! While coming up a hill, the chair tipped over and Darrell took a major header. "I never had a blow-over in my dragster and now I have one in my wheel chair," he told me. Amazing that Darrell can still laugh at himself after all that he's been through. Of course, anyone who has read his book knows that a little thing like this won't keep him down. Now let's just hope that Darrell,
Cory McClenathan
and the entire Gwynn team can join the tour in 2004….
By the way, even though this deal didn't happen, NHRA has a great story to tell and so do all of our professional teams, and with the great marketing and sponsor report that NHRA POWERade drag racing got last year it won't be long before big things start happening. Having been in the ad business for a long time I can tell you that none of these things happen over night…. It will be interesting now to see how John Force's team gets structured since he was, to no one's surprise, in the running for that deal which did require the team to run a Top Fuel car. Now, with that behind him, maybe John can settle in and name the driver for his other car….
One thing that we can all watch for is the upcoming announcement by Jerry Toliver about his new sponsorship program, one that is a "done deal" and one that could also include some major involvement with the NHRA.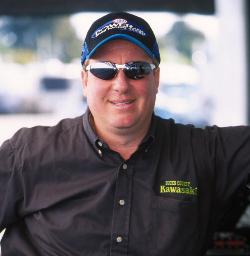 Ken Koretsky
The Pro Stock world continues to see a lot of movement and the sixteen car starting lineup at Pomona could be vastly different from the one we saw at the beginning of 2003. When I look at the drivers who started the first race of '03 I can see at least five who probably won't even be at the next Winternationals. My sources tell me that
Larry Morgan
will field two cars again next year and that the replacement for
Gene Wilson
will be "Captain Chaos,"
Ken Koretsky
. Ken, who has been friends with Larry for some time, will campaign the second Dodge Stratus and has a new truck and trailer and is rapidly preparing to run the entire tour as the second car in that Mopar team. After a few days of testing in
Florida and after working with Larry and
Bob Glidden
, Ken seems extremely excited about the new year. "I can tell you that Bob Glidden is one hard-working guy," Ken told me last week. "It's going to be great to be part of that team with Larry."…In one other switch for next year my sources say to look for
V. Gaines
to switch over and become part of the
Barry Grant
team. "V," who has run with
Ron Krisher
power the past couple of years, will get power this year from
Frank Iaconio,
the same guy who prepares the engines for the "King Demon" man himself, Barry Grant (at least according to what I hear). I happen to think that could be an interesting combo since Gaines likes to dabble with the chassis and Frank makes a lot of power so keep your eyes on the B.G. contingent next year.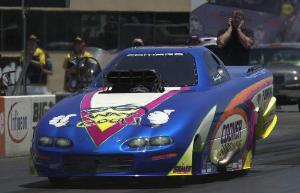 Dennis Taylor
In the sportsman ranks,
Dennis Taylor
has announced that he has signed
"Plumbing
Concepts"
as his major sponsor for next year and that he intends to make a serious run for the Division 7 title. Dennis will still have
Cooner Wire
on the car and has also added
Metro Molded Parts
to his growing list of associate sponsors. With
Ora Vasquez
as the tuner, with Dennis driving and with the financial help from his sponsors, don't bet against him in the D-7 ranks…By the way, when the season opens at Pomona look for
Jeff Wilson
from Division 3 to be on hand and I expect to see him bring both cars, a blown car and an injected one to open the season. As good as 2003 was in the alky ranks, '04 should be even better. Congrats to Dennis, by the way, for starting the season off on a high note and thanks to
Ken Meadows
and
Andy Carlson
and all the folks at Plumbing Concepts for getting on board.