Thu, 1 Jan 2004, 12:15 PM



A Man of Words and Deeds



By Jim Luikens


Photo copyright 2003 Jim Luikens





Earlier this year Rick Green, who was familiar with my work, asked me if I could write a 1,000-word feature every week on some facet of IHRA racing for Drag Race Central. The resulting column has been very well received and I have enjoyed doing it. Because I have received several inquiries about my background I have decided to use my final column of 2003 to let you get to know me a little better. This is the story of Jim Luikens who writes the IHRA feature every week for Drag Race Central.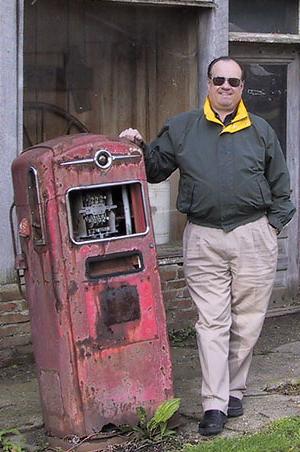 Luikens along Route 66.
As a precocious three year old, Jim Luikens used to amaze his parents by standing between them on the front seat of their 1950 Chevrolet and identifying passing cars by calling out their name and model year. They couldn't believe he could correctly identify so many models at such a young age. However, this was just an early glimpse into a life that would be dedicated and devoted to the automotive specialty and racing parts industry.
Any race car is just a combination of assembled parts. The difference between winning and losing is often determined by the parts selected and how they are mixed and matched to produce the best possible combination. As a result, the importance of timely and cost-effective access to the right components is of maximum importance.
This is a fact that Jim Luikens learned early and well as an NHRA Sportsman Class racer in the late '60s. Possessing a definite need for speed, Jim built his first race car at the tender age of 19. He chose a Pontiac because he had never been a me-too kind of guy and wanted to race something different and more challenging than the more widely used Chevrolet or Ford vehicles.
Ironically, his Pontiac ran so well that he came to the attention of Berger Chevrolet in his hometown of Grand Rapids, Michigan. Subsequently he was asked to join their developing High Performance Parts Department in late 1968. Adapting quickly, he was appointed department manager within 18 months. Over the next five years he built Berger into the number one Chevrolet high-performance parts outlet in the United States.
Because General Motors had been "Out of Racing" since 1963 Chevrolet had been forced to develop a system of identifying their factory high-performance parts by obscure and roundabout listings in their parts books. In effect they were hiding their involvement in the performance market in plain sight to comply with the corporate edict. Every dealer has access to every part that Chevrolet offers but the casual observer never knew exactly what part to order to get the exact part that he was seeking.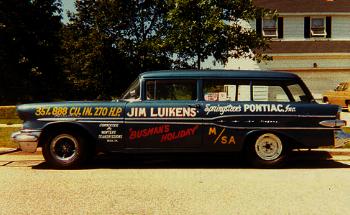 G/SA '57 Pontiac Chieftan NHRA Stocker
Eventually cracking that code meant that Luikens could order the special high-performance factory parts that were available, but not obvious. His next job was to sell them. With the enthusiastic support of company president Dale Berger, Jr. he created a catalog that listed the available parts and advertised that catalog's availability in trade and enthusiast publications.
Additionally, Berger's advertising agency Johnson & Dean created a line of consumer ads that featured Luikens and his expertise as well as listing key parts and their prices. Remember that this was only 1971 and these ads predated the use of company spokesmen like Lee Iacocca at Chrysler and Victor Kiam at Remington Shavers in advertising.
The Berger ad series was also the first to use the listing of key parts and their prices instead of a general theme ad that promoted the entire product line. This form of advertising has since become an industry staple and is used extensively in the mail-order industry. Jeg's and Summit in the performance parts market and The Tire Rack in the performance tire market are typical current users of this style of advertising.
With the advertising campaign in place Berger's performance parts sales took off. No longer was a racer isolated by distance or locale from the parts he needed. By 1973 Berger was the number one seller of Chevrolet High-Performance parts in the United States. Sales exceeded 1 million dollars each in calendar years 1973 and 1974. While still an impressive amount today, that was a remarkable dollar figure for the mid-70s.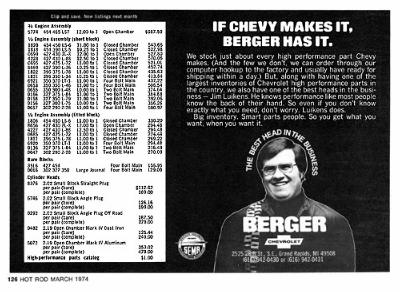 To augment their catalog and advertising campaign, Berger sponsored a number of local and national racers. Berger's name was seen on nationally campaigned cars like Jungle Jim Liberman and Pete Seaton (NHRA Funny Car), Jim Bucher (NHRA Top Fuel), J. D. McDuffie (NASCAR Grand National), Charlie Glotzbach (USAC Stock Car) and Jim Butcher (Can-Am). John Benson, Sr. at the local oval track and a host of local drag racers rounded out their sponsorship arsenal. Later, Chevrolet released the first of their series of Chevy Power books and they incorporated many of the features, like part numbers, specs and torque values, which had been found in the Berger Catalogs.
In 1975 Jim jumped at a chance to join Mr. Phone, the marketing arm of Mr. Gasket and other leading performance parts companies. While still based in Michigan he worked closely with A&A Fiberglass of Atlanta Georgia, founding their race support program and becoming their first racing coordinator. When Joe Hrudka repurchased Mr. Gasket from the W.R. Grace conglomerate in 1981 Jim was one of only eight Mr. Phone employees asked to stay on board to form the nucleus of the new Mr. Gasket marketing team.
In 1986 opportunity knocked again. Autostyle, a well known Michigan based tier one producer of body and trim pieces for the auto industry was interested in establishing a car conversion division (similar to Cars & Concepts) that would install the parts that they manufactured. Despite having the highest seniority of any Mr. Gasket sales person at the time the lure of spearheading an entirely new division was too great and Jim accepted the position. Two years later Masco, Incorporated purchased Autostyle to obtain their proprietary parts molding expertise and Jim's career took another turn.
Since Masco already owned the more well established Cars & Concepts firm they had little need for Autostyle's growing car conversion division and Luikens' corporate days were numbered. Fortunately, it was at this time that the personal computer revolution was gathering momentum and Jim was quick to recognize the impact that desktop publishing was going to have on the way that marketing materials were created and produced.
With twenty-one years of experience at that point in the performance parts aftermarket, Jim decided to switch his attention from sales to marketing. Although some people use these two terms interchangeably they are actually quite different in application. A marketing department typically determines what needs to be manufactured and how it will be sold. In an ideal situation the sales department follows marketing's direction and does the selling.
The "new" Rise Sales (the name was carried forward from his rep days) opened in September of 1988. Starting with just one client, the business grew quickly. Someone that has played a significant role in the evolution of Rise Sales is Roger Rosebush. Roger originally hired Jim's agency to produce a custom wheel application guide while he was the National Sales Manager for Mangels Wheels of Sao Paolo, Brazil.
Although the job proved to be much larger than even he originally envisioned, Luikens persevered and eventually produced a groundbreaking guide. This lead to other projects for Mangels and, ultimately, to a memorable opportunity. In 1993, buoyed by the success that the application guide brought Mangels, Roger hired Jim to produce a complete set of marketing materials built around a common design theme.
The finished result was spectacular and the decision was made to enter the set of materials in the Best New Catalog competition at the annual SEMA/AI Show in Las Vegas. At the annual industry banquet during show week the winner is announced and, for 1993, the winner was Rise Sales and its Mangels suite of materials. To this day this remains Jim's proudest accomplishment. As Jim says, "to go to Las Vegas and have your work named the best of the best by your peers is a thrill that will probably never be exceeded for me. It is the equivalent of winning Indy or the Daytona 500 for a driver."
Although this is Jim's favorite honor it is far from his only. In 1982 he was named a Car Craft Magazine "High Riser" and in 1997 won a prestigious Moto Award for excellence in journalism. He has had two of his collector cars, a Mercedes-Benz 450 SLC and a Pontiac GTO Judge, featured in different issues of Automobile Quarterly and each was also eventually used on posters devoted to the respective makes.
Jim is thrilled with the success his clients have achieved using his materials and proud of the success stories he has helped to craft. Unlike some agency owners he is content to take a low profile and let his work do his talking for him.
"My soft-spoken nature is sometimes mistaken for aloofness but that is just my quiet intensity showing through. I am not able to turn my intensity on and off at will. I usually have one or more projects taking shape in my head and I have little time for idle chitchat. Some people can' t believe that my work is as good as it is because I am not based in a major market. Actually location has little to do with creativity."
"Years ago I saw a bumper sticker that said: grow where you are planted," adds Luikens. "While I have always desired to live in a warmer climate, I have no regrets about living in Michigan. I was born in Grand Rapids and have lived my entire life in Western Michigan. I'm proud of the contributions that I have made to the sport and industry that I so dearly love. I have 35 consecutive years in this industry and obviously Michigan has served as a great base."
Many things that Luikens pioneered during his Berger days are well remembered even to this day. Last year Super Chevy magazine included a reprinted version of an early Luikens/Berger ad in its 30th Anniversary edition. And ironically while this biography was being prepared IHRA Top Dragster racer John Gossen of Syracuse, New York phoned on an unrelated issue and the first thing he wanted to know was if this was "the" Jim Luikens that used to work at Berger Chevrolet in the '70s.
Not much has changed from those days long ago on the front seat of his parents' car. Jim Luikens is still doing the improbable and leaving a trail of speechlessness behind him.