Thu, 1 Jan 2004, 12:33 PM



Wilkerson Prepares for the Future as His Career-best Season Comes to a Close



Courtesy of Joanne Dawson



SPRINGFIELD, Ill. --
As we prepare to ring in 2004 with celebrations full of anticipation for new beginnings, NHRA Funny Car owner, tuner and pilot, Tim Wilkerson takes a moment to reflect on the past year and look forward to the new one. 2003, his first full year campaigning the Levi, Ray & Shoup (LRS) Funny Car, was full of accomplishments, milestones, hard work and good times. With two National Event wins, two No. 1 qualifying positions, a career best mph, career best E.T. and a seventh place finish in the Powerade Championship Points Standings, Wilkerson proved that you don't need to be a multi-car team to be competitive. In 2003 Wilkerson laid the foundation for an outstanding 2004 and beyond.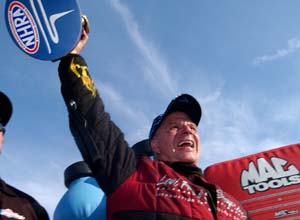 Wilkerson celebrates Indy win.
"Looking back on the 2003 season, I have to think that things went pretty well our first full year on our own," expressed a contemplative Wilkerson. "Winning the U.S. Nationals has to be the high point of the year and of my career.
"I'm sure the competition will be even tougher in 2004, with the addition of more quality teams. We have been working on some new things to bring our program to the next level for 2004. We're looking at the backset intake manifold, which was used by a few teams in 2003 and some real hi-tech ignition pieces MSD has for use. Also getting a chance to run a new body from GM will be a real welcome change. They have been working hard to get us to the level of the Ford used by Team Force and the Dodge used by Team Schumacher. Our old Pontiac has served us well, but it is time for a change. I am hopeful that all these changes will make us a consistently faster team. I have heard some talk of 85% nitro vs. 90%. We will just have to figure a way to deal with that.
"I think we would have to say that our goal for 2004 is to qualify for the Skoal Showdown at Indy and finish in a higher position in the Powerade Points Standings. Our off-track goals are to get more LRS customers and race fans more familiar with our team and realize some additional benefits of being involved with LRS.
"I would like to thank everyone involved with sponsorship of the LRS Funny Car this year; Don Sitter (Clevite Engine Parts), Scott Negley (Negley Electric), Fram, Autolite, Tony Merritt and John Aden of Mac Tools, Bill Rush and Kevin and Cory Christensen of Souix City Truck and Trailer and of course, Dick Levi of Levi, Ray & Shoup. The support Dick has given the team over the past four years has made all of our accomplishments possible. Last but not least, I would like to thank all the fans and my team. My thanks go to all the fans that e-mail and send me letters, the Wilk Warriors and all the LRS customers. Thanks also to the guys at the shop who keep the business going while I'm away. Thanks to my crew, which I would stack up against any out there. I believe that we were the only Top 10 Funny Car not to be tagged with an oil down all season. And a very special thank you to my wife, Krista, who keeps the house going, kicks the kids when they need it, and always finds a way to make me think I'm the best husband, friend and Funny Car pilot on earth.
"I know you're suppose to make New Year resolutions, but I really don't believe in resolutions. I think that you get what you work for, so with that thought in mind, I wouldn't want to be a competitor of the LRS Funny Car team in 2004."