Fri, 23 Feb 2007, 09:18 PM



Hight, Schumacher and Line are Qualifying Leaders at Checker Schuck's Kragen NHRA



Courtesy of NHRA Communications


Photo copyright 2007 Auto Imagery, Inc.





CHANDLER, Ariz. --
Nationals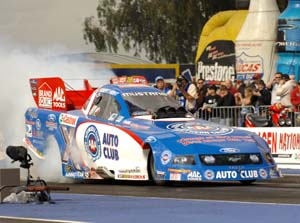 Robert Hight
Robert Hight raced to the quickest Funny Car run in NHRA history Friday at the Checker Schuck's Kragen NHRA Nationals at Firebird International Raceway near Phoenix.
Hight's performance of 4.636 seconds at 327.74 mph in his Auto Club Ford Mustang overshadowed Top Fuel leader Tony Schumacher's track record time of 4.430 seconds, the fourth-quickest run ever in that category. Defending Funny Car race winner Tommy Johnson Jr.'s top speed of 330.88 mph in his Skoal Racing Chevy Monte Carlo also was a track record. In Pro Stock, defending series champ Jason Line paced his category.
Twelve days after running the quickest pass in Funny Car history -- a 4.646 at 326.95 mph at the season-opening Winternationals in Southern California -- Hight lowered that mark by a hundredth of a second.
"The numbers on that E.T. slip are just unbelievable," said Hight, who can certify the performance as a national record if he clocks another run within 1 percent during the rest of the weekend. "I never thought a Funny Car would run times like this one does. It's all on [crew chief] Jimmy Prock and this Auto Club race team. They're giving me a fantastic car."
Tony Pedregon was second best with a 4.659 at 324.44 mph in his Q Racing Monte Carlo, while newcomer Ashley Force used a career-best 4.730 at 319.82 mph to place her Castrol GTX Ford Mustang fifth, 10 spots ahead of her 14-time champ father John Force (5.507 at 232.99 mph.)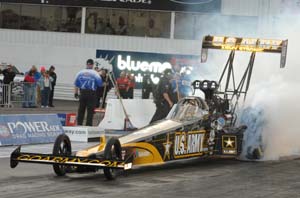 Tony Schumacher
After watching the Funny Car category post quick numbers, the heavy hitters in Top Fuel made it to the starting line. Four-time and current series champ Schumacher didn't disappoint, zipping to a 4.430 at 328.22 mph in his U.S. Army dragster to easily pace the field.
"Alan [Johnson, crew chief] was watching all the big numbers going up in front of us and he came back and said, 'Well let's get in the [clutch timer] box, we don't want to embarrass ourselves,'" Schumacher said. "I reached down and grabbed the belts and pulled them even tighter. We all know what he's capable of."
Valvoline/David Powers Homes-sponsored pro "Hot Rod" Fuller led after the first session with a 4.471 at 331.61 mph, but his dragster lost traction in the second round and slipped to second place. Melanie Troxel, a finalist here one year ago, is third with the only other 4.4-scond pass of the day, a 4.495 at 331.12 mph in her Vietnam Veterans Memorial dragster.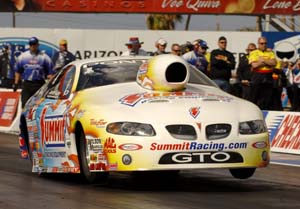 Jason Line
In Pro Stock, Line took advantage of the exceptionally cool temperatures to post a track-record performance of 6.642 at 208.84 mph in his Summit Racing Pontiac GTO.
"It's going to be fast all weekend here with this cooler weather," Line said. "As everyone in the class gets used to the track the entire field will pick up. We have some left and I'm sure everyone else does also. It sure makes it fun."
Qualifying continues Saturday at noon and 2:30 p.m.