Tue, 6 Feb 2007, 10:22 PM



Let The Games Begin!!



By Bob Frey


Photo copyright 2007 Auto Imagery, Inc., Clark Oden & David Allio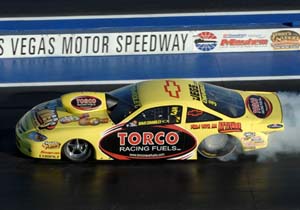 Dave Connolly
Even though there is still some testing going on in Las Vegas, for the most part all of the teams have done just about everything they can in order to get ready for the 2007
NHRA POWERade
drag racing season. Following the big test sessions in
Las Vegas
and
Phoenix
it appears that some of the strong teams from last year are going to be strong again while there are a lot of new teams who could be real spoilers this year.
Tony Schumacher
looked great in
Phoenix
, the
Team Force
cars looked good in Vegas and
Arizona
and the
Victor Cagnazzi
cars of
Jeg Coughlin
and
Dave Connolly
were impressive at the
Pontiac Pro Stock Showdown
. Of course none of that really means anything now because it's a whole new year and everyone is starting out with the same amount of points.zero!! By the way, you'll want to remind yourself of that after the
Maple Grove
race later this year when the eight teams and drivers in each class are set for the "Countdown to the Championship." Remember that everyone started out even and all of the teams had the exact same opportunity to make the "Countdown" and, eventually, win the championship. As much as I would like to believe that everyone will keep that in mind I'm sure there will be some discussion about the format as the "Countdown" draws near. But for now, let's just think about the Winternationals.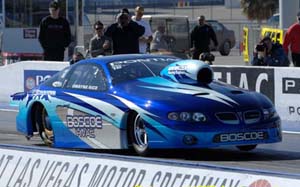 Dwayne Rice
With so many big things happening this year I wonder what the biggest story will be in
Pomona
? Tony Schumacher is going for four consecutive Top Fuel titles.
John Force
is closing in on qualifying for 400 consecutive races.
Ashley Force
is making her professional debut and
Kenny Bernstein
is returning to the Funny Car field. You also have
Jeff Arend
joining the
Checker, Schuck's and Kragen
team while
Whit Bazemore
is moving to the Top Fuel class.
Rod Fuller
and his
David Powers'
team are debuting the new mono-strut wing on their car while
Jack Beckman
begins a full season in the Funny Car class for
Don Schumacher
.
Jason Line
comes into the new season as the Pro Stock champion while the class will also see several new faces, most of whom have done very well in other forms of drag racing. Among them are
Dwayne Rice
, a former IHRA standout,
Rodger Brogdon
, a star in the Competition Eliminator ranks and
Justin Humphreys
who was a champion in the Sport Compact series.
Jeg Coughlin
, who ran so well in
Las Vegas
during the test sessions, will return to Pro Stock as will
Tom Hammonds
, the former basketball star while
Erica Enders
will look to join Ashley,
Melanie Troxel, Angelle Sampey
and other women in the professional winner's circle this year. Sure looks like a lot of great stories to talk about this year and it all begins in just a couple of days....This is the 47
th
running of the
CARQUEST Auto Parts
Winternationals
which puts it second on the all time list behind only the U.S. Nationals in the longevity department. On the personal front,
did you know
that John Force will be making his 29
th
Winternationals' appearance while
Warren Johnson
will make his 28
th
and Kenny Bernstein his 26
th
?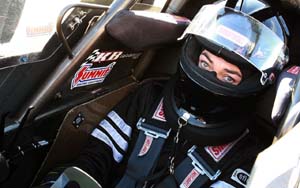 Hillary Will
In Top Fuel,
Hillary Will
will be racing after her nasty crash during the test session in
Las Vegas
on Saturday. I had a chance to speak with Hillary after the incident and she was very matter of fact about it. "We all know the risks when we get in these cars," she said. "I had a pretty bad accident and came out of it with only a few bumps and bruises and that gives you a lot of confidence when you get back in the car." Hillary chronicles the entire incident in her blog on
NHRA.com
and I think you'll find her comments very enlightening. I have always said that she is a tough competitor and a real asset to the sport and her actions after the accident only reinforced those opinions. How neat would it be for her and her
Ken Black
-owned team to come to
Pomona
and run well on Thursday and then go rounds on Sunday? Going rounds in Top Fuel, or any of the pro classes this year won't be easy since all of the classes are loaded with talent, and with eight spots up for grabs as opposed to the normal "top ten," every race and every run will be very important...
Cory McClenathan
and the
Fram
team looked very good in their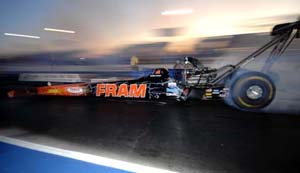 Cory McClenathan
test sessions and they could prove to be very tough to beat in 2007. Cory has a great team which is led by
Wes Cerny
and I look for them to have a very good year. If he hopes to do that Cory will have to break a three year slide at the Winternationals.
Did you know
that Cory hasn't advanced past the first round at
Pomona
since his runner-up finish in 2003? With fifteen previous Winternationals behind him, and a couple of very memorable runs, Cory knows what it takes to win in California and he is my sleeper in the field going into this weekend....
Larry Dixon
and the
Don Prudhomme
team have been quiet during the off season. Sure, they tested in
Phoenix
and, with four new crew members, just finding out where all the tools go can be part of the learning process. This will be lucky number thirteen at the Winternationals for Larry and
did you know
that he is still the only Top Fuel driver to win this race in consecutive years? With the formal announcement of their new sponsor coming this week, it will be interesting to see how Larry, crew chief
Don Bender
and the rest of the team do at the first race of the season. In addition his to consecutive wins in 2002 and 2003, Larry also won the race in 1998 which puts him second on the all time win list at the first race of the year.
Did you know
that only
"Big
Daddy" Don Garlits
, with his five wins, has won this race more times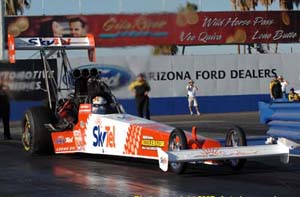 Larry Dixon
in Top Fuel than Larry Dixon has?
How tough is it to win this race more than once? Well,
did you know
that twenty four Top Fuel drivers won this race one time and included on that list are such greats as
Gary Beck, Darrell Gwynn, Mike Dunn
, Don Prudhomme and Larry's dad who won the race back in 1970....
Alan Johnson
and the
Army
team, with Tony Schumacher driving, stunned everyone with their final round shot at the last race of the 2006 season and they'll try to duplicate that feat this weekend. If anyone can make a lot of power and win in
Pomona
it has to be Alan.
Did you know
that since 1970 only one driver has swept the first race of the season in Top Fuel? That means that he was the number one qualifier, set low elapsed time, top speed and won the race. And do you know who that was?
Blaine Johnson
, with Alan tuning, did it back in 1996 and, other than that, no Top Fuel driver has run the table at the Winternationals in almost forty years. And
did you know
that Blaine and Alan are one of only two teams to win the last race of the year in
Pomona
one year and then win the first race the next season? They did it in 1995 and '96 and the only other one to do it in the dragster class was Don Garlits in 1974 & '75. Having said all of that does anyone care to bet against Tony and Alan and the Army team this week? And just to show you how tough Blaine and Alan were,
did you know
that they were one of only four TF teams in the last twenty-five years to win the Winternationals from the #1 spot? Like I said at the awards ceremony last year, I want to be Alan Johnson's agent.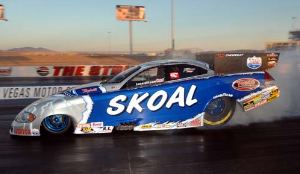 Tommy Johnson
With Ashley Force joining the ranks of the professional Funny Car drivers and with Kenny Bernstein returning, the class just got a whole lot tougher. Qualifying will be tough and winning will be something special and the eight teams that make the "Countdown" will have earned it. Even before the first race of the season try to sit down and pick the eight that you think will survive and I guarantee you it won't be easy....
Tommy Johnson
opens the season with his new
Skoal Impala
Funny Car and that could be a big equalizer this year. Tommy, who has won one of the first two races in 2005 and 2006 hopes to get off to another fast start as he looks for his first series championship. Tommy returns with the entire crew from last year and that's a real plus for the team. With
Mike Green
calling the shots the Skoal car should be one of the eight who make the cut at the end of the year. With all of the high profile crew chiefs out there, I have always said and will say again that Mike is one of the most underrated guys in the sport and he deserves a lot of credit for what Tommy has accomplished the past few years. He also worked with the GM folks on the new Impala body and that should help the team immensely during the season. With one Top Fuel car and one Funny Car in his stable, Don Prudhomme has a pair of cars that can contend for the championship
....
Don Schumacher,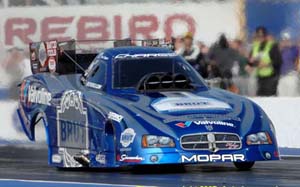 Ron Capps
who was part of the Funny Car final back in 1973, has assembled a great Funny Car stable for the 2007 season.
Ron Capps, Gary Scelzi
and
Jack Beckman
all could win the championship this year and all three should certainly make the "Countdown" at the end of the year. For his part, Ron Capps and his new
Brut Revolution
Dodge,
got everyone's attention with a solid 4.67 during the
Phoenix
test session and that has put Ron in a very good frame of mind heading into race number one.
Gary
, meanwhile, hopes to rebound from a tough 2006 season and put his
Mopar /
Oakley Dodge
right back in the title chase. And Jack, with his
MTS Dodge
, wants to prove that those two great races at the end of 2006 weren't just beginner's luck.
Todd Okuhara
, who like Mike Green, deserves more respect than he gets, teams with
Phil Shuler
and the rest of the team to give Jack a very strong ride. "My crew guys are T.O.P.S.," Jack said. "Get it,
T
odd
O
kuhara and
P
hil
S
huler...TOPS." Hey Jack, if you have to explain it it isn't funny, but it is true. Todd and Phil had Jack running better than anyone at the end of last year and, like the Army team, it will be fun to watch and see if they can pick right up where they left off the last time we were in
Pomona
. The car, team and driver all had a good test session and Jack appears ready to go. With a new ride, a new wife and soon a new baby it has been a busy few months for "Fast" Jack....
Del Worsham
,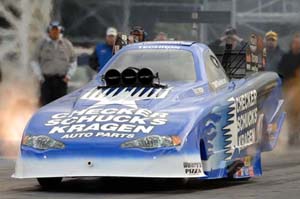 Jeff Arend
who would like to forget most of 2006 and, probably, all of the last race of the year, enters the new season with renewed enthusiasm and a desire to return to top ten, or top eight status.
Did you know
that
Del
missed the top ten for the first time in ten years when he finished eleventh last year? And
did you know
that he didn't win a race for the first time since 2000? With a lot of new crew guys on his CSK red car,
Del
would love to get off to a fast start in '07. He does still have veteran
Terry Snyder
with the team but there are also a lot of new faces and that can test even the best teams. With a great wife and two wonderful children, with a nostalgia Funny Car (the Blue Max), a bowling alley in the shop and his dad as crew chief, Del would appear to have everything going in his favor this year, but he knows how tough it will be in the FC class and he seems ready for the challenge...Jeff Arend will be Del's teammate in the CSK camp this year and he really enjoyed himself during the test sessions. "We did what we wanted to do and I can't wait for Thursday (the first day of qualifying) to get here. I am so excited." Aren't we all?...After qualifying is over on Saturday, check the standings and then pick your favorite, but remember a few things.
Did you know
that in the past twenty-five years the number one Funny Car qualifier has only won the Winternationals two times, and both of them were done by John Force? Only seven times in the last twenty-five years has a FC that qualified in the bottom half of the field won the race and, ironically, that happened three times in the last three years.
Robert Hight
won it last year from the number twelve spot, Tommy Johnson won it in 2005 from the twelfth spot and
Jerry Toliver
won it in '04 after qualifying fifteenth.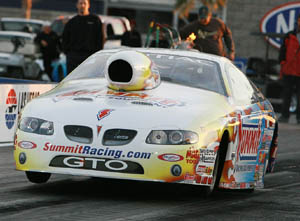 Jason Line
Pro Stock may be the most wide open class this year with at least a dozen teams having a real shot at winning the whole thing. Of course the two
Summit Racing
cars of Jason Line and
Greg Anderson
have to be considered favorites, at least until someone can prove that they can run with those two GTO's. When I left
Las Vegas
on Sunday Greg told me that he and his team would stay there and test "until we stop messing up." The team, which is owned by Ken Black, hasn't "messed up" much during the past four years and they have to get the early nod as the favorites again this year. But after what I saw from both Jeg Coughlin and Dave Connolly in testing, and with as strong as some of the Mopar teams are, it should be a great year in the Pro Stock class. And if qualifying is big in the Funny Car class, how about this?
Did you know
that only one driver has won the Winternationals after qualifying in the bottom half of the field in the last twenty-five years? One!!
George Marnell
won from the last spot in the field in 2002 but other than that, if you're not in the top half of the Pro Stock field you could be in big trouble this weekend....
Greg Stanfield, Tom Martino, Allen Johnson
and others all look strong going into
Pomona
and the rest of the field isn't far behind them. I think it's imperative for the other teams to stop Jason and Greg this weekend if they want to contend for the title. I know, it's a long season, but you don't want to let the Summit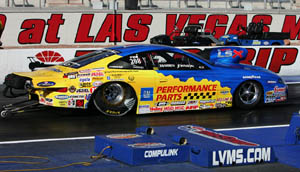 Warren Johnson
Pontiacs get out of the gate fast or you could be in real trouble....
Warren Johnson
will be making his 28
th
appearance at this event and he has five wins which is second best in the class to
Bob Glidden's
seven victories. Warren, who will be inducted into the International Motorsports Hall of Fame later this year, is committed to driving his
GM Performance
Parts Pontiac
for this year and told me that he'll make a decision on 2008 "later in the year. Let's take things one at a time." That one thing will be the Winternationals which first saw Pro Stock as a class in 1970.
Did you know
that
Warren
's first Winternationals' event was way back in 1976, and not surprisingly he qualified well (#2) and won a round before losing to
Wayne Gapp
?
Warren
still has that old spark and we'll see if he found some power or consistency over the off-season and if
Terry Adams
can help him out this year. If so, WJ could make a run at his 100
th
national event win.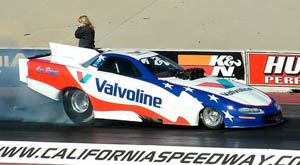 Jay Payne
The Top Alcohol Dragster and Funny Car fields are loaded for Pomona with all of the top west coast cars on hand as well as a couple of invaders from the east.
Frank Manzo
, who was runner-up to
Jay Payne
at last year's event, made some practice runs in
Las Vegas
this weekend and he appears ready to defend his series' championship. Frank ran 5.55 and, while that's good, his friend Mr. Payne went 5.53 in Vegas a few weeks ago. With a field that is loaded both in quality and quantity, the TAFC race could be the highlight of the weekend, at least for some of us.
Steve Federlin
crashed his dragster in Las Vegas on Sunday and, while he wasn't hurt, he did admit to being a little sore after the incident. Steve and his wife, Patty, have faced so much over the years and I hope they are able to rebuild and rejoin the tour. Steve is an inspiration to all of us and if he can go on without too much complaining then we should be able to do that, too. At least he wasn't hurt and if I know him, we will see him on the track before very long. At least let's hope we do.