Sun, 4 Feb 2007, 11:42 AM



Dave Connolly Kicks Off New Season with Pontiac Pro Stock Showdown Victory



Courtesy of Jeff Romack


Photo copyright 2007 Auto Imagery, Inc.





Chevy Cobalt Driver Defeats Jim Yates in All-GM Final Round



LAS VEGAS --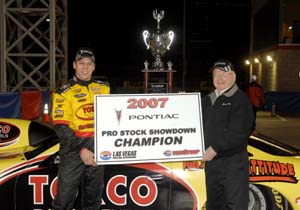 Dave Connolly and Fred Simmonds
Chevrolet's Dave Connolly made a case today for why he will be a contender for the 2007 POWERade Pro Stock championship. The 24-year-old Ohio native defeated two-time NHRA champion Jim Yates in the final round of the Pontiac Pro Stock Showdown held at The Strip at Las Vegas Motor Speedway.
"Every car out here will be at Pomona next week," said Connolly. "So to have the Torco Racing Fuels Chevrolet run so consistently and come out on top is definitely a morale boost for this team and all the guys at Cagnazzi Racing. We have our own in-house chassis program and I think this may be the first win for our program in Pro Stock. The guys in the engine shop, Joe Hornick, Steve Johns and Nick Ferry, they all do an excellent job and with the kind of numbers our Chevy Cobalt ran today, it showed."
Connolly qualified his Torco Racing Fuels Chevy Cobalt in the No. 6 slot with a 6.707 e.t. at 205.51 mph. He defeated Kurt Johnson in round one, Greg Stanfield in round two, and Mike Edwards in round three before squaring up with Yates in the finals. In the championship heat, Connolly's Chevrolet was out of the gates first with a .032 reaction, and was able to hold off Yates' Pontiac at the stripe, with a winning 6.714 e.t. to a 6.742-second run. The margin of victory was .037 of a second.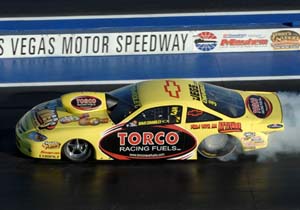 Dave Connolly
"I feel like we have all the pieces in place to have a great season," said Connolly. "I have a terrific teammate to race with in Jeg Coughlin - his stats speak for volumes and there's a lot I can learn from him about being a better racer. With both Chevrolets, we're always looking to improve, and we take advantage of the situation anytime we can test together.
"This may have not been a race for points, but to me, a win's a win in my book. When you can get by some of the drivers we did today, that's always an accomplishment. Drag racers are very competitive people and any time you can pick up a win, whether it's a Saturday night street race or the Pontiac Pro Stock Showdown, you still want to pick up the trophy at the end of the day. Everyone was out here in race trim this weekend, the field was very close together and it just happened to be our lucky day."
Jim Yates qualified the Wiley X/Sea Ray Boats Pontiac in the No. 12 position with a 6.723 second run at 205.29. During eliminations Yates' Pontiac posted bracket-car-like numbers running 6.747 seconds in round one, 6.732 second in two and 6.742 seconds in round three. He defeated V. Gaines, Jeg Coughlin Jr. and Max Naylor (in that order) to reach the all-GM final.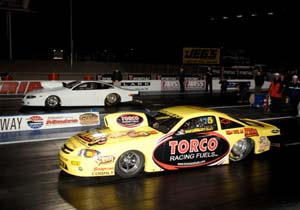 Connolly vs Yates
"Not a bad weekend at all," said Yates. "This is a brand-new Pontiac GTO with only about seven runs on it, so there are a lot of things we're still trying to work on to get it ready for Pomona. At the same time, I feel like Bill (Jenkins) has found us some horsepower over the winter and now we just have to figure out how to get the most out of it with this new car."
Three GM-branded cars including the Pontiac GTOs of Jim Yates and Mike Edwards, and the Chevy Cobalt of Dave Connolly, advanced to the final round of today's Pontiac Pro Stock Showdown. Edwards qualified in the No. 10 position with his Young Life Pontiac running 6.715 seconds at 204.79 mph. Edwards defeated Tom Martino in round one, and Allen Johnson in round two before losing to Connolly in round three.
"I'm not really happy with what I'm seeing as far as the way my car's been running," said Edwards. "Our 60-foot times were good but we're not running the speed or back-half numbers like we were hoping. I'll be honest with you, for some reason I struggle here. I've changed a lot of parts here today and still can't put my finger on it. We have a couple of more days to test so we'll change motors tomorrow and see what we can come up with."
In his first contest of any kind with GM DRCE3 power, Greg Anderson's Summit Racing Pontiac GTO took low qualifying honors with a 6.694 second e.t at 205.98 mph. Anderson lost in round one to Warren Johnson.
"We have a new car, a new engine and some new team members" said Anderson. "We're going to need some laps to get everybody in sync with each other and to start thinking about racing. You take two months away from the racetrack, and when you get back it's like you've never been there before. We're going to stay here a couple or three more days to get everybody in race mode, and get ready for Pomona. We have three new guys on the team and it will take awhile for them to learn the system and everybody to realize what they should be doing. The equipment's here, and without a doubt, this Summit Racing Pontiac is going to run fine."
Additional driver's comments:
Greg Stanfield (NitroFish Pontiac GTO) - "We've had a couple of really good days testing here this weekend, and to be honest, we've had a pretty good winter. We dropped a valve in the second round against Connolly and that was a little bit of setback, but nothing too serious. We keep trying to improve and learn from our mistakes. We didn't do too much testing over the winter so this was a great opportunity to really shake the car down before Pomona. The focus of most of our work was on the engine program and this was our first opportunity to see how good the whole package is going to be. Both motors we brought out here went 6.69, and considering this Pontiac's running close to the low e.t. of the meet, we're pretty happy with that. We'll find out next week if any of these teams are sandbagging, but I can't think of any good reason to do that. Over the next two days we have two more motors we're going to try, we'll compare those to the two we've already run and then we'll go to Pomona to start the season."
Tom Martino (Skull Gear Pontiac GTO) - "We struggled some on Friday trying to negotiate the track and we ended up out tricking ourselves. Last night, we decided that instead of trying to be too fancy, we would go to a setup that had worked for us here before. We put our combination back to the way we ran it at the race here last October. We made two really good runs in qualifying and then I got too aggressive with the setup in the first round. I didn't think the track would go away so really our performance was nothing worse than a bad call on my part. We came back, put up the 6.72 and that ended up being the third fastest of the session - and that was with our No. 4 engine. That was a very nice run, and although it wasn't outstanding as Koretsky's 6.69, but with that combination it was a very good run. If we can make three of the four we made today at Pomona, then we're in the hunt. You can't say you're going to win because there are 12 other guys that are just as good and there are three or four that are actually better.
"We came to Las Vegas to test some engine stuff and we had a clutch issue early - the fingers in the clutch were messing up and that put us behind the 8-ball. We got out of testing-engine mode and started concentrating on making better runs. That's what happens. It's like when you don't make a good run in the first qualifying session, you tend to make additional errors. This morning we changed it all back around to make sure we qualified. We went out and ran good. The two 6.70s were good runs and the second run was a little soft. If I'd had gotten after it we definitely could have run a 6.69 and that was with the weather being worse. Both of those run corrected back to the high 6.50s. We know we have both our clutches back to where they need to be and we'll put another set of tires so that we have three sets to choose from in Pomona. Right now, since we're not testing tomorrow, we getting fully prepared for the first race, getting through Pomona and Phoenix, hopefully going a few rounds, and I think by the time we get to Gainesville (Fla.) our engine program will really start to play a factor."
Tom Hammonds (Hammonds Enterprises Chevy Cobalt) - "We needed to get this racecar down the track to gather the information we're going to need to make the right decisions. Now we're making progress because we've done that and we've established a baseline to build on. Now we'll start to tune on it. These motors are brand new, and that puts us at a disadvantage, but we're not going to cry about it. We'll stay as late and as long as it takes to get this program to where it needs to be. The engine will get better and better with the more runs we make. I'm encouraged. We're going to run here until Tuesday. We have another motor we need to break in, and we have a lot of other things we want to get done before we head west, but I feel good about this race team and what we've been able to accomplish here this weekend."
Jeg Coughlin (Slammers Ultimate Milk/Jegs Chevy Cobalt) - "We've got plenty of horsepower but we're missing our set-up just a little bit. We're steadily making progress but were not exactly where we want to be just yet. We've got our work cut out for us since the roll call for Pomona begins in less than a week. I'm not disappointed though. Our primary goal this weekend was to make some runs and learn how to tune this car. Once we're able to consistently get the horsepower to the ground, we're going to have one fast hot rod."
Final round-by-round results from the Pontiac Pro Stock Showdown at The Strip at Las Vegas Motor Speedway:
ROUND ONE -- Max Naylor, Dodge Stratus, 6.744, 204.42 def. Jason Line, Pontiac GTO, 6.769, 205.51; Mike Edwards, GTO, 6.735, 204.54 def. Tom Martino, GTO, 6.746, 204.85; Jim Yates, GTO, 6.747, 205.01 def. V. Gaines, Stratus, 6.738, 204.48; Jeg Coughlin, Chevy Cobalt, 6.774, 205.26 def. Kenny Koretsky, Cobalt, 8.440, 122.40; Greg Stanfield, GTO, 6.739, 204.66 def. Dwayne Rice, GTO, 6.802, 203.43; Allen Johnson, Stratus, 6.698, 205.04 def. Richie Stevens, Stratus, 6.754, 204.79; Warren Johnson, GTO, 6.745, 205.01 def. Greg Anderson, GTO, foul; Dave Connolly, Cobalt, 6.704, 205.44 def. Kurt Johnson, Cobalt, 6.752, 204.82;
QUARTERFINALS -- Yates, 6.732, 204.54 def. Coughlin, 6.768, 205.32; Naylor, 6.743, 204.17 def. W. Johnson, 6.779, 204.42; Connolly, 6.726, 205.07 def. Stanfield, foul; Edwards, 6.764, 203.95 def. A. Johnson, 12.651, 67.96;
SEMIFINALS -- Yates, 6.742, 204.66 def. Naylor, 20.167, 66.97; Connolly, 6.711, 205.44 def. Edwards, foul;
FINAL -- Connolly, 6.714, 204.42 def. Yates, 6.742, 204.91.