Wed, 27 Dec 2006, 08:08 AM



Jeg Coughlin Sr. Named Grand Marshal of Hot Rod Reunion



Courtesy of Scott "Woody" Woodruff



COLUMBUS, Ohio --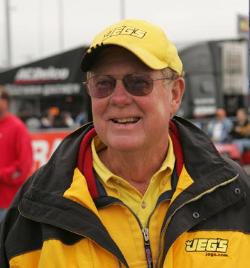 Jeg Coughlin Sr.
Former racer and automotive aftermarket pioneer Jeg Coughlin Sr., has been named as the Grand Marshal of the fifth annual NHRA National Hot Rod Reunion, presented by DuPont Automotive Finishes. The popular nostalgia event will be held June 15-17, 2007 at National Trail Raceway in Columbus, Ohio.
"I am very honored and flattered to be chosen as the Grand Marshal for the Hot Rod Reunion," said Coughlin. "I'm especially excited since the race will be moving to our hometown this year. I believe it will be a great event for National Trail Raceway and the people of Columbus. I always enjoy these [Hot Rod Reunion] events because you get to see so many old friends and competitors. The only problem I have is that they are often too short because you can literally sit and talk with old friends hours and hours."
Coughlin's contributions to the sport of drag racing are immeasurable. As a driver, he actively competed more than 30 years, racing in every class from Super Gas to Top Fuel. He is one of only a handful of drivers to race in three professional classes, Top Fuel, Funny Car and Pro Stock.
Coughlin is also the founder of JEGS Automotive Inc, one of the world's largest aftermarket performance parts suppliers. JEGS began as a small automotive repair shop in downtown Columbus and under Coughlin's guidance, the business has grown to the point where it is currently housed in a state-of-the-art 225,000 square foot facility and employs over 400 full-time associates. Now retired, Coughlin mentors over to his sons, John, Troy, Mike, Jeg Jr and the third generation of Coughlin children.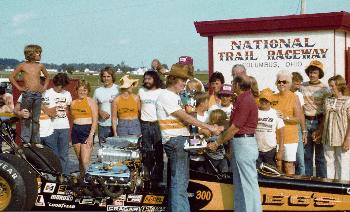 Coughlin's selection as the Grand Marshal for the Hot Rod Reunion is the latest in a series of honors for the 68 year old legend. Last January, the board of directors at Ohio State University Medical Center and The James Cancer Hospital and Solove Research Institute established the "Jeg Coughlin Chair in Childhood Cancer Developmental Therapeutics" after receiving a gift in perpetuity from the JEGS Foundation for Cancer Research. A month later, Coughlin was honored with an induction into the Olentangy Business Hall of Fame in Powell, Ohio. He is also a member of the NHRA North Central Division Hall of Fame and the Hot Rod Magazine Hall of Fame. Coughlin has also received the Car Craft "Ollie Award" for lifetime achievement, among other honors.
"As much as I enjoy events like the Hot Rod Reunion and looking back on the good old days I think the future is equally important," said Coughlin. "One of the things I enjoy most is giving back to the community. Of all the things we've done, I think I am most proud of the JEGS Foundation for Cancer Research. It's a great feeling to know that you're doing something to make a difference in people's lives."
This year's list of honorees for this year's NHRA National Hot Rod Reunion includes John Abbott, Don Cain, Ted Harbit, Fred Hurst, Gary Rupp and Pat Dakin. The Justice Brothers Reunion Spotlight will feature two-time NHRA Funny Car champion and Drag Racing School instructor Frank Hawley.