Sun, 17 Dec 2006, 10:03 AM



The Ultimate in Top Fuel Pinks



Courtesy of John DiBartolomeo



ORLANDO, Fla. --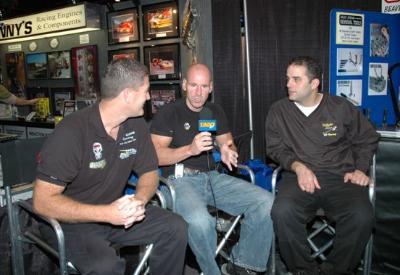 Foley, Rich Christensen and Lagana.
The popular PINKS television show has become one of the most watched weekly series on the Speed Channel lineup. It's the ultimate drag race where two competitors race title for title in a best three-out-of-five competition. It's "Lose The Race, Lose Your Ride" in its most primal style, as only PINKS can do it.
At the Performance Racing Industry Trade Show in Orlando, Florida, Doug Foley and Tim Lewis announced that with their Torco Mach Series Accelerator-sponsored Top Fuel team will now be raising the PINKS' bar to a whole new level.
Foley said, "We've now signed a deal with Rich Christensen and his PINKS show to race Bobby Lagana and his Top Fuel team for the ultimate in 'Lose The Race, Lose Your Ride' PINKS show."
Possibly the highest value car that's ever been raced for on PINKS has been in the $70,000 range. Double that and you might come close to what a Top Fuel dragster is worth. Yet either Doug Foley or Bobby Lagana is going to walk away with an extra car in their trailer come mid-summer of 2007. Foley and partner, Tim Lewis, just took delivery of a brand new Attac Race Cars chassis after an unfortunate accident this past September. And they've agreed to put it all on the line for the ultimate PINKS television show. Foley recently announced the hiring of veteran Rick Cassel to serve as his crew chief and tuner for the 2007 season and for Cassel it's going to be like jumping out of the frying pan and right into the fire. "I guess he better get up to speed really quick," Foley said, "or we're all going to be sitting on the sidelines. Our whole team is pumped to do this and we don't intend to lose."
Lagana was recently crowned the IHRA Sportsman of the Year at their year-end banquet and is confident of his chances with his also newly crowned IHRA Crew Chief of the Year, Jay Lewis. Lagana said, "I've been racing without a major sponsor for so long and just decided that this is it. It's either win or go home, and I don't plan to go down easy."
Foley said, "As a team owner, we're always competing for exposure for our sponsors, and in this case, Evan Knoll and Torco Race Fuels. This is probably the biggest risk anyone could take in order to accomplish that, but we're doing it."
The details of the actual date and place haven't been determined yet but an expected east coast location is being discussed. In any event, this WILL take place.
"Both Bobby and I have been around the northeast racing scene for a long time, where we've seen enough 'title racing' to know how it works," Foley says. "But nobody's seen something like this ever! Title for title, we're both going to go at it! And if nothing else, we're going to scare the pants off of Rich when he stands out in the middle of the track to start this race!"