Wed, 6 Dec 2006, 09:47 AM



Snyder Earns Third Straight Divisional Title



Courtesy of Shanna Snyder-Bell



Third Top 10 Finish in Three Years for Knoll Gas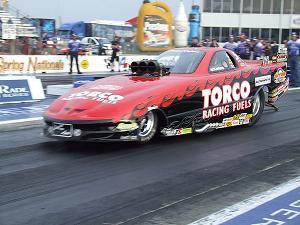 Mick Snyder
Mick Snyder and the Snyder Motorsports Race Team earned their third straight divisional championship during the 2006 race season as well as their third straight Top 10 finish. The Team sponsored by Knoll Gas - TORCO Racing Fuels earned 3 wins on the season, bringing his total to 8 wins and 9 runner-ups in the three seasons he has competed in the very competitive Top Alcohol Funny Car class.
"We were happy about the way the Team performed this season. It is unreal to think that we earned our third straight divisional championship this year. When you go into a season you work hard and hope that you will be able to defend the championship, but this is drag racing and you can go from hero to zero very quickly. Every year we seem to learn a little bit more about the various tracks and our opponents; hopefully that will make us even better next year," said Snyder.
During the 2006 season, Snyder qualified #1 at 4 events and became the 72nd driver to qualify #1 at a National event. His dad, former world champion Larry Snyder, and crew chief on the unique Coan converter and Lencodrive transmission equipped car also earned his second straight Spitzer Low Qualifier Championship this year.
"I can't say enough about my incredible Team. If it wasn't for their dedication we wouldn't be out here racing each year. Our major sponsor Knoll Gas - TORCO Racing Fuels has been so good to us. We really appreciate all the support we receive from Evan, Latrell, Brian and everyone else in the TORCO family throughout the entire year," Snyder commented. "I also need to thank all of my associate sponsors including Lencodrive Racing Transmissions, R & R Racing Products, Flatout Gaskets, Coan Converters, Snyder Auto, Long Printing and Goodson. Some of these people have been with us since I was back racing Jrs.; I just can't thank them enough for their support."
Quick Facts
The Team finished with 5 final round appearances and 3 wins for the season.
Snyder has had back-to-back-to-back Top 10 finishes in the National points standings and Division 3 championships.
The second-generation driver earned his 2nd straight Spitzer Low Qualifier Series Championship this year.
The 25 year-old Purdue University graduate finished in 6th place Nationally this season.
The Team, which represented Division 3 in the Jeg's All-Star race during the 2006 season, has the lead in the 2007 points chase.
The Knoll Gas - TORCO Racing Fuels funny car qualified #1 in 4 events this year. Including Houston where Mick became the 72nd driver to qualify #1 at a National event in the history of the class. He was the first to do so with a converter equipped car.
The 14-year veteran of the sport currently runs the family owned business, Snyder Motorsports, which sells racing parts for Jr. Dragsters and full size race cars, including Lencodrive transmissions. He also is the President of McSnyder Designs.