Tue, 12 Sep 2006, 01:03 PM



Jim Luikens' Reporter's Notebook



By Jim Luikens


Photo copyright 2006 BME Photography





EPPING, N.H. --
Notes from Jim Luikens' Reporter's Notebook at the IHRA North American Nationals.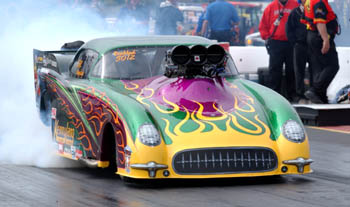 Kenny Lang
At the two most recent national events, Norwalk and Indy, the Pro Modified class has seen a barrage of low six second elapsed times. Coming into this event speculation was running high that this could be the national event where the first 5 second run by a Pro Modified would be recorded. In the end a tricky track and rapidly changing weather conditions combined to prevent that from happening. Kenny Lang was the surprise number one qualifier in P/M with a class best of 6.102, his first ever national event pole position. Eddie Ware upped the ante in thefirst round of Pro Mod with a 6.089 win over John Russo and again in the second round when Eddie ran 6.035 to defeat Tommy d'Aprile but the first national event five second run will have to wait for another day.
Shannon Jenkins was an interested Pro Mod observer here. When queried why, he replied that he has sold his Blue Camaro to the same Texas racer that earlier this year had purchased his White Camaro, temporarily leaving him without a ride. Shannon's plans are up in the air about what car to build to replace the sold Camaros but he has queried IHRA tech officials about the possibility of using an unusual body style that is not currently in IHRA competition.
Dennis Radford is another Pro Mod racer that has sold his ride in the last month as well. Ironically, Dennis' Corvette was also purchased by a Texas racer. Evidently there is a need for high-quality Pro Mod race cars in Texas these days. At Epping Dennis was driving a second Billy Harper Viper. The primered Dodge carried the words "Billy Harper Test Vehicle" on its rear window. Dennis says that we may see him in that car again this year depending on testing needs. Unfortunately, neither Harper nor Radford made the Pro Mod field here.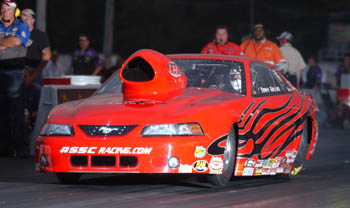 Tony Gillig
Tony Gillig was leading the Pro Stock points chase entering this race, just as he has for most of the year. In an amazing season, Tony has almost always had whatever luck he needed whenever he needed it. Perhaps his good luck can be traced to a horseshoe. In a lighthearted moment his team purchased a real, cast iron horseshoe at a truck stop on their way back from the IHRA season-opener in San Antonio. They promptly won the next race, at Rockingham, which began their streak of good luck. Fellow Pro Stock racer Frank Gugliotta has kidded Tony about losing his horseshoe and it appeared Tony might have temporarily lost it in the first round when he was defeated by fellow Illinois driver Pete Berner. Unfortunately, Gugliotta was unable to capitalize on the opportunity when he was upset by Dan Sweeney in the same round.
Tony Gillig's car owner, Tim Huston of Long Grove, Illinois, has announced that he intends to sell all of his equipment at the end of this season. This makes it doubly important for the Gillig team to have a good year because they are going to be out of racing for awhile when the season ends. Tony, who is 36 and has been racing for nearly two decades, says he is looking forward to taking a break from racing and devoting some more time to his family business.
Rick Jones reports that he took delivery of his new 2007 Chevrolet Cobalt from Steve Dekkinga's SD Enterprises paint shop earlier this week. Rick's new Cobalt, which is painted slightly different from his current Cobalt, incorporates all of his latest innovations. Rick adds that he is very busy right now with new cars in line for Greg Anderson, Tom Hammonds, Allen Johnson (2), Steve Spiess, John Nobile and Dave Howard. Rick is also building a Ford Mustang for himself as well as a new Pro Stock GTO for Sport Compact star Jason Humphreys. Rick plans to use his Mustang for Ford and/or Muscle Car events and his Cobalt for IHRA competition.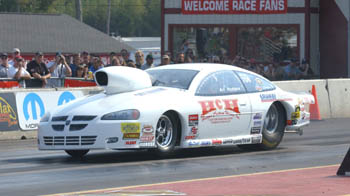 Art Hodges
Pro Stock racer Art Hodges was a surprise participant at this event after being off the IHRA tour since Rockingham this spring. Art says he took a hiatus from racing while he looked for the power that it would take to make his Dodge competitive with the Fords and Chevrolets that dominate IHRA Pro Stock racing. Art is now using Steve Schmidt engines and reports that he has 70 more horsepower to work with than he previously did. Electrical gremlins prevented Art from making a representative run here but he is happy to be back on the tour. Art's Crew Chief, Gary Chomiski, spent his summer serving as Steve Schmidt's crew chief on the NHRA tour with a qualifying berth and round win over Kurt Johnson at last week's US Nationals his most recent accomplishment. Gary adds that Sport Compact ace Matt Hartford will be in the Schmidt Cobalt for the Reading, Las Vegas and Pomona events this fall with Steve driving at Dallas and Richmond.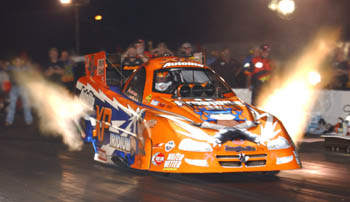 Bob Gilbertson
Bob Gilbertson brought his new Jungle Jim tribute car here that won Best Appearing Car at last week's US Nationals. The car was painted by Cary Bewle's Indy Speed, Custom and Restoration using 23 colors of paint. Cary is over the moon with the award that the Dodge Stratus won and is currently "pimping" out the Cadillac limousine that Bob Gilbertson bought on his way to the IHRA race at Milan, Michigan. Look for Gilby's new look limo to debut at the Rockingham World Finals this year.
Paul Weiss of Derby, Connecticut was here helping the Andy Kelley Nitro Funny Car Team. Paul, who has been primarily an East Coast Alcohol Funny Car match racer, has purchased a Firebird Nitro Funny Car from John Lawson with the intention of moving up to IHRA Nitro Funny Car next year. When Paul discovered that only seven Nitro Funny Cars had made the trek to Epping he was disappointed that he hadn't moved a little quicker to assemble his car and bring it here. He currently plans a 2007 debut but would loved to have gotten some early testing in this weekend.
My t-shirt of the weekend award goes to the gentleman whose shirt said, "Every day of my life I'm forced to add another name to the list of people who p*ss me off."