Thu, 31 Aug 2006, 02:29 PM



Notes from Jim Luikens' Reporter's Notebook



by Jim Luikens


Photo copyright 2006 BME Photography





at the IHRA World Nationals



NORWALK, Ohio --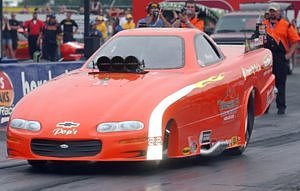 Rocky Hummel
A record 872 sportsman entries, the largest sportsman car count in IHRA national event history, was just one of the highlights of the 2006 World Nationals. Other highlights included new racers, new race cars, new winners, new sponsors, a Chicago-style Top Fuel Motorcycle Eliminator, the first 2006 IHRA appearance of the Cool Bus Wheelstander and a spectacular fireworks show. Unfortunately, the "It Has Rained Again" sanctioning body also got a visit from its persistent 2006 nemesis. After dodging several bullets on Saturday, and barely completing their Night of Fire, rain moved in for good and made a shambles of their Sunday (and Monday) schedules.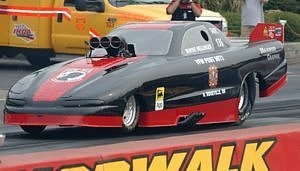 Wayne Mellinger
Ohio was always known as Gasser Country in the early days of drag racing. As a result it should be no surprise that Norwalk featured a large contingent of Pro Modifieds and Pro Stocks, the modern day gassers. Forty-two Pro Mods, including several new faces, attempted to qualify for one of the 16 starting spots in Pro Modified Eliminator. Just like at the last event the non-qualifier list included a long list of Pro Mod greats.
Scott Cannon
,
Burton Auxier
,
Steve Bareman
,
Shannon Jenkins
,
Glen Kerunsky
,
Chip King
,
Billy Harper
,
Ed Hoover
and
Tommy D'Aprile
were among those on the outside looking in when P/M qualifying concluded.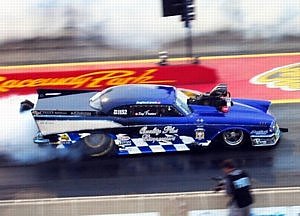 Tony Pontieri
Consistent P/M strong runner
Rick DiStefano
chose to sit out this event and that left
Al Billes
, his engine tuner, with more time to concentrate on his other engine customers.
Tony Pontieri
was the surprise number one qualifier in Pro Mod with a 6.122 elapsed time while
Kenny Lang
notched the 9th position and
Raymond Commisso
scored the 11th starting spot. All were using
Al Billes
power. Only Scott Cannon of the Billes gang, who was experimenting with a two-venturi injector, did not make the show when he qualified 17th. However, Scott got in as the first alternate when
Brandon Pesz
was not able to answer the first round call.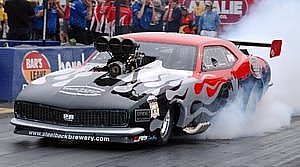 Raymond Commisso
The run of Pro Mod qualifying had to be Raymond's Commisso's 6.217 at only 198.73 miles-per-hour run on Saturday night. Entering Saturday's Night of Fire final qualifying session Raymond was 42nd (dead last) on the P/M qualifying sheet. He, and his three race old Camaro, have been a star performer during the Monday test sessions that follow IHRA national events but the team had not yet been able to put it all together during regular event qualifying. Down to their last qualifying shot at yet another national event, and still out of the field, they changed everything on the car in hopes of qualifying. Leaving strongly, the Steelback Beer Camaro roared to the 1000 foot mark, running 4.001 seconds and 193.35 mph at the eighth-mile, then it torched a head gasket with Raymond quickly shutting the engine off. He coasted across the finish stripe at only 198 mph but his 6.21 was enough to put him into the field for the first time ever. The team spent the rest of Saturday night installing their back-up engine, another Al Billes piece that was so new it had never even had oil in it. On Sunday Raymond set low et of every round (he and
Quain Stott
actually tied for low et in the second round but Raymond had the higher mile an hour) enroute to his first IHRA national event final round ever. His 6.121 elapsed time in the semi-final round was quicker than the pole time and quickest of the weekend for any P/M car. When the rains came Sunday night and forced the finals to Monday it was a done deal. Even though
Mike Janis
had trouble in the finals he would have a hard time catching Raymond's 6.126 e.t. since he (Janis) had not been out of the 6.20s during eliminations. VinVino, Dimmi Trattoria and Torco, in addition to Steelback Beer, provide sponsorship for IHRA's newest P/M winner.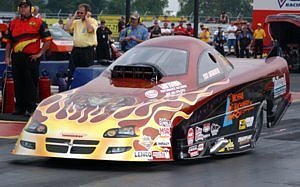 Tim Stevens
Another first time winner at Norwalk was Michigan's
Tim Stevens
in Alcohol Funny Car. Tim, who has had a career's worth of bad racing luck in the past, also put it altogether this weekend. After debuting his new Stratus at Martin he qualified eighth here and steadily moved through eliminations. He defeated a slightly quicker
Rob Atchison
in the final on a holeshot.
Former NHRA World Champion Don Gerardot was a surprise entrant in Alcohol Funny Car. He was shaking down a new Dodge that has been constructed by Gordie's Race Cars for Hicksville, Ohio's John Hart. John will be the regular driver once he recovers from some back surgery that he has recently had. Also making their 2006 IHRA debut in Alcohol Funny Car were Rocky Hummel and Wayne Mellinger as 16 total entries vied for the eight A/FC starting spots.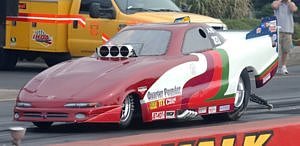 Don Gerardot
In Pro Stock the gorgeous new GTO Judge of
Jerry Haas
made its event debut after midweek testing in St. Louis. Haas' new car was painted by
Jim Hooker
and features real 1969 Judge Carousel Red (Judge Orange) paint along with Judge striping and logos. Haas' Judge qualified in its debut outing and snagged the Best Engineered Pro Car Award as well. Respected tuner
Buddy Ingersoll
was assisting the Haas-Goforth team here. Buddy says his future plans are open but that he has definitely left the
Barry Grant
team.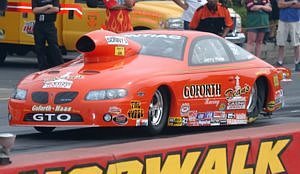 Jerry Haas
In other Pro Stock news
Rickie Smith
debuted his new
Jerry Bickel
Cobalt and
Andreas Karampelas
debuted his ex-
John Montecalvo
Cavalier with
Mike Weinle
power. Neither qualified but Rickie came closest, ending up 18th on the sheet at the end of qualifying.
All of the usual suspects showed up in Top Fuel along with J. R. Todd and Hillary Will. When both J. R. and Hillary qualified it left IHRA tour regulars Bobby Lagana Jr. and Chris Karamesines, who was just inducted into the Motorsports Hall of Fame last week, on the outside looking in. On race days (Sunday & Monday) Hillary made the most of her IHRA start, winning the final and claiming her first Top Fuel victory ever.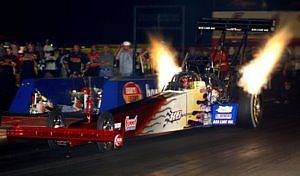 Hillary Will
Over in Nitro Funny Car it was Team Kalitta that stole the show as well.
Scott Kalitta
debuted the new 2007 Toyota Solara Fuel Funny Car that he tested at Indianapolis last week. During Saturday's afternoon qualifying session it was a case of good news/bad news as Scott qualified fourth with a 4.965 run but ran off the the end of the track. Unfortunately, the new Toyota body was damaged enough that the team had to withdraw it from further competition. By the night session, and for the rest of the weekend, the team reverted to the Monte Carlo body that they have been using this year.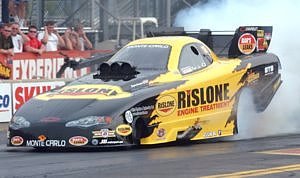 Paul Lee
Another new debut was the unveiling of
Paul Lee
's new Rislone sponsorship. Paul's formerly Blue Monte Carlo has been repainted to Black and Yellow, Rislone's colors.
Bill Reichert
will debut a similar paint scheme this week at Indianapolis as Rislone, which is now owned by Bar's Leaks, moves strongly back into drag racing. Drag racing fans with long memories will no doubt remember the World Champion Rislone Dodge Omni Fuel Funny Car of
Farkonas, Coil (yes that Coil), and Minick
that was driven by
Frank Hawley
. The Lee team garnered the Best Appearing Pro Car Award here for their new paint scheme.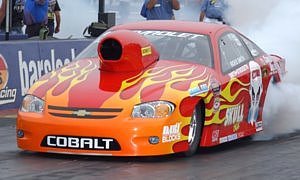 Rickie Smith
My t-shirt of the week goes to the Track Rescue Safety Team. They had yellow shirts, the same color as their rescue vehicles printed up that said, "So You Can't Fix Stupid?" on front. On the back it said "I Can" (should have said We Can) along with their logo. They presented the shirts, and accompanying decals, to a number of teams who wore them during Friday's Pro Qualifying session.