Mon, 10 Jul 2006, 08:31 PM



Notes from Jim Luikens' Reporter's Notebook



by Jim Luikens


Photo copyright 2006 BME Photography/Jim Luikens





at the IHRA Motor City Nationals



MILAN, Mich. --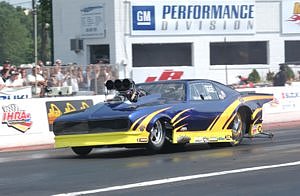 Taylor Lastor
After taking the month of May off and running two Canadian races during June, The 2006 IHRA eMax National Event tour returned to the United States for the first time this year since late April. At the last event, in Edmonton, all five of the IHRA Pro categories featured full fields. Here it was full fields plus as we saw some of the largest fields of the season. No less than 14 Nitro Funny Cars attempted to qualify for their eight car field while 10 Top Fuel pilots competed for one of their eight starting slots. Twelve Alcohol Funny Cars, 27 Pro Stockers and a whopping 36 Pro Modifieds were also on hand.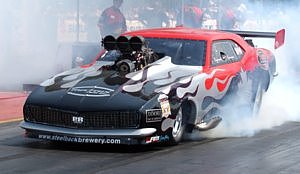 Raymond Commisso
The count of 36 Pro Modifieds is particularly impressive when you consider that only 40 Pro Mod drivers have earned points so far in the 2006 season. Among the 36 here were several drivers who were making their first appearance of 2006 including
Taylor Lastor
,
Tim O'Hare
,
Mark Neilsen
,
Tony Pontieri
and
Raymond Commisso
. Taylor had by far the best weekend of that group, qualifying 14th in the Pro Mod field. His car is a 1968 Camaro that was built by Michigan's Skinny Kid Race Cars. For power he uses a 526 cubic inch BAE engine that he assembled at his new shop in Knoxville, Tennessee. Originally from Texas, Taylor relocated to Tennessee last year in order to be closer to IHRA events.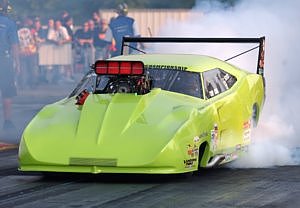 Chip King (before)
Nearly as impressive as Taylor's Camaro was the equally new 1967 Camaro of Toronto's
Raymond Commisso
. Raymond, who sat out last season after a pair of crashes the previous year in his 63 Corvette, had only made a series of 60 foot test launches in his new car prior to its debut here. His car is sponsored by Steelback Beer, a premium Canadian beer, VinVino, Matrix Refits and his own Dimmi Bar & Trattoria. Raymond plans to be at the remainder of the IHRA national events this season except Epping. It seems that the Toronto Film Festival runs the same weekend and that is the busiest weekend of the year at his restaurant. Interestingly, Commisso was one of seven Canadians that attempted to qualify in Pro Modified. By comparison North Carolina had the next largest contingent with five representatives. When questioned why there was such a large contingent of Canadian Pro Mod racers one competitor volunteered that it was the nearby access to quality vendors like engine builders Al Billes, Jim Oddy and Jan-Cen Automotive as well as the G-Force and Vanishing Point chassis building firms.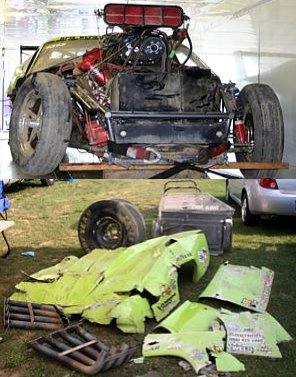 Chip King (after)
One of the five North Carolinians in Pro Mod,
Chip King
from Semora, qualified for the P/M field but was forced to withdraw when his chutes never blossomed during the afternoon qualifying session on Saturday. Speeding through the shut down area with no chutes blossomed Chip attempted to scrub off some speed and even considered attempting to make the turnoff at speed. At the last minute he decided that the sand trap offered the best solution to his dilemma. His '69 Dodge Daytona dug in and then sailed about 150 feet through the air, glancing off the right side wall of the sand trap before nosing into the tires that line the far end of the sand trap. Chip was unhurt but the same cannot be said for his Dodge. Although the car appears repairable at first glance it will need some jig time at Vanishing Point Race Cars as well as another one of
Robert Miotke
's carbon fiber Daytona body shells.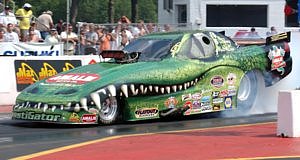 Terry McMillen
A total of seven first-generation Camaros attempted to qualify here in P/M with four actually making the field. There could have been at least one more early Camaro here but
Eddie Ware
chose to leave his home and instead brought the trusty '41 Willys that he has raced in previous years on the IHRA tour. He has been using his Willys for ADRL and Quick 8 competition this year but drafted it for a return to IHRA because he had a few ideas that he wanted to try on his Camaro. The Camaro is currently at Cajun Pro Cars in Douglasville, Georgia where shop owner
Chip Chachere
is updating it. Eddie became one of the 20 P/M non-qualifiers when his 6.258 was not quick enough to crack the 16 car field. The brutal 6.205 P/M bump spot was the second quickest in IHRA Pro Mod history. Only the record 6.195 bump at San Antonio earlier this year was quicker and that was recorded in the much cooler spring weather conditions.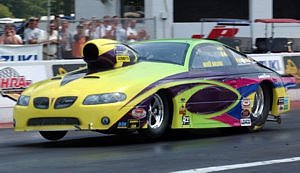 Mike Bruno
One of the most likable drivers in the IHRA is Alcohol Funny Car driver
Terry McMillen
. A consistent top ten points finisher each year, Terry and his team have struggled for the past two seasons to diagnose a troublesome engine problem. While it never kept them from running it did keep them from running as well as they could have. At the last event in Edmonton the team found a major leak under the intake manifold which has turned their program around. Terry thought he had as good a chance as anyone to win the Edmonton event but his rear wheels turned inside their tires in the semi-final round which created a severe vibration, causing him to slow against
Tom Carter
, the eventual A/FC winner. Terry continued his hot streak here, qualifying fourth and defeating multi-time world champion
Mark Thomas
in the first round. Severe engine damage in his victory over Thomas prevented Terry from answering the bell against
Fred Tigges
in the semi-final round.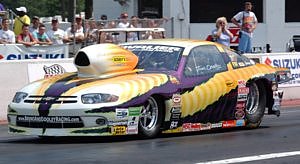 Tim Dooley
Gary Henry
took over as crew chief for the Bruno and Dooley Pro Stock team just prior to last month's event at Grand Bend. Since Gary joined the team
Mike Bruno
has qualified 15th at Grand Bend, skipped Edmonton and qualified 11th here which shows the team is trending in the right direction. Teammate, and rookie P/S driver,
Tim Dooley
continues to be troubled by tire shake. Prior to coming here the Bruno and Dooley team participated in a test session at the nearby US 131 Motorsports Park. Among the other Pro Stock drivers at that private session were
Doug Kirk
,
Bert Jackson
,
Steve Spiess
,
Pete Berner and Bob Bertsch.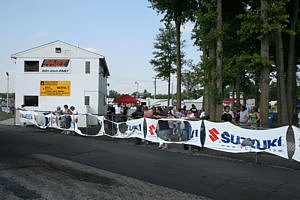 Su...uki....uki
Pat Davidson
was the featured exhibition vehicle here with his Under Pressure jet ambulance. On Saturday Pat flambeed the banners that lined the fences of the burn out area.
My t-shirt of the weekend goes to the young lady whose black t-shirt had pink letters. On the front of her shirt it said, "Some Girls are Better Riders." On the back it added, "Deal with It."