Mon, 26 Jun 2006, 07:01 PM



Notes from Jim Luikens' Reporter's Notebook at the IHRA Rocky Mountain Nationals



by Jim Luikens


Photo copyright 2006 BME Photography/FastNews Network





EDMONTON, Alb. --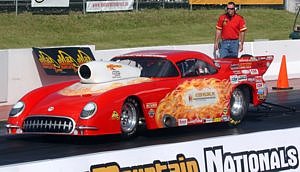 Burton Auxier
The IHRA Rocky Mountain Nationals have been plagued by rain and cold weather for the last two years. However, this year's event, the fourth annual, saw a return to the pleasant conditions that hadn't been seen since the inaugural event. The Canadian fans responded to the great weather conditions in droves and set event attendance records throughout the weekend. In fact, the Saturday crowd was so large that every reserved seat was sold before the event began. Car count records were also set with full fields in all five of the IHRA professional categories.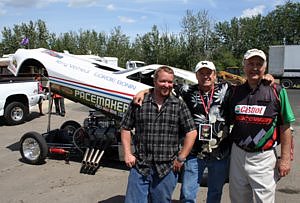 L-R: Cory Kincaid, Gordie Bonin and Ron Hodgson
After being known as the Budweiser Motorsports Park for the past five years, the track here is now known as Castrol Raceway. The change was announced about 90 days ago with the original contract covering five years. An option exists for a subsequent additional five years which means that it could be the Castrol Raceway until at least year 2016. Although Castrol has more than 100 years of motorsports involvement this is the very first Castrol named facility in the world. In addition to the 1/4 mile drag strip, Castrol Raceway includes a 3/8th mile clay oval, a 10 acre motocross track and a Legends Cars of Alberta racing facility. Additionally, a road course is under development that is scheduled to be completed by next year.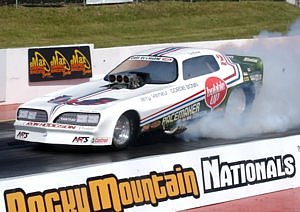 78 Trans Am Bubble Up Look-alike
The hit car of the event here was
Cory Kincaid
's replica of
Gordie Bonin
's Bubble Up Firebird Funny Car. Cory, 31, is from Red Deer, Alberta, the same town as Bonin, and competes in Pro Nostalgia Eliminator. While the car is a replica of the Bonin car, Cory discovered just last week that he owns the actual ramp truck that carried Bonin's racer to the US Nationals in 1972. That fact was confirmed by Bonin himself who verified some damage from a long-ago towing accident involving a semi-truck. Gordie was on hand all weekend signing autographs and greeting fans. It was clear from the warm reception that he received that Canada has not forgotten one of its favorite (racing) sons.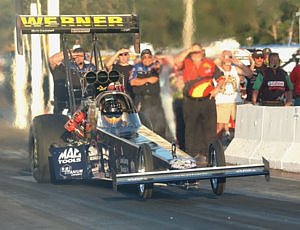 Bobby Lagana
Bobby Lagana, Jr.
rolled into Edmonton still on a high from his win at the last stop on the IHRA tour, Grand Bend. Bobby reports that this is the first win ever for the Lagana family in national event competition, a period that spans 47 years when you include the time that his father, Bobby, Sr. spent racing. Bobby reports that the first one to congratulate him was
Clay Millican
, his final round opponent. Bobby says that Clay was out of his own car and over pounding on his helmet before Bobby could even loosen his belts. The fact that his win came against Clay, IHRA's all-time T/F, made it even more special according to Bobby. Any chance for two consecutive wins was extinguished when Bobby lost in the very first round here.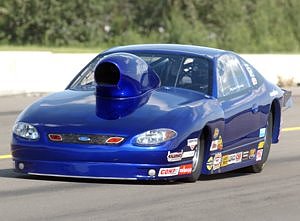 Elijah Morton
Several of the Pro drivers arrived late on Friday due to storms that hampered air travel for those coming from the East Coast.
Burton Auxier
and
Elijah Morton
were among those that arrived later than originally expected. Pro Mod driver
Danny Rowe
did not arrive until Saturday but that had been his plan all along. It seems that the oldest of his three daughters, Caitie, had her high school graduation on Friday night and Danny wasn't going to miss it. Danny arrived in time for Saturday's first session and handily drove his car right into the P/M field. When you consider that rain has affected or eliminated the Saturday qualifying sessions here the last two years it was somewhat of a gamble for Danny to miss Friday's sessions entirely. If the rains had come on Saturday and the fields had been set by Friday's qualifying times it would have meant a wasted 6,000 mile round trip from the team's Georgia shop.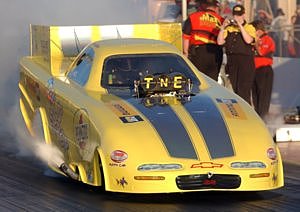 Jason Duchene
31-year old
Jason Duchene
from Edmonton made his IHRA debut here in Nitro Funny Car. Jason reports that he has been running Nitro Funny Car for the past ten years with a win at Spokane in 2001 to his credit. His car is a 2002 Camaro with a Victory chassis that was previously driven by
Whit Bazemore
for the
Chuck Etchells
team. Jason is sponsored by Pennzoil and Finning Caterpillar. Finning is the world's largest Caterpillar dealer with 53 locations throughout Alberta, British Columbia and the Northwest Territories. Jason's future IHRA plans are uncertain beyond competing at the upcoming Cayuga national event.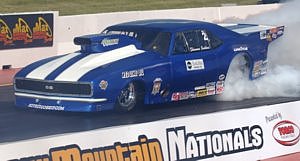 Shannon Jenkins
The number two man in IHRA Pro Modified points last year,
Shannon Jenkins
, showed up here with a blue 1968 Camaro which replaced the white 1968 Camaro that he had ran at the first three IHRA events of this season. When asked, Shannon reported that an engine customer,
Mike Bankston
, inquired about buying an engine, one thing led to another and Mike actually ended up buying the entire white car. The blue car here is actually Shannon's 2nd place finishing car from a year ago. Shannon adds that he has been running this car at Pro Street events because it is actually 135 pounds heavy for IHRA competition. Shannon plans to build another new car to replace his white car but its body choice will, no doubt, be affected by the new rule that IHRA announced last week. Beginning in 2008 no Pro Stock-style bodies will be allowed in Pro Modified and Shannon says that he can't afford to build a one-year car for the 2007 season.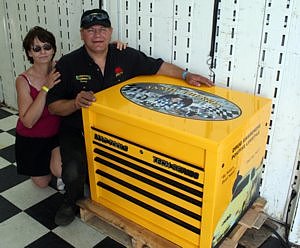 Gwen and Kevin Therres
Kevin Therres
of Humboldt, Saskatchewan runs in Alcohol Funny Car with a Dodge Avenger. For the past thirteen years he has been sponsored by Eat More candy bars, a unit of Hershey Canada Incorporated. Each year he does 14 to 15 school appearances with his car where he promotes avoiding drug use and enjoying a positive lifestyle. At Park Allen Elementary School in Edmonton recently the tables were turned on him. During a presentation there he was given a one-of-one Mac Tool box that commemorates his and his wife's deceased son, Jamie. The normally confident Kevin was overcome by the surprise gift and says that he is saving it for Jamie's son. It will be given to his grandson at the appropriate time.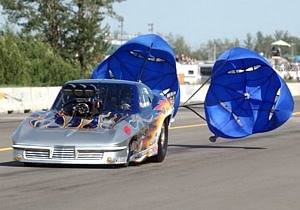 Danny Rowe
Alberta author
Richard McDonell
was selling autographed copies of his well-known book, "The Speediest Land Traveller, A History of Alberta Auto Racing" on the manufacturers' midway. As its title suggests, The Speediest Land Traveller documents early-day racing pioneers including drag racing luminaries Gordie Bonin,
Gary Beck
,
Ray Peets
,
Dale Armstrong
as well as others, all of whom hailed from Alberta. It is a well-recommended read and available throughout Canada at Chapters Book Stores. Non Canadians can try googling the book's title on the net.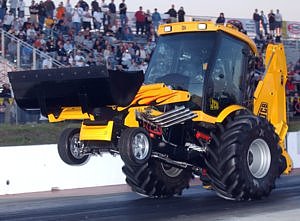 Wheelstanding Backhoe
One of the most unique drag racing exhibition vehicles that I have ever seen made its world debut here. How about a wheel-standing backhoe? Its driver,
Neil Smith
, was originally from the UK but currently lives in Savannah, Georgia. The vehicle is a lightly-modified JCB back hoe called the JCB GT. It is owned, and was built, by the JCB Corporation of Great Britain. According to Neil, JCB manufactures 243 different work machines and is the number one manufacturer of back hoes in the world. JCB started 61 years ago in Great Britain and they have been in North America for the past 33 years. Their local dealer was heavily involved with the event here and had approximately 50 different JCB machines on hand for inspection. The JCB GT typically turned elapsed times in the 17 second range with 80 mile an hour top speeds thanks to its supercharged 572 cubic inch big block Chevrolet engine.
My t-shirt of the event goes to, I presume, a local. "His shirt said: Please Lord Send Alberta Another Oil Boom, We Promise Not to P*ss This One Away."