Mon, 5 Jun 2006, 12:23 PM



Notes from Jim Luikens Reporter's Notebook



by Jim Luikens


Photo copyright 2006 BME Photography





at the 2006 IHRA Mopar Canadian Nationals



GRAND BEND, Ontario --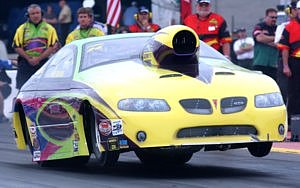 Mike Bruno
The IHRA eMax Series has been off for the past five weeks. Judging by the new teams, cars, drivers, sponsors, crew chiefs, engines and driving coaches on hand the competitors have used the off-time very efficiently. In my 41 years of near-weekly drag racing attendance I have never observed such a large number of changes at any one event. Let's take a closer look at some of them.
Of all the stories here, none was more phenomenal than that of 53 year old Smax Smith from Preston, Lancashire UK. Smax, who won the 2003 English Top Fuel Championship as a rookie, was the runner-up just last week in Top Fuel at the legendary Santa Pod Dragway in England. By Wednesday he had returned to Ontario, where he now lives, and checked in with his good friend Barry Paton to share his English weekend's results. Barry, who had been very active in helping Spiro Kontos prepare his new Nitro Funny Car for its debut here, suggested that Smax apply for the Kontos driving job. Originally Todd Paton was going to drive the aptly named KonRodz Camaro as well as the Paton Family Top Fueler here at Grand Bend. When Todd ran out of time and places to cross grade his Top Fuel driving license to funny car license as well it opened the seat for someone else to step in and Sir Smax was that person. Rain prevented a happy ending to his story when it washed out the Saturday evening qualifying session and left Smax outside the Nitro Funny Car field.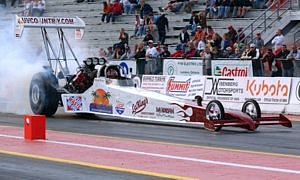 Mitch King
The seven cars that actually qualified for the eight car Nitro Funny Car field could give you the impression of a short field of Nitro Funny cars. Nothing could be further from the truth. In addition to Smax, who did not get an elapsed time on his only qualifying attempt because he was not able to reach the finish line under his own power, two other new funny cars were on hand for
Vicky Fanning
and
Mitch King
.
Vicky was making her debut in the Zombie Pontiac Firebird that is owned by Michigan's Rob Bruce. Vicky broke the reverser lever on her Saturday afternoon run and the rain Saturday night washed out her final attempt. The car only started to come together on Thursday when Vicky, and her husband Brent, arrived in Michigan from their Stephenville, Texas home. The newly-formed team combines Bruce's body and chassis with the Fanning's nitro Hemi engine. Future plans for the team are uncertain at this time.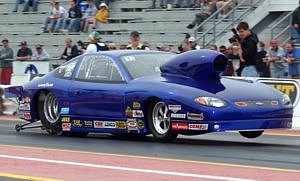 Elijah Morton
In addition to his Top Fueler, Mitch King was here with not just one, but two, Nitro Funny Cars. His plans are to seriously chase the IHRA Nitro Funny Car Championship. His plan for this weekend was to get this dragster solidly qualified and then turn his attention to his funny car. Unfortunately, he too was sabotaged by the Saturday night rain, which began to fall just as the pre-race festivities were being concluded. His new funny car is the ex-
Jeff Arend
2005 Corvette. He has also purchased a 2000 Dodge Avenger as a back-up car and plans to be in Edmonton with both cars. Sunset Cove Galveston, a waterfront community, debuted on both of his cars here. Combined with the support that he receives from
Henry Guiterrez
' Bexar Waste, the new help from Sunset Cove Galveston made these purchases possible.
Elijah Morton is one of the seriously cool guys in IHRA racing. However, he has endured a year and a half from hell after finishing 5th in the 2004 IHRA Pro Stock points chase. At this event he borrowed a J & B prepared Ford Pro Stock engine from the Robert Patrick camp to see if power was his problem. By Saturday "All Right", his best engine from his normal engine supplier, Mike Allen Competition Engines, was back between his car's frame rails. Tommy Lee, a former IHRA Pro Stock World Champion Runner-Up, debuted here as Elijah's driving coach. Tommy was moonlighting from his day job, which is being the assistant crew chief (to Roy Simmons) for Erica Enders on the Victor Cagnazzi team. Tommy is a long-time friend of fellow Tennessean Mike Allen, who asked him if he would stop by and see if he could be of any help in shaking the monkey that has been dogging Elijah.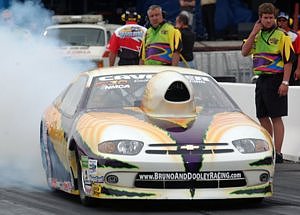 Tim Dooley
Gary Henry
, the 2001 IHRA Pro Stock World Champion crew chief (with the
Gene Wilson
team) has been out of drag racing for the past year. He returned to the P/S wars here as the new crew chief for the Bruno & Dooley Team of
Mike Bruno
and
Tim Dooley
. He had been on the job all of three days when the gates opened at Grand Bend. Gary reports that the team has good equipment and that he is looking forward to working with this team.
Speaking of Tim Dooley, he debuted a brand new Sonny's Chevy Hemi at this event after blowing his previous Sonny's Chevy Hemi at a test session. In an attempt to get the first year driver some seat time in actual competition the team chose to participate in the NMCA race at Bowling Green, Kentucky during the IHRA break. As luck would have it Tim's previous engine failed one run before it was due to be freshened. Tim's new engine was fired for the time in the pits on Friday and interestingly, it is the first Chevy Hemi to be based on the new Donovan solid (no water) engine block. Tim further reported that he is still married after the engine catastrophe, which ruined everything but his cylinder heads.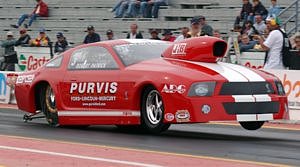 Robert Patrick
Robert Patrick debuted the first of the new 2006 Ford Mustang Pro Stockers at this event. The car is quite a looker and features a
Jerry Haas
chassis. Proving that it runs as good as it looks, Robert qualified third in Pro Stock and drove it right into the P/S final round in its debut outing. Elijah Morton reports that he also has a new Haas Mustang coming.
My t-shirt of the event goes to the new KonRodz racing team. Proving that they understand marketing as well as racing, they showed up at their first-ever event with t-shirts to sell. Their shirt said, "Excuse me, can you help me find the guy that said this was easy?" When you consider how their first weekend turned out, their shirt could be claimed to be prophetic.