Tue, 28 Mar 2006, 10:25 AM



Notes from JIm Luikens' Reporter's Notebook at the IHRA Texas Nationals



by Jim Luikens


Photo copyright 2006 BME Photography/Roger Richards





SAN ANTONIO, Texas --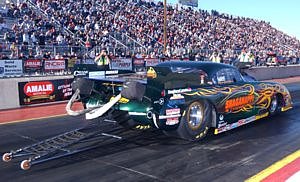 Ricky DiStefano & Crowd
The largest crowd in San Antonio Raceway history welcomed the IHRA and its racers back to Texas to start the 2006 eMax series. Leading up to this event the buzz had been about the return of Nitro Funny Cars to IHRA events. While the fuel floppers no doubt helped the crowd turnout, it was that IHRA staple, Pro Modified, that featured the largest field of drivers attempting to qualify for one of the starting spots.
Eleven cars and drivers attempted to qualify for the eight car IHRA Nitro Funny Car field, the first in a decade and a half, with Jack Wyatt, Terry Haddock and Gary Cooper the odd men out when the four rounds of qualifying were completed. For the record Gary Densham became the first Nitro Funny Car winner in IHRA's modern era when he defeated Paul Lee in the final.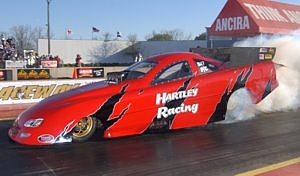 Gary Cooper
Gary Cooper was driving a Dodge Stratus (ex-Jim Head) for
Hartley Racing
that was painted identical to the familiar red with black accents color scheme that is seen on the Hartley Top Fuel Dragster. Gary, who hoped to cross-grade his dragster license during qualifying and then make the F/C show here, had his effort short circuited during Saturday's afternoon qualifying session. Gary's parachutes shook out near mid-track and thwarted a run that was shaping up to be quick enough to make the field. The team is committed to IHRA Nitro Funny Car racing and plans to run the entire IHRA series this year.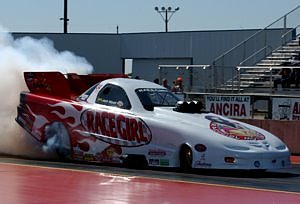 Jack Wyatt
Jack Wyatt was the first alternate in Nitro Funny Car and he actually could have made the field when
Vinnie Arcadi
damaged his engine beyond repair during Saturday's final qualifying session. Unfortunately Jack, running in his first IHRA race ever, did not know that the IHRA has a break rule for the pro categories. By the time he found out he had already packed up his equipment and the opening instead went to second alternate Terry Haddock. Wyatt, working as a color commentator when he couldn't race did provide the laugh of the day when he said that nitro was the fastest-working solvent on earth. According to Jack, it can dissolve marriages and bank accounts in nothing flat.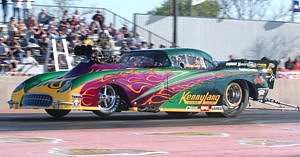 Kenny Lang
Bobby Lagana, Jr.
debuted a 2006
Murf McKinney
-built top fueler at this event. According to Bobby this is the first brand-new race car ever in the long history of Lagana Family Racing. Bobby drove the car right into the field with a 4.751 elapsed time despite no prior testing with the new car. The broad smile never left Bobby's face all weekend despite a first round loss in eliminations to perennial T/F powerhouse
Clay Millican
.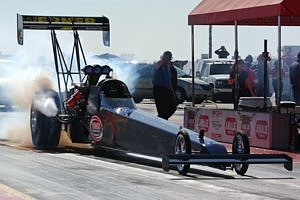 Bobby Lagana Jr.
After sitting out most of 2005
Rick DiStefano
returned to IHRA Pro Modified in a big way, qualifying number one in P/M. He recorded two 6.06-second elapsed times, one in each lane, during qualifying with the quicker one, a 6.062, holding up for the number one spot. He also recorded a 237.50 mile-per-hour top speed, which would have been good enough for a new top speed world record if he had been able to back it up. While he was not able to notch the record he did earn a teardown from IHRA tech officials after his high speed blast. Rick's power comes from
Al Billes
via a new collaboration that was formed during the off-season. Fellow Canadian
Kenny Lang
was also running DiStefano/Billes power and he qualified sixth with a career-best 6.108 elapsed time, a nice improvement over his previous best of 6.25 seconds. Both DiStefano and Lang lost in the second round after winning their opening race on Sunday.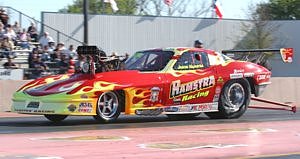 Jason Hamstra
A pleasant surprise in Pro Modified was the impressive debut of 18 year old
Jason Hamstra
from Demotte, Indiana. Jason, in the ex-Mike Stawicki G-Force Corvette, qualified 17th with a great 6.202 elapsed time but made the eliminations field when
Scott Cannon
crashed his new 2006 Pontiac GTO during final qualifying and was not able to return for race day. Jason uses a 470 cubic inch Chrysler Hemi for power that is hooked to a Lencodrive transmission. Indiana's
Larry Snyder
assists with the team's powertrain.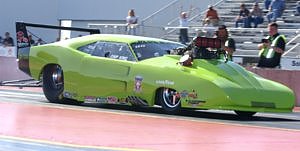 Chip King
North Carolina's
Chip King
was racing his Dodge Daytona Pro Modified here with its newly modified front end. After debuting his car late last year Chip was told by IHRA Tech Director
Mike Baker
that his car's nose would have to be shortened to IHRA's 45" standard front dimension despite the fact that the Daytona's original nose was 51" from the factory. Well-known aerodynamic engineer
Johnny Stamper
developed the new nose profile. Chip plans to run the entire 2006 IHRA season and has purchased a hauler from fellow Dodge racer
Allen Johnson
in order to do so.
No less than 33 entries tried to qualify for the 16 car Pro Modified field. Ed Hoover, Harold Martin, Eddie Ware (in a new 67 Camaro), Thomas Patterson, Shannon Jenkins, Charles Carpenter, Steve Vick, Billy Harper, Steve Bareman and Dennis Radford were among the notable non-qualifiers.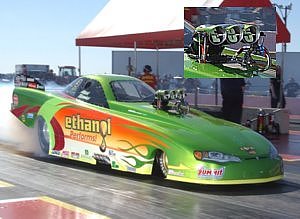 Mark Thomas
5-time Alcohol Funny Car champion
Mark Thomas
debuted his beautiful new 2006 Chevrolet Monte Carlo at this event. The car is true work of art and even features a custom painted
Ken Veney
fuel injector that matches the paint scheme. Luckily the Veney injector is a three hole type whick is perfect for GM's E85 Ethanol advertising campaign. In fact the car has already been shot for an upcoming General Motors' "Live Yellow, Go Green" commercial. Mark drove his new car all the way to the final round where he faced, and defeated, the similar 2006 Monte Carlo of
Rob Atchison
. Mark dedicated his win to fellow ethanol believer
Paul Dana
who lost his life earlier in the day in an Indy Car accident at Homestead, Florida.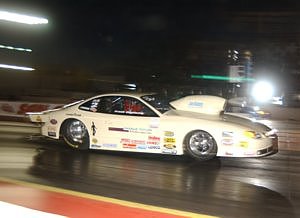 Frank Gugliotta
Two weeks ago
Frank Gugliotta
, who finished second in Pro Stock points last year, found himself rideless when his previous car owner unexpectedly chose to sit out the 2006 season. Frank's retirement was short-lived when
Charlie Taylor
tapped him to drive in 2006. After hastily relettering the car, and two test squirts at Houston, the Taylor/Gugliotta team rolled into San Antonio on Thursday. Three days later they could be found in victory lane as the new team celebrated its first-ever win.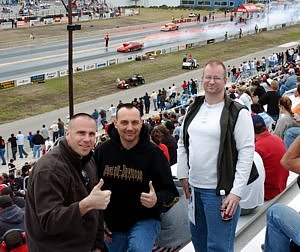 Sgts Marsh, Dausman and Williams
The number of cars that reached the sand trap at this event was unusually high. Among those that took a trip to "the beach" were
Dale Creasy
,
Rob Atchison
,
Carl Spiering
,
Kenny Lang
and
Gary Goforth
. Scott Cannon,
Mike Bruno
and Carl Spiering all experienced top end crashes of varying degrees of severity at one time or another over the weekend. In every case the driver was uninjured and the car can, and will be, repaired.
Master Sergeant Gary Marsh as well as Tech Sergeants Don Dausman and Jeff Williams were treated to a once-in-a-lifetime experience on Sunday when they were able to stand on the starting line during a round of Nitro Funny Car. All three were enjoying a weekend at the drags when they were discovered in attendance by ace photographer Roger Richards who brought them to the attention of IHRA officials. The three sergeants are currently attending classes at the nearby Lackland Air Force Base studying munitions (how to blow things up) and figured that the drag race would be a great place to expand their knowledge pool.
One of the most popular parts of my columns last year was the t-shirt of the event winners. The tradition continues in 2006 with our first winner from San Antonio. His shirt said, "I was out of sick days so I called in dead".