Wed, 22 Mar 2006, 09:09 AM



Drag Cars at Barrett-Jackson



By Jim Luikens


Photo copyright 2006 Jim Luikens





The strong demand for collector cars broke numerous world records and pushed total sales to more than $100,000,000 at the 2006 Barrett-Jackson Scottsdale Event. With record attendance on hand inside the largest tent of its kind in the world, spectacular vehicles attracted spectacular bids during the 35th Anniversary Barrett-Jackson "World's Greatest Collector Car Event." A total of 1084 cars crossed the auction block during the nine-day event and all were sold at No Reserve.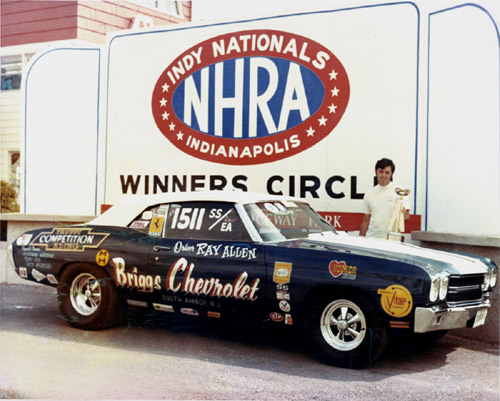 4,852 bidders, representing all 50 states and 14 countries, registered for a chance to bid. These bidders had a combined purchasing power in excess of $1,000,000,000. This year's $100,080,115 in total sales compared to the $61,687,526 sales record that was set at last year's Scottsdale B-J auction. Included in the sale were a number of significant drag racing vehicles including a former Ray Allen NHRA S/S World Champion Chevelle SS LS6 convertible. With Ray himself providing commentary from the auction block it sold for $1,242,000 including buyer's fee.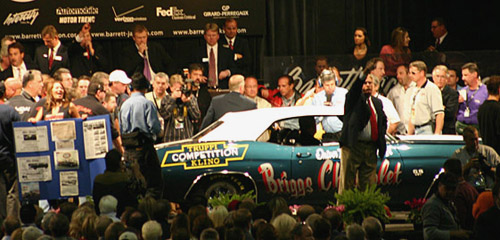 1970 Chevelle LS6. The star of the auction for drag fans was the former Truppi & Kling Chevelle. This is the car that Ray Allen drove to wins at the US Nationals, The Super Nationals, The World Finals and most of the division races that he entered in 1970. The car has received a frame-off restoration that was mostly supervised by Ray himself and had just 61 miles showing on the odometer. The Chevelle was sold with its original New Jersey title still in Truppi & Kling's name. It also came with its original build sheet and various magazine and National Dragster articles. Surely the most expensive Chevelle ever sold. Final selling price including buyer's fee: $1,242,000.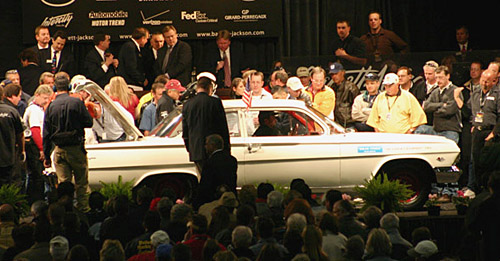 1962 Chevrolet Biscayne. This one-owner "matching number" 327/300 horsepower, 4 speed Biscayne, known as "White Lightning", had many wins and was raced competitively from 1962 to 1972 in E, F and G/Stock class. Owner Walt Donohue was "Drag Times" Magazine Jr. Stock Champion in 1963 with this car. A complete history, photos, winning race jacket and original helmet were all included with the sale. Also included was the car's original owners manual and copy of its original "A" title (issued 3/2/62) plus the envelope it came in. This car was parked in a garage after the 1972 racing season and sat there for more than 33 years until it was discovered recently The car is now street legal and has been converted to run on unleaded premium fuel. Final selling price including buyer's fee: $48,600.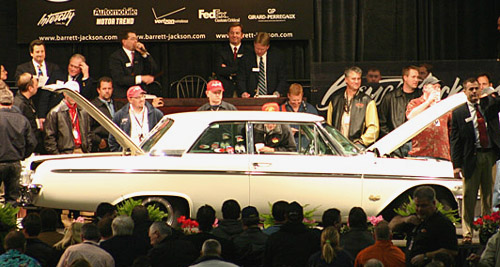 1962 Ford Galaxie G-Code. This was among the first all out efforts in the Stock/Super Stock wars. With its high-compression engine, solid lifter cam and 3 Holley 2-barrel carbs this is a no excuses 405 horsepower rocket! The tri-power engine was backed by a Borg - Warner T-10 close ratio 4 speed that transferred power to a 9" Ford rear end with 4:11 gears and a traction lok differential. Less famous than the Chevrolet, Pontiac and Mopar competitors of the same era, this shows that Ford was just as serious about being number one. This was an excellent example of a restored G-Code Galaxie and had only 78,000 original miles. Final selling price including buyer's fee: $34,560.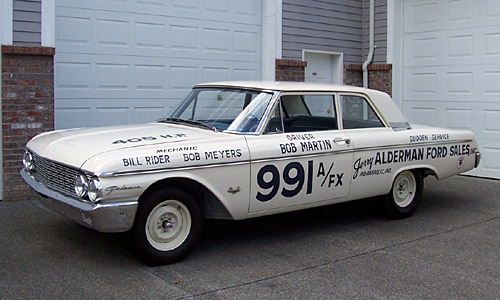 1962 Ford Galaxie Lightweight. If a G-Code Galaxie isn't hot enough for you, how about a rare, 1 of 11, Galaxie Lightweight sedan. Ford produced 11 of these cars in total and sold each car for $1.00. Today only 4 of the 1962 Lightweight cars have survived. The LW Galaxies received special components from the factory that included: a fiberglass hood, fiberglass fenders and fiberglass trunk lid, aluminum bumper, aluminum inner fender aprons and aluminum radiator, factory headers, 406 cid, dual quad carburetion, radio and heater delete, 4-speed transmission, paper-thin floor mat, body filler and sound deadener delete, door pulls delete, battery relocated to the trunk. This car has its original, serial numbered Lightweight frame and comes with the $1.00 sale agreement and documentation. It is the original matching numbers Alderman Ford (of Indianapolis) car and was driven by Bob Martin. Final selling price including buyer's fee: $162,000.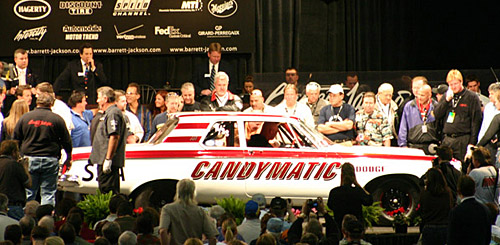 1963 Dodge 330 Max Wedge Lightweight. If Mopars are your thing how about a car that is "believed" to be one of the original Ramchargers back-up cars. It has been restored to its present condition by Rick Demarco of New Jersey. Rick bought the car from Bill Blair and it had "Ramchargers Candymatic" lettered on it when he bought it. Numerous magazine features document that lots of "trick" items are on this car. This car had lightweight (acid dipped) doors and an original interior. Final selling price including buyer's fee: $92,880.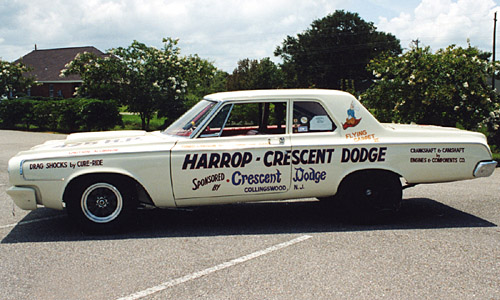 1964 Dodge 330 Max Wedge Lightweight. Known as The Flying Carpet, this is another restoration to original race condition by Rick Demarco. It is the real factory lightweight Dodge that was driven by Bob "Harrop the Arab" and sponsored by Crescent Dodge. Currently showing only 49 miles on the odometer, it has a 426 Max Wedge engine by Jerry Stein, an aluminum front end and paint and lettering just as it was raced in 1964. Final selling price including buyer's fee: $104,760.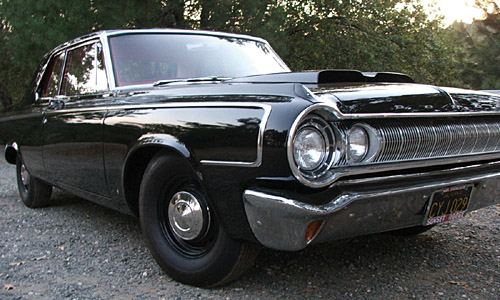 1964 Dodge 330 Max Wedge Lightweight. 1964 was the last year for a Max Wedge, the "late model" 426 HEMI was introduced midyear. This one didn't have quite the provenance of the Harrop car shown above but it was a good car none-the-less. It had 40 miles showing and was all original except for its floor mats. Back in the day it won a Super/Stock race at Cotati and more recently was a 1995 centerfold for Hot Rod Magazine. It was also the Good Guys Muscle Car of the Year in 1994. Final selling price including buyer's fee: $129,600.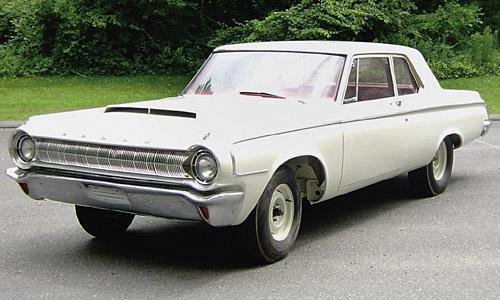 1964 Dodge 330 Hemi Lightweight. Originally owned and raced by Barnes Core Drilling of Bakersfield, California as the "Snorkasaurus 4". It has now been correctly restored to "as delivered" condition and has only 537 miles since new. This car has never been cut up or altered and still retains its factory aluminum front end and original sheet metal. Interestingly, its highly documented hemi engine was built on the very first day of 426 Hemi production. Decoded and authenticated by Galen Govier. Lots of documented pictures accompanied the car including an original 1964 Super/Stock magazine centerfold. I thought its Sunday time slot might hurt its selling price but there must have been at least a couple of high-rollers leftover from Saturday night's delirium. Final selling price including buyer's fee: $145,800.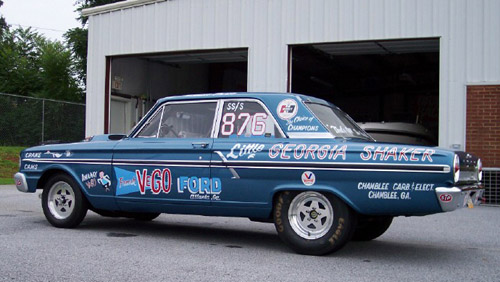 1964 Georgia Shaker Ford Thunderbolt. Number 13 of 100 Thunderbolts produced by Dearborn Steel Tubing for Ford Motor Company. Originally owned and driven by Georgia racer Hubert Platt. Like all Thunderbolts, it is powered by a 427 cubic inch "High Riser" Ford engine rated at 500 horsepower. In the mid-60's Thunderbolt number 13 was involved in an accident. The car sat for almost 30 years before Lee Malkemes of Pennsylvania, with the help of 422 Motorsports, restored the car to its original condition. The car sold here was the original core of number 13 with a new front end, quarter panel, trunk lid and passenger door. A 28-foot trailer was included with the purchase. Final selling price including buyer's fee: $162,000.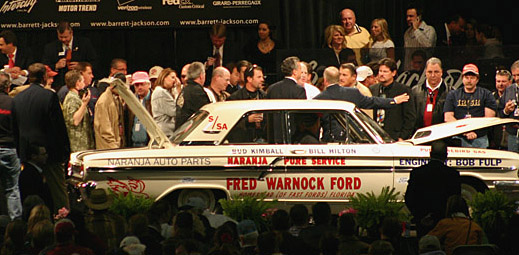 1964 Ford Thunderbolt. How can you not be impressed with an auction that offers not just one, but two T-Bolts. Thunderbolt equipment included a fiberglass tear drop hood, aluminum front bumper, fiberglass fenders, plexiglass side windows, radio, heater and sound deadener delete, rubber floor mats, 427 High Riser dual quad engine, ram air ducting, light weight front wheels and tires, trunk mounted battery, light weight rubber floor mats, light weight front bucket seats, door pull delete, auxiliary oil pressure gauge and dash mounted tachometer. The Thunderbolt presented here was the 90th car produced. The car was correct right down to its FoMoCo script headlights. It came with documentation and a clear history. Final selling price including buyer's fee: $270,000.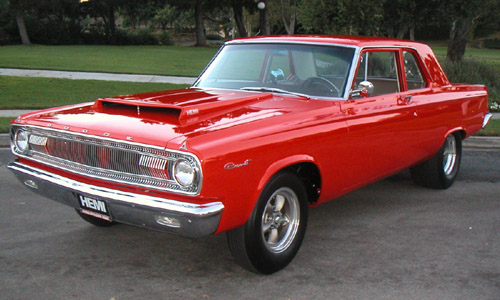 1965 Dodge A-990 Race Hemi Sedan Recreation. A Dale Reed-built race Hemi that has been upgraded to 500 plus cubic inches and 715 horsepower powers this recreation. Highly detailed engine compartment, undercarriage and correct tan (period) interior. Multiple award winning show car, magazine car and cover car with unsurpassed attention to detail. Barry Meguiar's personal selection for the "Meguiar's Gold Class Award". Final selling price including buyer's fee: $130,680.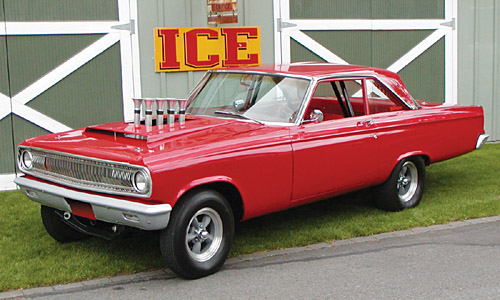 1965 Dodge Coronet A/FX Recreation. This car built by Mosher's Muscle Cars, famous Mopar specialists. It is a 1965 Coronet hardtop powered by a very rare 1968 factory replacement 426 with no date ID and 600 horsepower. The rest of the drive train features a 23 spline 4 speed and a Dana 60 with 4.56:1 Sure Grip rear end. This car is a very nice A/FX replica with a lightweight front end, doors and trunk, lexan windows, aluminum bumpers and A-100 seats. Original Hilborn fuel injection with velocity stacks, tuned by the Hilborn Company, and zero offset American 5 spoke mags. This car is street legal unlike the original factory Coronets that were built to wage battle in the drag race wars. Final selling price including buyer's fee: $108,000.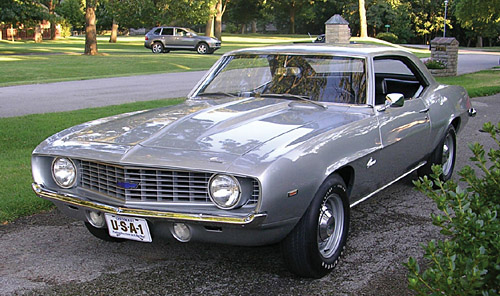 1969 Chevrolet Camaro ZL-1. This car was originally owned by Dick "Mr. Chevrolet" Harrell and has been certified by Ed Cuneen of the COPO Connection. Mr. Cuneen states "this Cortez Silver ZL-1 Camaro is presently in number one condition and is one of the finest examples in existence". Fred Gibb, an Illinois Chevrolet dealer, worked with Chevrolet officials to develop a Central Office Production Order (COPO) that would put the Corvette 427 ZL-1 aluminum engine into a Camaro to create the Camaro ZL-1. COPO #9560 included the aluminum engine, a cold-air hood, heavy duty cooling, transistor ignition, special rear axle, F70x14 raised white letter tires and power front disc brakes. To homologate COPO #9560 for racing, Chevrolet had to produce 50 cars. Gibb placed an order for 50 and this is number 9 of the 50 Gibb Camaros. This example had GM's Turbo 400 automatic transmission. Final selling price including buyer's fee: $486,000.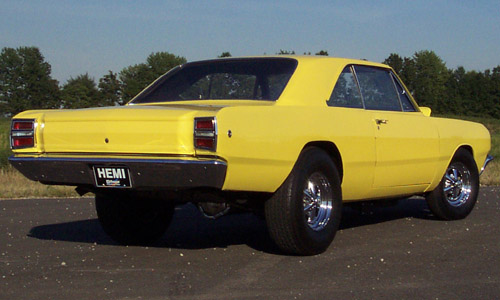 1968 Hemi Dart. One of the few remaining original 1968 Hemi Dodge Darts, this is number 5 of 56 in the Chrysler Registry. Formerly owned by Lou Mancini of Mancini Racing and the Chrysler Corporation, this original was fitted with a 426 hemi engine and automatic transmission installed by the Hurst Corporation. It is a true, unmolested and unrestored survivor with documented history. It is capable of being street driven as evident by its Pennsylvania inspection sticker. It has never been raced or altered. These cars have been deemed "the ultimate muscle car" and " the only car worth selling your house for" by some. Final selling price including buyer's fee: $324,000.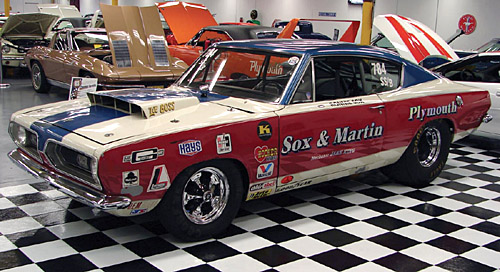 1968 Hemi Barracuda. This car is an interesting car, it actually has a well-documented dual provenance. It was originally raced by Billy "the Kid" Stepp of Dayton, Ohio. Later Ronnie Sox drove the car in match races and exhibition races during the late 80's and early 90's. It still has the Sox and Martin paint scheme and is capable of sub-10 second elapsed times in its current configuration. Various documentation and videos came with the car that showed it match-racing Bill Porterfield's ZL-1 Camaro. Final selling price including buyer's fee: $248,000.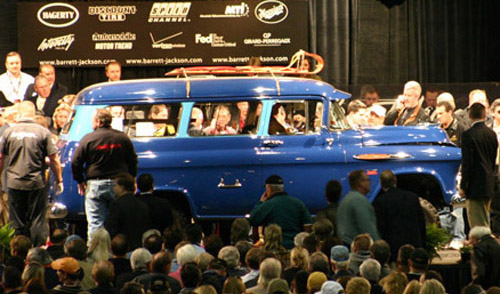 1957 Chevrolet Suburban Carryall with NAPCO 4WD Conversion. 1957 was the first year the NAPCO "Mountain-Goat" 4-wheel drive option was available from the Chevrolet assembly line. Fitted only to 235 cubic inch "Thriftmaster" 6 cylinder-equipped trucks, it included a floor mounted 4-speed manual transmission and high-low transfer case. This Suburban features the factory correct deluxe color combination of Royal Blue and Alpine blue. It also has the clamshell tailgate and all 3 rows of optional interior seating. This granddaddy of all SUVs is included here, not because of its high-performance nature, but because of its high-performance new owner. Noted Top Fuel driver, and early Suburban collector, Bruce Litton took this one home to Indiana after buying it live on national TV. Final selling price including buyer's fee: $75,600.