Tue, 14 Mar 2006, 06:49 PM



Notes from Jim Luikens' Reporter's Notebook



by Jim Luikens


Photo copyright 2006 Roger Richards





at the Sixth Annual Eastern Spring Test Nationals



VALDOSTA, Ga. --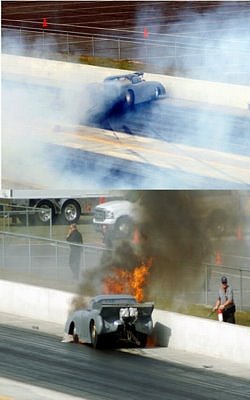 Tim Krupa
Nearly 100 professional race teams journeyed to the spectacular South Georgia Motorsports Park (SGMP) in Cecil, Georgia for the Sixth Annual Eastern Spring Test Nationals. This year's ESTN event features six days of free testing, Thursday through Tuesday, for those teams that were willing to participate in a Chicago-Style match race on Sunday. SGMP is located exactly 100 miles northwest of Gainesville, Florida and the lure of a world-class drag facility along with the timing of this event, which ends just before the Gatornationals begin, proved to be a strong attraction for a number of NHRA teams. Also present was a large contingent of IHRA teams, whose season begins next week in San Antonio.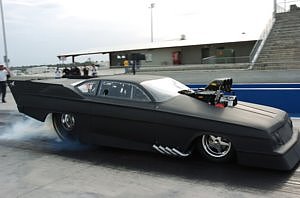 Alan Pittman
One of the most popular paint colors for the race cars in attendance here was gray primer as a large number of competitors struggled to finish their new cars in time for this event. If time ran short it was the paint job that was sacrificed in order to make it to SGMP.
One of the primered cars was the "new" 1953 Corvette of Tim Krupa. Tim is a veteran of Good Guys events on the west coast, where he finished second in Good Guys points with his 1941 Willys in 2004. He recently moved himself, his wife and their five children to Lincolnton, North Carolina from California in order to race IHRA Pro Modified. Tim lost his new 'Vette, on its first-ever burnout, when it powered from the left lane hard into the right lane wall just past the 330-foot mark. Tim estimates that it will take two months and $50,000 to repair the damage. He is undaunted by the setback however, and looks forward to joining the 2006 IHRA tour as quickly as repairs can be made.
Art Hodges, another Californian, joined the IHRA tour last year for its final three events with his Pro Stock Dodge Stratus. He was so impressed by the welcome he received and the racing camaraderie that he is back, in a big way, for the entire tour this year. While he has not made the move yet from California, like Tim Krupa and family have, Art has purchased 10 acres less than three miles from SGMP to construct an east coast shop. Over the winter engine builder Jon Kaase conducted an engine development program for him and found 150 additional horses for Art's hemi powerplant. He believed hood scoop problems held back his elapsed times here, but Art expects to have them rectified by the IHRA season-opener in San Antonio.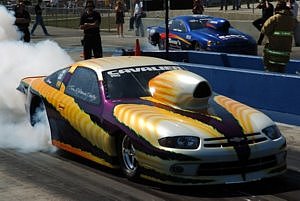 Tim Dooley
It was all GTOs, all the time, as several made their debut here. Among the IHRA Pro Stockers were new GTOs for
Pete Berner
,
Mike Bruno
and
Dan Sweeney
, who replaced their Mustang, Cavalier and Grand Am, respectively. Veterans
Warren Johnson
and
Greg Stanfield
had their NHRA Pro Stock GTOs here, while
Scott Cannon
also showed well in his new 2006 GTO IHRA Pro Modified.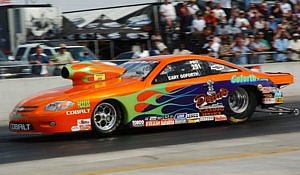 Cary Goforth
Another new car here was the 2006 Chevrolet Cobalt Pro Stocker of Holdenville, Oklahoma's
Cary Goforth
. Cary is the son of
Dean Goforth
and will make up one half of the Haas-Goforth Racing Team in 2006. Well-known chassis builder
Jerry Haas
will drive the team's 2004 Chevrolet Cavalier.
Personable Tim Dooley, of Haymarket, Virginia purchased Mike Bruno's Cavalier and now makes up one half of the new Bruno-Dooley racing team. Tim, a veteran of the 10.5 tire class, wanted to move up to Pro Stock and struck a deal for Bruno's Cavalier at Budds Creek last year. One thing led to another and now they are teammates. Both cars are powered by Sonny Leonard Hemi-Chevys with Mark Niebes the crew chief for the new team. Jim Pearson and Tim Dooley, Sr. make up the crew. Mike's new GTO features extensive chrome plating and ran so well here that it would have been in the top half of the "field" if real qualifying had been taking place and not just testing.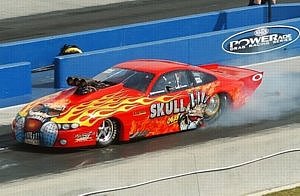 Scott Cannon
Veteran Top Sportsman competitor and devout Ford-man
Bob Bertsch
purchased the ex-Pete Berner Ford Mustang and has also moved up to IHRA Pro Stock competition for 2006.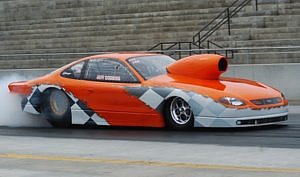 Jeff Dobbins
Steve Bareman
, who joined the
Jim Oddy
team at mid-season last year, is back for his first full year of Pro Modified competition. He is now driving the Summit Dodge Stratus, which has been repaired following its crash at last year's Milan, Michigan IHRA national event. The rebuilt Status is now a low-rider and features very unique shrouded wheel openings that are similar to the ones seen on the Dodge Stratus funny car bodies. Steve did a masterful driving job with the new car to close out Saturday's activities when something let loose and lubricated the rear tires and the track.
Danny Rowe made an impressive return to Pro Modified with a new Corvette here that was set-up by well-liked tuning guru Jimmy Rector. The new team immediately shot to the head of "qualifying," recording the lowest P/M elapsed time during the first four days of this event. Jimmy reports that the car is kept at his house/shop in Tennessee with Californian Rowe flying in to the events. Junior Gossett and Karen Rector make up the rest of the crew.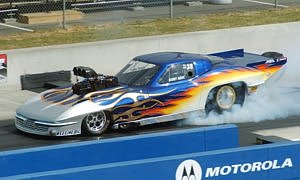 Danny Rowe
The new cars here weren't confined to just door cars. Both
Dave Hedges
and
Marty Thacker
debuted brand-new Torco-sponsored,
Mike Spitzer
-built supercharged Top Alcohol Dragsters. Dave reports that they are identical cars, built side-by-side over the winter in Spitzer's Indiana shop. They sport similar paint schemes and are basically candy red and black with flames.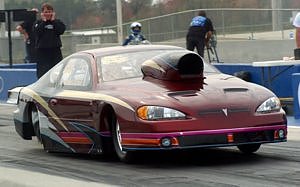 David Jane
Jeff Dobbins
crashed his Pro Stock Ford Escort at San Antonio last year on its first run of season. In fact, it was the first car down the track on the first run of the IHRA Pro Stock season, period. After being forced to sit out the the rest of 2005, he made a triumphant return here, vaulting to near the top of the leader board with his new Escort. The basically orange and white car is also a looker, as is the repainted Escort of
Elijah Morton
which is now candy blue with darker blue ghost flames. Elijah expects to have his new car, a 2006 new-generation Mustang by mid year.
Other new cars debuting here included a Grand Am Pro Stocker for the team of David Jane and Ed Buck, an '06 Cobalt P/S for Kenny Benso, a '62 Bel Air Pro Modified for Alan Pittman, a '71 Cuda P/M for Troy Critchley and a Firebird TA/FC for seventeen-year-old Dan Wilkerson, the son of Funny Car driver Tim Wilkerson.