Thu, 5 Jan 2006, 12:17 PM



Alan Pittman's Unique '62 Chevrolet Pro Mod Machine Nearing Completion



Courtesy of Brian Wood



In the months following the announcement that he and Mel Bush would be fielding a full-time Pro Modified team for 2006, chassis builder and race car fabricator Alan Pittman has been working overtime to take the team's unique supercharged '62 Chevrolet Bel Air "bubble top" from the drawing board to the race track.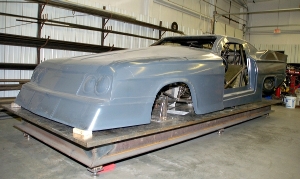 Pittman, of Greenville, South Carolina, and Bush, a construction company owner from Port St. Lucie, Florida, are now making final preparations for their debut in IHRA Torco Race Fuel Pro Modified competition, which is scheduled for late March in San Antonio. Pittman, who had a successful stint in the class between 2000 and 2003, has been on hiatus for the last two years, working to relocate and expand his AP Race Cars business. During that time he harbored a desire to return to active competition, but beyond a few match race appearances behind the wheel of his '41 Willys, a viable opportunity never presented itself. That all changed when Pittman built a Top Sportsman car for Bush. The two became good friends, and in late 2005 they decided to form a Pro Mod team.
>From there the pair had to make a lot of plans in a short period of time, the most important of which was to determine what kind of a car they would bring to the game. Bush wanted to make the car a '62 Chevy to match the Top Sportsman piece Pittman had previously built for him, but Pittman didn't know if there would be time to get a lightweight body designed and built, since this style was not offered in carbon fiber by any manufacturer. "Mel really wanted the '62 body," Pittman said. "I tried real hard to talk him into going with a '68 Camaro because I knew the clock was ticking, but we eventually decided to go with the Bel Air. We contacted Harry West at Hairy Glass in Jacksonville, Florida, and he was up to the challenge. A few days later I flew down to his shop and spent a day helping him get things set up. After kicking around a lot of ideas, we came up with a design and it went into production."
Once the body was delivered to Pittman's shop, he and right-hand-man Kevin Akeridge set to work. "Once we know that the body was on the way we started fabricating component parts, stuff we know would work with all the cars we built," Pittman said. "We couldn't bend the first piece of tubing until we got the body, but now we're just about done with the fabrication. The wheel tubs are built, the seat has been mounted, the steering, suspension and just about everything else is ready to go. We just have to finish up a few things to get the car ready for body and paint. The guys up at Illusions in Bristol, Tennessee, will be doing all of that work for us in early February."
Once the preliminary work is finished, the car will be fitted out with a supercharged powerplant from the shop of fellow Pro Mod competitor Carl Spiering, of Jordon Station, Ontario. From there it's off to log as many days of testing possible before the IHRA season kicks off.
"We're going to concentrate on running in the IHRA for 2006, but we'll have to look and see what other opportunities there are on down the road," said Pittman, regarding his plans for the upcoming season. "Since Carl Spiering is providing our engines, and since he runs in the IHRA, I'll be depending on him to help us with the engine program until we get our feet on the ground. He won't be tuning for us necessarily, but just as my customers expect me to be at the track to help them with a new car, I'll want Carl to be available to help us if necessary.
"I'm really excited about the chance Mel Bush has given me," said Pittman. "We have a lot of work to do but I'm pretty confident we'll be bringing a competitive car and team to Pro Modified. We're behind in the game after two seasons away from the track, and I'll be the first to admit that. I'm not saying that we're going to go out and outrun anybody right out of the gate, but we're going to do the best we can, get all the help we can and try to get back up to speed as quick as we can."