Tue, 27 Dec 2005, 10:41 AM



Herbert's Snap-on Tools Dragster Gets Makeover for '06 Season



Courtesy of Gabrielle Stevenson



LINCOLNTON, N.C. --
For 23 NHRA POWERade races, two exhibition weekends and a handful of special appearances, Doug Herbert and the Snap-on Tools team helped Snap-on Tools celebrate its 85th anniversary.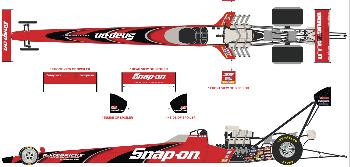 Rendering of Herbert's dragster.
Now, however, all eyes are on the upcoming 2006 season. This week Herbert released the new paint scheme for the new Snap-on Tools/Doug Herbert performance machine. It's just one step the team needs to take to get ready for a busy season of high performance racing, but as Herbert will say, it is a very important step.
"Once we know what the car is going to look like, it just gets everyone excited," Herbert said. "I loved the 85th anniversary paint scheme from last year, but it's always good to change things up and put a new face on a new season. This car looks like a winner and that's what we plan on doing when the season kicks off in February."
Herbert drove to four final round appearances in 2005 and finished a career-high sixth place in the final Top Fuel standings. He also became the third quickest driver in NHRA history, turning in a 4.441-second pass in Dallas in October.
"We did a great job last year and our goal is to take the good results and build from that and just improve our overall performance," Herbert said. "Having the paint scheme allows us to get the rest of the vehicles (return van, haulers and souvenir trailers) all painted, we can get the crew uniforms done and just get everything ready so we can focus on racing as soon as possible.
"The new season is going to be great and this is the first step in getting ready to go after round and race wins."