Sat, 24 Dec 2005, 11:05 PM



A Couple of Updates



By Bob Frey


Photo copyright 2005 Auto Imagery, Inc. & NHRA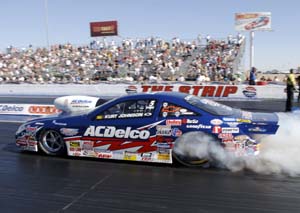 Kurt Johnson
By now I'm sure that everyone has heard the monster numbers that came from
Warren
and
Kurt Johnson
in their test sessions last week. Sub-record runs in the elapsed time department and speeds of 209 and 210 miles per hour for the pair puts them in uncharted territory for a 500 cubic inch Pro Stock car. And while the conditions were good they weren't as good as some that we've actually seen at some national events. Nonetheless, it looks like the Johnson family members have got it all going right now and if they can start the season out with a bang in a couple of weeks it could be an interesting year in pro Stock. Of course, that's a big "if.".
Jim Yates
just concluded his test session in
Bradenton, Florida
and he was pulling out of the track as I spoke to him. "We ran a best of 6.66 and a 6.67," Jim said "and the '67' was in 1,000 feet of corrected altitude so we were pretty happy with it." Jim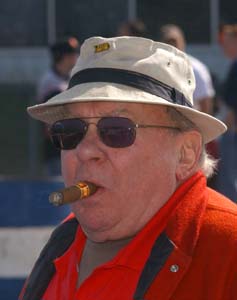 Bill Jenkins
added that it "was really neat working with
Bill Jenkins.
Anyone who knows what it takes to run one of these things has to appreciate a guy like Bill." Amen to that. While Jim didn't produce the big numbers like
Warren
and Kurt did he said that he was really happy with the session. "We were just looking to set the car up, make some clutch adjustments and things like that and get used to working with Bill. I'm confident that the numbers will take care of themselves."...While Jim makes progress with the "Grump's" stuff I still look for one other team to join the Jenkins' camp this year and I think you could see that happen within the next week or so...Despite what you may have heard elsewhere, (those nasty rumors),
Chip Ellis
will return with the
G-Squared / S & S
entry next year. In fact, if all the details get ironed out in the next few days you will also see
Matt Smith
returning for a full year with the team as well. With Chip and Matt in the stable
George Bryce
and
George Smith
will have a formidable team for the entire 2006 season as they try to catch and pass the
Vance &
Hines Screamin' Eagle
bikes.
By the way, with the new rules that give the Suzuki teams a lot more engine in '06 it could be an even better year for the bikes that the one we saw in 2005, and that's saying something. And, remember where you heard it first, you could see at least one more female racer on tour next year and she could be riding a Suzuki.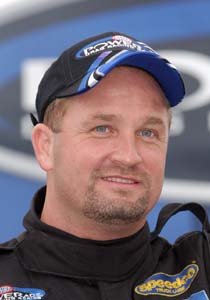 Bob Vandergriff
Everyone is still waiting for the
Bob Vandergriff
and / or
Doug Davenport
announcements and you can count me among that group. Bob's will almost definitely come first and, when he finally makes it, it should come as no surprise
who
the sponsor is. The announcement will come in the first week of January (you heard it first right here) and it will be big, believe me. Bob has always been a great spokesman for the sport and with his new sponsor and what they will do for the sport he will move right to the top echelon of teams, drivers and sponsors in drag racing.. Doug, on the other hand, continues to explore all avenues and is "currently waiting to hear from at least one sponsor before the holidays" and a few more shortly after. While I mentioned here a few weeks ago that
John Spar
would be the driver of the car, no crew chief was mentioned. Well, from what I hear,
Todd Smith
was seen hanging around the
Las Vegas
shop for almost a week and, according to Doug, "if I had my way Todd would be my crew chief." Doug realizes that he can't tie Todd up while he is still looking for a sponsor but he told me that "as soon as I hear from my sponsors, the first call I will make will be to Todd" By the way, if you were in Las Vegas for the recent Christmas tree lighting you may have noticed that Doug was hanging out with the mayor of Las Vegas, the honorable
Oscar B. Goodman
. "His honor" was also at the second race at the Strip at Las Vegas Motor Speedway in October where he served as the grand marshal and, from what I
saw,
he appeared to have a great time. Now I ask you, how cool would it be to see a Las Vegas-based Top Fuel car sporting the logo and the slogan of the city of
Las Vegas
next year? Hey, I'm not saying that's what Doug has in the works, I'm just saying that it would be great to see "What Happens Here, Stays Here" on the side of a Top Fuel car, wouldn't it? If I had to take a guess I would think that the first time we will see this car and team in action may be at the
Las Vegas
race. Stay tuned.The latest on
Wayne Dupuy
has him making progress almost every day. According to a family member whom I spoke with
Wayne
's speech is getting better and his physical therapy is progressing very well. "It's still a long road," I was told, "but it's nice to see him making progress every day."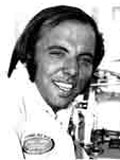 Steve Carbone
I would like to join with everyone in the racing community and send my thoughts and prayers out to the family of
Steve Carbone
who passed away this week at the age of 62. Steve was one of the great personalities in the sport and a guy who drove a wide variety of cars and drove them all very well. While he accomplished a lot of things in his drag racing career, including a world championship in 1969, he is most often remembered for the classic burn down with
"Big Daddy" Don Garlits
at the 1971 U.S. Nationals, a race that Steve won.
Mike DeLille
, of
"1320 Inc."
the company that makes those wonderful, collectible front engine dragsters, included a couple of Steve's cars in his series including the
Creitz & Donovan
car and the "black car" that Steve used to win at Indy. I was asked to write the little historical piece for those cars and here's what I had to say about that Indy final.
...It should have been a mismatch. In one lane you had "Big Daddy" Don Garlits driving his revolutionary rear-engine Top Fuel Dragster and in the other lane you had Steve Carbone in his conventional front-engine car. "Big" had qualified #1 in the field with a stunning 6.21 while Steve had qualified second with a 6.39 almost two tenths of a second behind the leader. Don had won his first four rounds effortlessly and spectacularly, clocking times of 6.28, 6.32, 6.25 and 6.31 while beating Al Friedman, "Kansas" John Wiebe, Arnie Behling and Carl Olson, while Steve had managed to go four rounds with the help of three red light starts by his opponents Chuck Kurzawa, Kenny Safford and Gary Cochran to go along with a 6.39 win over the only driver who got a green light against him, Tom Kaiser (in round two). Garlits had already won the "Nationals" three times while Steve had a grand total of one national event win to his credit. Yep, it should have been a mismatch.and it was. Steve Carbone won the 1971 U.S. Nationals' championship by beating the seemingly invincible Don Garlits 6.48 to a losing 6.65. Poor Don, he never had a chance!!
Garlits vs Carbone
The Top Fuel final round at Indy in 1971 will forever be remembered as the "great burn-down" race, the one where Steve Carbone outlasted Don Garlits in a battle of nerves and then won the biggest race in the sport. "Once I got past the semi-finals I knew I had the race won," Carbone would say after the race. "We knew what Don was doing and we planned accordingly." What Don was doing was running a new Keith
Black

motor
with aluminum heads, and what Carbone knew was that the car would build up a lot of heat and power the longer it sat there. "I wasn't going to stage first even if the headers melted off," Carbone said prior to the final round, and he was true to his word. "What did he have to lose
?,
" Don would lament after the race. "I was running 6.20's and they were running 6.60's."
The stage for the great burn-down may have been set three years earlier when Don beat Steve in the Indy final round, a round in which Steve thought that Don had taken a little too long to stage. Now, at a seemingly insurmountable disadvantage, Steve decided to do whatever it took to win the race. Consider that Don was running a 1,260 pound, rear-engine car with a big wing and a 473 cubic inch stroker motor with those new aluminum heads, while Steve was running a front-engine car that weighed 1,550 pounds, had a stock 426 cubic inch engine with cast iron heads and side mounted air foils. On paper it looked like a mismatch. On the track.it was.
Steve will be greatly missed by all of us who were fortunate enough to either have known him or had the opportunity to watch him race.
I hope you all have a great holiday season and a wonderful new year and thanks for all of your notes, comments and corrections during the year. Happy holidays... .