Wed, 14 Dec 2005, 11:41 AM



A Couple Thoughts...



By Bob Frey


Photo copyright 2005 Auto Imagery, Inc. & NHRA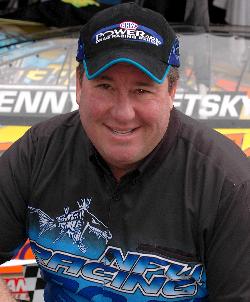 Kenny Koretsky
Watch for an Olympic champion to be racing on the NHRA tour in 2006...The way it looks now
, Kenny Koretsky
will not drive the entire twenty-three race NHRA
POWERade
season next year if he drives at all
. "
I'm
feeling not all that bad," Kenny told me.
"I've still got to see the doctors and there are a couple of things that they're still keeping their eyes on but generally I feel good. I know I'm not one hundred percent so we'll just have to wait and see what happens next year. I will tell you
this,
I don't think I want to run all the races next year." Kenny told me that he is talking with several drivers, including
Dave Northrop
and
Mike Thomas
about options for 2006 but all of that is "still up in the air."
The Northrop family was at the P.R.I. show in
Orlando
and they told me that they would like to get together with Kenny and run about a dozen races next year. Kenny is really busy working on sponsorship programs for his Top Fuel car that can augment the tremendous program that he already has with
Werner Enterprises
. "They are a great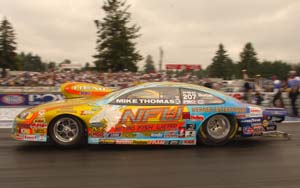 Mike Thomas
sponsor and we have a really good relationship with them," Kenny said as he headed for the IHRA awards banquet this past weekend. "The Top Fuel car will probably run at fourteen or fifteen NHRA races next year, but I still have to figure out what I'm going to do with the Pro Stock car." Stay tuned.If you're in the
Georgia
area this week you may want to stop by the track in
Valdosta
and check out the Pro Stock test session there. From what I understand you may be able to catch
Jim Yates, Warren
and
Kurt Johnson, V. Gaines
,
Larry Morgan
and a few more. And if you're good, really good, you'll be able to see that
Bill "Grumpy" Jenkins
engine in Jim Yates' car. Hmmm, that could be interesting..
Angelle Sampey
is not, I repeat, not going to drive a Pro Stock car next year. Not for
Don Schumacher
, not for Kenny Koretsky and not for anyone else. Really...
With the advent of the Pro Stock testing season, also known as winter in Florida, and with the initial test sessions in Las Vegas and Phoenix not far away, I just thought I'd take a few moments to look back on the 2005 season before we embark on a new year of drag racing. 2005 was a great year from almost every standpoint, the races were great, attendance was up at almost every national event (despite what you may read elsewhere), the performance levels were outstanding and there were a few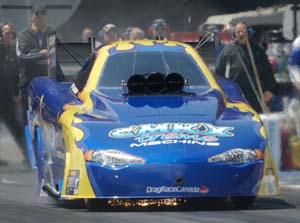 Jeff Arend
surprises. Not many, mind you, but a few. Like
Jeff Arend
going to the final round at Bristol,
Erica Enders
making a final round appearance in her first season in Pro Stock,
Steve Johnson
winning Indy and
John Force
not winning the Funny Car championship. Hey, let's face it, anytime John doesn't win the championship it's a surprise.
By the way, speaking of Erica and Steve, I saw both of them working the aisles at the P.R.I. show in Orlando. Nobody works harder for his class or his sponsors (or himself) than Steve Johnson does and let's hope he lands a good quality sponsor and signs them for a couple of years so he can focus on racing and winning. Erica was getting a lot of attention (and that was just from me), while Greg Anderson, Larry Dixon, Ken Black, Hillary Will and others also were in attendance. I had a few minutes to stop and say hi to a lot of the vendors, sponsors and friends who were there but I have to say that the highlight of my visit may have been the ten or fifteen minutes that I spent at the Bill Miller Engineering display. Bill is always a treat to talk to and when you throw in a visit by Bob Panella (senior and junior), where the conversation runs from everything from Ferrari's to taxi cabs in Miami, well let's just say that you had to be there. Bill not only makes good stuff but he tells some pretty good stories, too. Mr. Panella isn't bad either. From most of the folks that I spoke with it seemed like they really enjoyed the new location, after all, December in Florida has to be better than December in Indianapolis doesn't it? At least if you're going to a trade show, it is...Atco Raceway had a booth in the P.R.I. show and I saw Joe Sway talking with Ken Koretsky. Hey, maybe Joe will drive for Kenny next year..
On the flight home from the show I sat next to a guy who worked for Porsche and all he wanted to do was talk about how fast the top fuel cars are. "Faster than any Porsche, is what I told him." Anyway, getting back to 2005.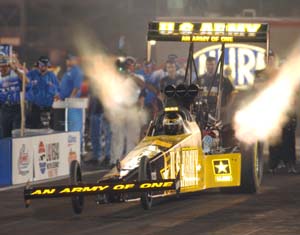 Tony Schumacher
If you look strictly at the numbers it would come as no surprise that
Tony Schumacher
and his
"Army"
team won the Top Fuel title this year. Besides the fact that he ended the season with seven straight final round appearances and twenty consecutive round wins, both records,
did you know
that the "Sarge" reeled off nine of the top ten speeds in the class this year? Only
Brandon Bernstein's
333.74 qualifying run in
Phoenix
kept Tony from completely sweeping the class in the speed department. On race day, Tony had eight of the top speeds in the dragster class with
Brandon
having the other two. By the way, who do you think had the number eleven speed on the chart this season? How about that
Gary Scelzi
? That's right, the eventual Funny Car champ ran 331.53 at
Pomona
and that stood up as the eleventh best speed during eliminations this year. No wonder he won it all. But getting back to Tony. In the elapsed time department,
did you know
that he had six of the top ten runs in the class on race day in 2005? But
did you know
that he didn't have the quickest run of the year during eliminations?
David Grubnic
had that honor with his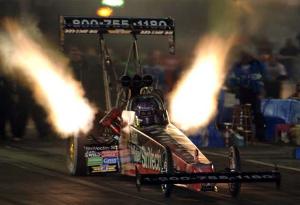 David Grubnic
stunning 4.448 at the Winternationals. In fact,
did you know
that of the ten quickest runs in the class this year (during eliminations)
,
five of them were recorded at the first race of the year. For the entire year there were twenty-five runs over 330 mph during eliminations and Tony had twelve of them with
Brandon
next best with four. Tied with three each
were
Larry Dixon and Gary Scelzi. Yes, that's right,
Gary
and his
"Oakley / Mopar"
entry
had more runs over 330 mph this year than a lot of the top fuel cars. Amazing, huh? No matter how you do the math one thing was for sure this year, the best car did, indeed, win the Top Fuel championship and unless someone else gets that combination right next year (it's all in the clutch, or so I've been told), the Army car is looking at the elusive three-peat in Top Fuel. "Team Schumacher" had such a good year that they've got some really neat offers on their web site just in time for the holidays. This certainly isn't a paid message but if you'd like some nice stuff and a couple of free memberships (and t-shirts) for you or your friends you may want to check it out at
www.donschumacherracing.com
. They have lots of neat things there including some really cool bar stools with your favorite logos on them so check it out, and when you do mention my name (OK, don't), but you better hurry because I understand they're just about out of those really neat Gary Scelzi and
Ron Capps
women's running shorts. Go figure..Speaking of gifts, if you have a really special person on your list and you'd like to give them a unique fit, check out the stuff that my good friend,
Mike Goyda
has to offer. Mike has the best collection of drag racing memorabilia in existence and he's bound to have something for that hard to buy for person on your list. See what I mean by going to
www.goyda.com
. Even if you're not looking to buy, if you love drag racing you'll love Mike's web site. Check it out...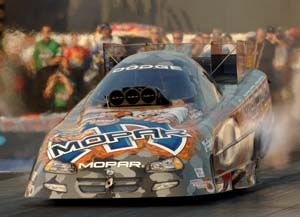 Gary Scelzi
The fact that the Funny Car championship was won by Gary Scelzi with thirty-five round wins just goes to show how competitive the class was this year and anyone of the top three guys, Gary, John Force and Ron Capps, could have won this thing at the last race of the year. If this were another pro sport the term "parity" would probably be thrown around and that's not necessarily a bad thing. I ask you, which is better, one guy (whom ever it may be) clinching the championship by Labor Day or the season that we just had? I think the answer is simple, although there are of those who think that the new rules, the reduction of nitro percentage and things like that are the ruination of the class. Hard to believe, isn't it? The class is strong and there are more teams than ever who have a shot at winning the championship next year and that will make the '06 season very interesting, indeed. Anyway...Nice to see the folks at
Checker, Schuck's and Kragen
, along with
Del Worsham
, decided to keep
Phil Burkart
behind the wheel and to use the Chevrolet body next year. Phil and his team got off to a great start in 2005 but they went into a huge slump in the middle of the year and a lot of that, OK some of
that,
probably had to do with the body switching that kept going on. Mark my words, Phil and the "blue team" will rebound next year and be a factor right from the start. The same might be said about
Del
, who had a career year in 2004 and then fell back this season. When you talk about surprises,
Del
finishing in eighth place had to be one of them. But like I said at the beginning of the year, with the three "Team Force" cars and the trio of drivers from Don Schumacher's camp you almost had to start penciling in the other teams beginning with seventh place and that's almost the way it played out...
Bob Gilbertson
will be switching bodies next year (car bodies, not personnel bodies) and he should be ready for a better year in 2006.
Did you know
that Bob had four round wins by the time we left
Gainesville
last year and that he ended the year with a total of six round wins? ..
Tony Pedregon
will win the POWERade championship next year, remember where you heard it first.
Did you know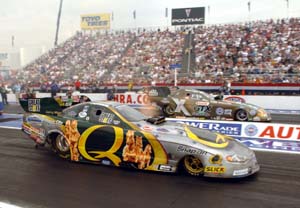 Tony Pedregon
that Tony had a grand total of twelve round wins after the first nineteen races of the year this year? And
did you know
that he then won eleven rounds over the last five races of the season? The
"Q Racing"
team put some of the best numbers of the year on the board and that's why I think they will contend for the championship in 2006. If I asked you which Funny Car team turned in the best elapsed time of the year this year would you know who it was? Of course you would, it was Tony and his brother
Cruz Pedregon
at the
Chicago
fall race. Both guys ran 4.680 at the
Joliet
track and that was the best time turned in in the class this year. Tony's 4.681 at
Pomona
was
the next best and now that his team has learned how to win, which is as important as learning how to run fast, they will be a contender in 2006. Remember, you heard it here first.
I just spoke with Kyle Roberts who won the Summit Racing Equipment Series championship at Pomona and did you know that his father, Kevin, won the "Race of Champions" in Division 2 this year? You did if you read Kevin McKenna's report on the class in National Dragster. But did you know that Kyle's grand father was a tech inspector at Lebanon Valley Dragway in New York? Now that's some racing family.And a big congratulations to Tom Stalba and Karen Benkovich who will be getting married this coming weekend. They are two really nice people and I wish them the best of luck.