Tue, 6 Dec 2005, 11:45 AM



Burkart Back to Wearing a Bow Tie in 2006



Courtesy of Bob Wilber



ORANGE, Calif. --
Phil Burkart, the driver of the blue Checker, Schuck's, Kragen Funny Car, will again face the competition behind the wheel of a CSK Monte Carlo in 2006, returning to the body style in which he won two races and finished in the top ten in 2004. Burkart and his teammate, Del Worsham, both began utilizing the Monte Carlo immediately after the introduction of the Chevrolet model in 2004, though Burkart's blue CSK car was subsequently outfitted with a Toyota body for most of the 2005 season.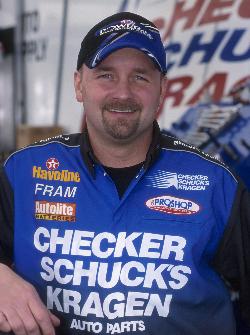 Phil Burkart
The blue team's return to the bow-tie clad Monte Carlo body is a strategic part of an overall mission to maximize the data flow between the two Checker, Schuck's, Kragen teams. Throughout the off-season, members of the Worsham Racing program are focusing on making the Burkart and Worsham cars as close to identical as possible, in a move to optimize the chances for both CSK teams to contend for the 2006 NHRA POWERade championship.
"The move we made with the blue team throughout most of 2005 was a calculated one, and it had certain advantages, but in the end it was pretty obvious that the two body styles were just too different," Del Worsham said. "During the first part of any lap it almost doesn't matter what body you have on the car, but once you get to half-track the different aerodynamics really come into play and our data from that point on was kind of like apples and oranges. It was all different enough to make it a problem in the tuning room. As a team, our best results have clearly come in the Monte Carlo, so it was an easy decision to go that way with the blue team for 2006.
"With that in mind, we're doing all we can to make sure we have easily transferable data throughout both teams. In this sport, it's easy to make one small change and quickly find yourself in a whole new tuning neighborhood, in really unfamiliar territory. With two different body styles on the cars, we had to tune the blue car differently and it probably hurt both teams' performances. It worked both ways too, in that we could make a good lap in our car, or Phil could in his, and there wasn't much we could do to transfer that success identically to the other team. The exact same set-ups would often react differently, and that worked against us this past year."
Burkart looks forward to his third full season as the driver of the blue CSK machine, and welcomes the return of his trusty Monte Carlo.
"There's a certain familiarity to the Monte Carlo that I always appreciated," Burkart said. "It handles a little differently, maybe even a little more naturally, and it's a very fast car. Del was running huge speed with his in 2005, running over 330 mph and setting some track records with it, so we know it works and we know it's a good solid platform. We have a pair of brand new ones in the shop, and plan to add a couple more new bodies as the 2006 season unfolds. I'm very excited about this move, and can't wait to see what both CSK cars can do in '06."
The 2005 season was marked by some enormous highlights in the Team CSK camp, including a pair of race victories for Worsham and his career-defining "double-up" sweep of the Mac Tools U.S. Nationals and the Skoal Showdown, but overall the year is now looked upon as a disappointment by team members, who are dedicated to stepping back up to contender status in 2006. Worsham finished the 2004 campaign second in points, but slid to eighth in 2005. Burkart won two races in 2004, on his way to a No. 10 finish, but went winless in 2005 and landed 12th. He shares his teammate's desire to return to greater glory in 2006.
"We had some things we could cheer about this past year, but everyone on this team knows we're better than what we showed," Burkart said. "We proved on numerous occasions that we could beat the best, including Gary Scelzi, John Force, and just about all the other top teams, but we needed more consistency. Having both the red and blue teams running the same body type is a change aimed at that very issue, and if we pick up just a little more consistency we can move way up in the standings next year. Both of the Checker, Schuck's, Kragen teams should be contenders, and our only goal right now is to prove that."
Should he reach his goal of solidly reclaiming his spot on the stage at the 2006 POWERade Awards Ceremony, Burkart knows he'll need formal attire for the function. He hopes a full season wearing the Chevy "bow tie" will be instrumental in earning the right to wear a classic piece of neckwear with his tuxedo, come next November.