Sun, 4 Dec 2005, 12:37 PM



Force Named to Auto Racing All-America Team for 13th Time



Courtesy of Dave Densmore



INDIANAPOLIS, --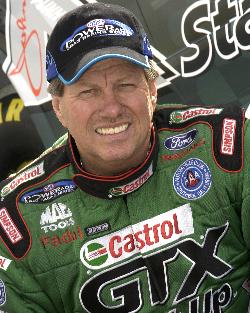 John Force
Named to the Auto Racing All-America Team for the 13th time in the last 15 seasons, John Force was a notable absentee Saturday at a banquet honoring team members at the Westin Hotel. The driver of the NHRA national record-holding, 330 mile per hour Castrol GTX Start Up Ford Funny Car was several thousand miles away on a previously scheduled family trip to England.
It marked the first time that the 119-time NHRA tour winner was not present to personally accept the unique "horsepower trophy" awarded to team members by the American Auto Racing Writers and Broadcasters Association.
In his absence, Force was represented by the 2005 winner of the Automobile Club of Southern California's Road to the Future Award, NHRA Rookie-of-the-Year Robert Hight, who accepted on behalf of the man who is both his teammate and father-in-law. Hight, who won two races and was the No. 1 qualifier a category-high six times as a Funny Car rookie, is married to Force's eldest daughter, Adria.
Force earned his latest All-America honor on the strength of five 2005 tour victories, two more than any other Funny Car driver. That was enough to get him one of the two drag racing berths on an expanded 17-driver team.
The only four-time winner of the Jerry Titus Memorial Award, which recognizes the driver earning the most votes in All-America balloting, Force was joined on the first team by three-time NHRA Top Fuel champion Tony Schumacher; NASCAR champion Tony Stewart; CART champion Sebastien Bourdais; and IRL champion Dan Wheldon, among others.
Force, who first was recognized in 1990, has been a first team All-American more often than anyone except World of Outlaws sprint car icon Steve Kinser, who this year earned his 18th All-America nod.
The 1996 Driver of the Year for all of American motor racing, Force set an All-America record when he was named to 10 consecutive teams (1993-2002). Tony Pedregon, who drove the Force-owned Castrol SYNTEC Ford to the 2003 NHRA Funny Car Championship, supplanted his boss on the team for one season before the 56-year-old veteran won back both the championship and All-America berth in 2004.
"I want to thank the media," Force said. "We had a strange year, but we did win five races and I'm proud of that. I'm more proud, though, of Robert and Eric (Medlen, who won three times in the Castrol SYNTEC Ford) and my daughters Ashley, Brittany and Courtney, the Next Generation at John Force Racing."
Gary Scelzi, who beat Force in a dramatic duel for the 2005 championship, joined NHRA Pro Stock Champ Greg Anderson on the second team. Ron Capps, who also was involved in the three-way battle for the Funny Car, title was an honorable mention selection.
Other first team members were NASCAR's Jimmie Johnson; Max Angelelli, Wayne Taylor, Scott Pruitt and Luis Diaz from road racing; Dave Steele from short track racing; Frank Kimmel and Martin Truex Jr. from the Touring Series; and Patrick Long, Jorg Bergmeister and Rob MacCachren, who were selected at-large.