Sat, 3 Dec 2005, 10:31 AM



FLOWMASTER ADRL Unveils 2006 Plans;



Courtesy of ADRL Media Relations



ESPN2 to Televise All Seven Events



The FLOWMASTER American Drag Racing League today announced plans for its second full season, which will feature a bigger schedule, larger fields, new venues, and two television shows.
Following a successful first full-year campaign in 2005, the basic structure of the ADRL will remain the same in 2006: Outlaw Pro Mod drivers split into two classes (Pro Extreme and Pro Nitrous) and competing over an eighth-mile distance. With help from an increased presence from title-rights sponsor FLOWMASTER, however, ADRL officials will introduce a number of changes for 2006. Among the highlights:
* An increase from six to seven events. The ADRL Fatheadz.com Gateway Drags in Madison, Ill. will be run for the first time, while the six events from the 2005 schedule will all return.
* The addition of ESPN2 telecasts for all seven events. The Masters Entertainment Group-produced ESPN2 show (scheduled to air on Sundays at 11 a.m. Eastern) will join Adrenaline: Behind The Series, which will return for its second season of documenting both the on- and off-track action of the ADRL. Thirteen original episodes are planned for Adrenaline: Behind The Series, which will again air on The Men's Channel.
* Five new venues. For the first time, The ADRL will visit Houston, St. Louis, Memphis, Huntsville, Ala., and Rockingham, N.C.
* A 16-car eliminations field in Pro Extreme, twice the size of the 2005 fields.
* A more streamlined race weekend. All seven ADRL events are scheduled for two days, with the conclusion of each coming on Saturday night.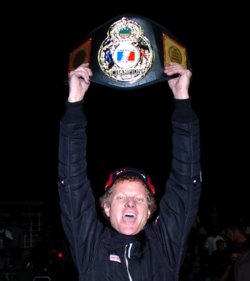 John Lynam
"The inaugural season of FLOWMASTER ADRL racing was incredibly successful on all fronts, and we were very pleased to be a part of it," said Richard Small, FLOWMASTER Vice President of Sales and Marketing. "We felt, with an additional financial commitment, the series could be even more successful in 2006, and we are happy to be able to make that commitment. We want to take this unique, exciting brand of drag racing to new heights in 2006 and beyond."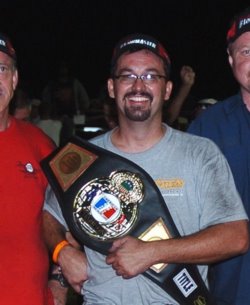 Dan Parker
ADRL President Kenny Nowling said he is confident that FLOWMASTER's commitment to the series will ensure that the 2006 season is one to remember.
"We are thrilled to have FLOWMASTER's continued commitment to our series, and we think that this is a partnership that is going to prosper in 2006 and beyond," Nowling said. "It is through FLOWMASTER's financial involvement that we can do things like double our championship purses in both classes and expand our Pro Extreme field to 16 cars."
Nowling also pointed toward the ADRL's television partners as a sign of the series' potential for growth. "I have worked with Masters Entertainment Group since 2002, and I'm very excited to have them on the ADRL team in 2006. We already have a great relationship with The Men's Channel, and I look forward to having that same high level of programming with our new ESPN2 show. The raceday coverage there will complement our reality-style show on The Men's Channel and give our race teams and their sponsors an enormous amount of additional exposure."
The 2005 ADRL season ended with John Lynam (Pro Extreme) and Dan Parker (Pro Nitrous) claiming Outlaw Pro Mod world championships in their respective classes by winning the FLOWMASTER "Battle for the Belts" competitions at the season-ending event in Kennedale, Texas. The 2006 FLOWMASTER ADRL titles will be determined in the same fashion, with the top eight points-earners in both classes qualifying for a place in the FLOWMASTER "Battle for the Belts" eliminators on October 13 at the ADRL GetWorkComp.com World Finals at Texas Raceway.
2006 FLOWMASTER ADRL EVENT schedule
FEBRUARY 17-18 Second annual ADRL SpeedTech Winter Drags, South Georgia Motorsports Park, Valdosta, Ga.
MARCH 3-4 ADRL DRAGPALOOZA II, Houston Motorsports Park, Houston, Texas
APRIL 14-15 Inaugural ADRL Fatheadz.com Gateway Drags, Gateway Int'l Raceway, Madison, Ill.
MAY 19-20 Second annual ADRL Racensur.com Sunshine Drags, Memphis Motorsports Park, Memphis, Tenn.
JUNE 16-17 Second annual ADRL AMS Staff Leasing Summer Drags, Huntsville Dragway, Huntsville, Ala.
SEPTEMBER 15-16 ADRL Eastern Race Fuels DRAGSTOCK III, Rockingham Dragway, Rockingham, N.C.
OCTOBER 13-14 Second Annual ADRL GetWorkComp.com World Finals, Texas Raceway, Kennedale, Texas