Thu, 1 Dec 2005, 11:05 AM



J.R. Todd Selected as New Driver for the Menards Team



Courtesy of Rich Bailey


Photo copyright 2005 Bob Hesser Photo





BANNING, Calif. --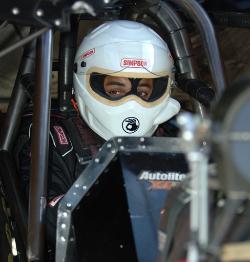 J.R. Todd
Dexter Tuttle of Tuttle Motorsports has announced that J.R. Todd is the new driver of the Menards Top Fuel Dragster. Todd, 23, was selected out of a pool of highly qualified candidates. "I'm very excited to bring J.R. Todd to our team and I'm confident he has the complete package necessary to be highly competitive behind the wheel of our Top Fuel Dragster, and is best equipped to represent Menards in the market place." Tuttle said.
Billed as "The Quickest, Fastest African-American in Motor Sports" Todd aggressively moved through the sportsman ranks beginning at the tender age of 10, when he joined the NHRA Junior Dragster program. At the age of 16, he earned his Super Comp license, and a short time later attended the Frank Hawley School of Drag Racing where he honed his skills in Top Alcohol Dragsters. Advancing quickly, he earned his IHRA Top Fuel Dragster license in June 2000.
By his 3rd IHRA professional race, he achieved a runner-up finish. In spite of competing in only 7 of 10 races in 2000, he still finished 6th in the IHRA point standings. Todd is the first driver to progress from the Junior Dragster program to the prestigious Top Fuel class. While pursuing a full time ride, Todd has remained involved in NHRA drag racing, working as a member of Bob Gilbertson's Funny Car team.
Todd will join the Menards team in Las Vegas for preseason testing before the season-opening NHRA Winternationals held in Pomona California. The Winternationals will mark Todd's official debut as an NHRA driver in the elite Top Fuel category. From there, the Menards team will compete in NHRA Powerade national events held throughout the United States.
Based in Eau Claire, WI, Menards is a chain of home improvement stores with locations throughout the Midwest. Menards is a privately held company and is dedicated to service and quality.