Mon, 28 Nov 2005, 11:01 AM



Jason Hamstra to Bring Automatic Assault on Pro Mod in 2006



Courtesy of Jon Salemi



DEMOTTE, Ind. --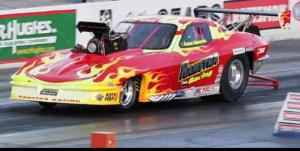 Kevin Hamstra
Hamstra family racing from Demotte, Indiana headed by patriarch Kevin Hamstra, will compete in their first year full year of Pro Mod competition in 2006. The team's trusty G-Force Race Cars built 1963 Corvette will be just one of the many tools needed to bring a team to the top of the Pro Mod contingent. The major difference in the Hamstra Racing team is that they attack the class in a different manner than most. They choose to do it with an automatic transmission from Lenco called the "Lencodrive". They will be the first team to competitively attempt the automatic combination on the Pro Mod tour.
Jason Hamstra, an 18-year-old student, is the team's driver. After spending his pre-teen and early teen years in Junior Dragster ranks, his father stepped him into a 7-second bracket dragster. Then at age 17, he took over his dad's Supercharged Pro Outlaw dragster. The team won the 2004 Pro Outlaw championship and ran as quick as 3.83 at 185 mph. That set their sights on the Pro Mod class for 2005. After a season of learning the tune-up for an automatic Pro Mod car, and getting driver Jason acclimated with how a fully suspended door car reacts, they will give the IHRA Pro Mod class a shot in '06.
Team owner and crew chief Kevin Hamstra states, "Our 2005 season in Pro Mod was a great learning experience for us. Jason did a great job behind the wheel. I'm pretty confident with my tuning abilities and the knowledge that we have gained in 2005. We have run some AMS series races and the Jeffers Mid West Quick 8 shows. We ran some low 4.00's in the eighth and I feel that those passes are great runs to build on. I really have to hand it to Larry Snyder from Snyder Motorsports. He supplies our BAE Hemi Power and does a great job. Also Jason Coan from Coan Converters has worked with us to make the proper changes to the converters to make the car work as well as it has. I'm looking forward to this adventure. It should be a great time". Driver Jason Hamstra is looking forward to getting to race against many of the names that he would consider greats of the class. Jason says, "It will be a great learning curve for our team. I'm confident of our abilities and have a great cast of people and supporters behind us. My mother Karen and sister Jessica are a big part of the team as well as our crewmembers Andy Hixon and Ed "Hambone" Hamilton. With out their help and support we could not do this at the level we do".
The team is still making schedule plans for 2006 season, but will run as many races as possible on the IHRA Tour.