Tue, 7 Nov 2000, 08:40 AM



Angelle Seeling's Championship: Oh, So Sweet!



By Mickey Schultz



Angelle Seeling has won her first Winston title when she clinched the Pro Stock Motorcycle championship at Houston the final weekend in October. The 31-year-old from New Orleans has reached the pinnacle of her class in only five years on the NHRA Winston Drag Racing Series, but she has been preparing for this event since she was six-years-old. She is only the second woman to win a professional level Winston title in the 49-year history of NHRA Championship Drag Racing. By virtue of winning her first NHRA Winston championship, Seeling will follow three-time champion, Shirley Muldowney, into the record books. Muldowney captured the Top Fuel title in 1977, '80 and '82. (If you include the NHRA sportsman classes, Seeling becomes the third female to win a championship. Amy Faulk won the Super Stock title in 1979.)
Angelle Seeling
For motorcycles, only five different riders have carried the No. 1 on their bike since the inception of the Pro Stock Bike class in 1987. Seeling joins an elite group that consists of Dave Schultz (1987-'88,'91,'93-'94, '96), John Mafaro (1989), John Myers (1990,'92, '95), and Matt Hines (1997-'99). She also becomes the first female competitor to win the annual title for the bike class.
"I went from being so depressed because I lost my run on a bad reaction time to total joy when Hines lost," Seeling said, after both she and Matt Hines lost in the quarter-finals at Houston and she clinched the title. "He and I have a habit of doing things like that together. He's been a great champion over the last three years but this year it's ours. Now we can go to Pomona and just concentrate on winning the race to end the year on a great note."
The Louisiana native began racing motocross at age six, mostly against boys and continued to burn up the two-wheel competition throughout her formative years. In 1991, she started racing an E.T. bracket motorcycle at State Capitol Dragway, near Baton Rouge, La. To advance to a higher level of competition and enhance her riding ability, Seeling attended Frank Hawley's Drag Racing School in Gainesville, Fla., in 1995, where she worked with school instructor George Bryce.
While studying at the Frank Hawley School, Seeling was amazed to find out just how much there was to learn about drag racing. She learned how to ride faster, react quicker and improve her concentration. Her confidence increased at the school and that allowed her to win more rounds once she started competing professionally. She was a star pupil, setting the school's elapsed-time and speed records.
"By the end of the school I gained much more than I expected," said Seeling. "I not only learned lots about riding and racing, I also made new friends."
At school's end, recognizing her ability, Bryce promptly hired Seeling and began her on the road to a championship. In 1996, Seeling made her drag racing debut, on the back of George Bryce's Star Racing Suzuki, at the Mopar Parts Mile-High Nationals in Denver, Colo., in July. She qualified fourth and reached the semi-finals, before losing to 1996 Winston champion Dave Schultz.
"I'm a very determined individual," Seeling admitted when hired. "I think George [Bryce] saw that in me from the first day we met. By joining Star Racing, I have support from a top team and I'm driving one of the fastest Suzuki race bikes in the world."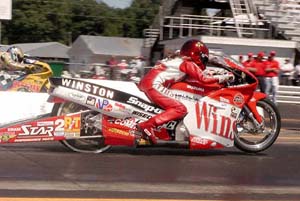 Seeling launches hard.
Seeling's petite size has helped her make a mark for herself from the very beginning. At just five-foot-one and a tad over 100 pounds, she handles the Suzuki better than one might expect. Because of her light weight, the team can distribute weight on the bike for a tactical advantage. A reporter likened this to the same sort of logic that explains why horse jockeys are tiny.
Though she competed in only six of 12 Pro Stock Bike races in 1996, Seeling finished seventh in the point standings and became a shining star in the world of NHRA Winston Drag Racing. In 1997, her first full season of competition, she qualified number one at three races, won two and finished fifth in the 1997 NHRA Pro Stock Motorcycle point standings. In 1998, she exhibited continuous improvement and won three national events and ended the season in the number two spot of the point standings.
The 1999 season was one of her most challenging of Seeling's career. Competing neck and neck against rival Matt Hines proved to be action packed and kept the fans guessing at every round of competition. She clenched the number one qualifying spot several times during the season, winning three national events. The battle see-sawed back and forth and continued right to the season-ending race in Pomona, Calif., when Hines clenched the championship by eight points and Seeling once again had to settle for a second place finish in the points.
With a new attitude and a brighter outlook, the 2000 season has again been full of excitement and drama. The beginning of this season started slow for Seeling, whose performance was down. Even though they made it to the semi-final round in Gainesville, Fla., Bryce and Team Winston knew that they must make changes if they were to compete at the top level. The George Bryce magic paid off and the Team Winston Bike won the next two events in Las Vegas and Atlanta and moved Seeling into the No. 1 spot in the Winston championship point standings. From Atlanta on, Seeling never relinquished that number one position. Through the next six events, she won twice - - at Columbus, Ohio and Denver.
After Denver Seeling's luck turned South (translated: bad luck). In Brainerd, Minn., Seeling brushed the wall but escaped the incident otherwise unhurt. As a result of the accident, Seeling managed only a quarterfinal finish. Then there was Indy, where a red-light ended her day prematurely in the semi-final round. But her new found maturity surfaced and Seeling rebounded. She wanted to have fun and wanted to win.
She then won the rain-delayed Matco Tools Spring SuperNationals in Englishtown, N.J. bring her win total for the 2000 season to five in eight final-round appearances. Her 15 career victories are second most among professional female competitors in NHRA history. She trails Muldowney's 18 victories for most all-time. Seeling can added to those totals at the season-ending Auto Club NHRA Finals in Pomona. But right now Seeling is enjoying the fruits of her championship. The taste is, oh, so sweet.
"After losing the championship by eight points last year I was so disappointed. I didn't know why I had lost, but I took all the responsibility. Now I know why I lost, because I wouldn't have been able to appreciate winning like I do now. Star Racing and Team Winston won the championship this year and we deserved it. We earned it and no one can take it away from us. We did what we had to do. Now I can go to Pomona and relax and focus and have fun. I can start to work on my championship speech," said Seeling, after she nailed down her first championship at Houston.




NHRA: 10 Most Recent Entries [ top ]

Apr 26- NHRA Dodge HEMI® Challenge at U.S. Nationals to Celebrate 50th Anniversary of Mopar-powered 1968 Super Stock Cars
Apr 26- CHARLOTTE 1 - Jack Beckman Making Most of Opportunities Approaching NGK Spark Plugs NHRA Four-Wide Nationals
Apr 26- HOUSTON -Through the Lens of Ron Lewis
Apr 24- CHARLOTTE 1 - Steve Torrence Enjoying Four-Wide Success Heading to NGK Spark Plugs NHRA Four-Wide Nationals
Apr 24- CHARLOTTE 1 - Fact Sheet
Apr 24- Kalitta Motorsports Welcomes NASCAR Stars to the SealMaster Track Walk in Charlotte
Apr 24- zMAX Dragway Celebrates 10th Anniversary
Apr 24- CHARLOTTE 1 - NGK Spark Plugs NHRA Four-Wide Nationals Brings 40,000 Horsepower Thrill Show to zMAX Dragway
Apr 23- HOUSTON - Lucas Oil Drag Racing Series Wrap Up The NHRA Lucas Oil Drag Racing Series Wrap Up
Apr 23- CHARLOTTE 1 - J.R. Todd Aiming for Two Four-Wide Racing Wins in 2018