Mon, 27 Nov 2000, 01:12 PM



Mike Castellana Hoping to Reap Rewards from New Alliance Investment with



Courtesy of Bobby Bennett, Jr./Harley Communications



WESTBURY, N.Y. --
Shannon Jenkins Shannon Jenkins may have gotten a lot of the accolades for changing his proverbial racing address in the 2001 season, but one must not forget the other half destined to reap the benefits from the former World Champion's decision.
Mike Castellana, who owns the Awesome Motorsports team, can only smile when he envisions a 2001 season with the veteran racer known as "The Iceman" serving as his teammate. The Westbury, NY.-based, supermarket chain owner knew after a lackluster 2000 season that he needed to up the ante on his race team.
That's when Castellana's luck began to change, despite the rough times that he was entangled in. He was leasing a motor from Jenkins, yet other problems were plaguing him. It was the increasing competitiveness of the class that forced him to take inventory of what was transpiring around him. He was also confused with the direction of his race team. He'd even contemplated going the supercharged route.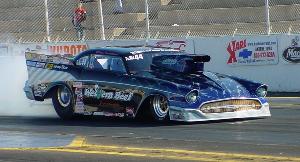 Mike Castellana
"Basically, during the course of the year, I began to seriously take notice of the class and how it was getting tougher and tougher to remain in competitive status," explained Castellana. "I felt like because of my own situation as a business owner, I am always busy working and unable to devote as much time to my racing as I would like to. There's just not enough hours in the day to do what is needed to do to remain in the competitive loop."
Castellana knew that the only way for him to remotely have a chance in the rapidly progressing Pro Modified division was to bring in Jenkins and afford him the opportunity to exercise his vast knowledge of the nitrous combination.
"It was the best method for me to insure my position in the top half of the program," added Castellana. "Plus, we have to look at the value of having two cars within the same class. That's the trend in the upper classes and I knew it wouldn't be long before it had the trickle down effect in this class. It's a no brainer that two cars are better than one."
The duo provides the ultimate combination of both sides of the Mason-Dixon line. There was no long-term plan for the duo to unite other than Castellana just letting the defending World Champion know that if he ever wanted to join up with him that the opportunity was there during the season. Castellana admits that he didn't want to upset any existing program that was in place for Jenkins. He was just merely getting in line for future endeavors.
"I didn't want it to be a matter of me stepping on anyone's toes or pulling him away from anything," explained Castellana. "I just wanted to get in line, if he ever did become available. People are going to think what they want to think, but that's the truth. I just wanted him to know that there was an open door for him over here. It wasn't a deal with who reached one or the other first. It just kind of worked out."
The newfound alliance has already produced results as evidenced by his stout qualifying performance and quarter-final finish at Rockingham's rescheduled CARQUEST Autumn Nationals. Jenkins was not driving and had time to devote to Castellana's racing operation in the capacity of crewchief.
"I think it all worked out well," Castellana commented. "We started with a new car at mid-season and we had problems. We decided to stick with and get it ready for next year. He worked with us to get it to running right."

Rendering of Jenkins' new ride.
So of all the cars available, how did they come up with the 1968 Camaro recently revealed in a Greg Ozubko rendering?
"I basically left that up to him," confided Castellana. "We liked the '57 Chevy and he liked the Camaro, I put that decision in his hands. We did want to stick to a nostalgia car, that was a must. There's not a lot of Chevrolet Nostalgia machines available, so we had to make a decision based on that."
Castellana revealed that the new Tim McAmis-built machine would be available for them by the end of December. He expects the team to do an extensive amount of testing at the Houston, Phoenix and Darlington test venues as well as making an appearance at the CompetitionPlus.com Spring Open at Virginia Motorsports Park located in Dinwiddie, Va., during the weekend of March 8 -11.
"We fully expect to be at Rockingham when we are running at full potential," explained Castellana. "Shannon has a few things that he wants to try and we want to be running at 100%. We're not looking to come out behind the eight ball. We're looking to come out on top."




IHRA: 10 Most Recent Entries [ top ]

Mar 21- 2018 IHRA Summit Sportsman Spectacular Series on April 20-22
Feb 26- Weather-Related Construction Delays Postpone IHRA Xtreme Raceway Park Opener
Feb 16- IHRA Summit Sportsman Spectacular Schedule Announced
Feb 15- New York Track Finds Value for Racers with IHRA Agreement
Feb 15- IHRA Summit Sportsman Spectacular Debut Only One Month Away Now is the Time to Pre-Enter
Feb 15- Summit Texas Location is a Racers' Paradise
Feb 15- Canadian Track Makes Large Commitment to IHRA Drag Racing
Jan 27- Mid-Michigan Destination Joins IHRA Family
Jan 27- Mississippi Track Reaches Sanctioning Agreement
Jan 16- Michigan Track to Host IHRA Summit Sportsman Spectacular