Tue, 2 Jan 2001, 02:20 PM



Lehman Racing and Clay Millican Gearing Up for 2001 Season



Courtesy of Bill Walters



CHICAGO --
Top Fuel driver Clay Millican and team owner Peter Lehman are busily preparing their racing operation for the 2001 season. The team was recently informed that their primary sponsor in 2000, eAuto, will be unable to return for Millican's sophomore season and the team is currently searching for a company to fill the void. Already the team has signed a handful of new associate sponsors during the off-season and all of the team's existing associate sponsors will be returning. The ill-timed news about eAuto has not fazed the team and they are proceeding as normal.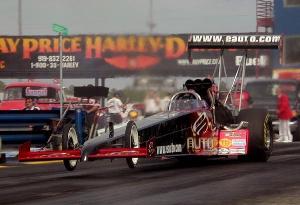 Clay Millican
The team expects no significant personnel changes and has already retained the services of crew chief Mike Kloeber for 2001. Kloeber tuned Lehman Racing's hot rod to a pair of IHRA elapsed time world records last season and also set the IHRA top speed record with a 322-mph blast at the last race of the season. Kloeber gave the team's rookie driver the horsepower to qualify No. 1 at five out of ten races and set low elapsed time of the event six times. All this was accomplished with a crew that was new to Top Fuel racing last year. The crewmen will return for the 2001 season hungry for a championship, with a year of experience under their belts.
"Mike Kloeber was a critical component to our success last year and we are excited that he will return for the 2001 season," said Lehman. "It takes the collective effort of many people to win a Top Fuel world championship and I know Mike is the perfect guy to head up our title run in 2001."
Millican fell just seven points shy of winning the IHRA Top Fuel world championship in his rookie season. The 34-year-old Tennessee native had a spectacular year, winning three races in five final round appearances and setting three IHRA world records. Millican became a legitimate championship contender after winning the prestigious World Finals at Norwalk in late August. The gifted young driver took his title hopes into the final round at the last race of the season but fell short of winning the championship despite winning the race.
"We started the 2000 season without a major sponsor and still almost won it all," said Millican from the team's Tennessee shop. "I feel like this team is more than capable of winning races and we are just going to get better in 2001. I'm ready to jump in the car and drive right now."




IHRA: 10 Most Recent Entries [ top ]

Mar 21- 2018 IHRA Summit Sportsman Spectacular Series on April 20-22
Feb 26- Weather-Related Construction Delays Postpone IHRA Xtreme Raceway Park Opener
Feb 16- IHRA Summit Sportsman Spectacular Schedule Announced
Feb 15- New York Track Finds Value for Racers with IHRA Agreement
Feb 15- IHRA Summit Sportsman Spectacular Debut Only One Month Away Now is the Time to Pre-Enter
Feb 15- Summit Texas Location is a Racers' Paradise
Feb 15- Canadian Track Makes Large Commitment to IHRA Drag Racing
Jan 27- Mid-Michigan Destination Joins IHRA Family
Jan 27- Mississippi Track Reaches Sanctioning Agreement
Jan 16- Michigan Track to Host IHRA Summit Sportsman Spectacular