Mon, 6 Jan 2003, 06:07 PM



Mike Ashley Officially Enters Race for the Fives with "Experimental" Doorslammer



Courtesy of Bobby Bennett/Harley Communications


Photo by Roger Richards





MELVILLE, N.Y. --
Mike Ashley was a player when the six-second zone was the target. Nearly 15 years later, he finds himself in the same situation except this time the object of his desire is a second quicker. The 37-year old, mortgage banker from Long Island, Island, NY., has partnered up with R.E. Smith with the same 1963 Corvette that chassis builder Tommy Mauney campaigned last season. Ashley and Smith have spared no expense in making this machine the ultimate five-second runner.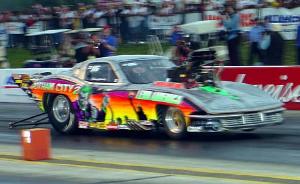 Tommy Mauney
The InfiNet Contractors' Insurance-sponsored Ashley understands the significance of being the first in fives more than he did as a sophomore runner back in 1988.
"This is an important performance mark to achieve," explained Ashley. "I'm excited that R.E. Smith has offered to help out with this project and look forward to running the number. The rules makers continually slow down the blower cars in an attempt to achieve parity. They have taken away our ability to challenge the five-second zone in conventional trim. They leave us no choice but to develop an entirely separate program. I say program because it's not the power or weight it's the entire combination including gear ratios, percentages, clutch, weather and most importantly getting from A to Z as efficiently as possible. I believe we will do it sometime this year but it will be a work in progress and I don't know when."
"We will have some excellent opportunities at Darlington's Winter Nationals and the InfiNet Ultimate Doorslammer Challenge at Virginia Motorsports Park. I am thankful for those that have taken the time to promote these shows. It brings back the old saying that ya run whatcha brung and hope ya brung enough."
Ashley will drive the supercharged, 1963 Corvette in the special events at Darlington and at Richmond and he's not about to tip his cards and show the hand his holding.
"All I will say is that this car will be experimental and it's going to be bad to the bone," explained Ashley, who made the switch from a nitrous combination to supercharger last year. "My Crew Chief Chuck Ford is working on an engine program just for this car. I want to be the first into the Fives and my team is committed to that cause. However, our first priority is to win races and take the points series championship at the NHRA.
"Make no mistake, the person that hits this mark first will have a publicity windfall," added Ashley


IHRA: 10 Most Recent Entries
[ top ]
Apr 24
-
Racers Receive Prizes at IHRA Summit Sportsman Spectacular Opener
Apr 24
-
Comeaux, Hughes Make History at IHRA Summit Sportsman Spectacular
Mar 21
-
2018 IHRA Summit Sportsman Spectacular Series on April 20-22
Feb 26
-
Weather-Related Construction Delays Postpone IHRA Xtreme Raceway Park Opener
Feb 16
-
IHRA Summit Sportsman Spectacular Schedule Announced
Feb 15
-
New York Track Finds Value for Racers with IHRA Agreement
Feb 15
-
IHRA Summit Sportsman Spectacular Debut Only One Month Away Now is the Time to Pre-Enter
Feb 15
-
Summit Texas Location is a Racers' Paradise
Feb 15
-
Canadian Track Makes Large Commitment to IHRA Drag Racing
Jan 27
-
Mid-Michigan Destination Joins IHRA Family