Mon, 09 Dec 2013, 09:46 AM



It Was A Great Ride



By Bob Frey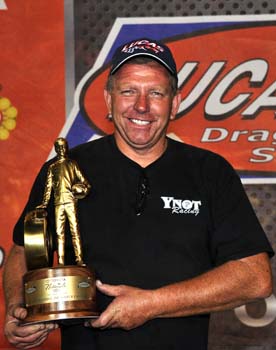 Jim Whiteley
Over the years there have been several drag racers who got hot, really hot over a short period of time. They would win a round and then a race and then they would win again. Sometimes it seemed like they were getting lucky, but after a while everyone knew they were watching something special. Bob Glidden certainly did it and so did Bill Jenkins. Brad Anderson and Ken Veney ran roughshod over their particular classes for a while and so did that other guy, what's his name, oh yeah, Frank Manzo. Even Warren Johnson put together a couple of pretty good years and that's putting it mildly. There are certainly others, but when you consider all the racers who have ever competed on the national event level it really is a very select group of racers who dominated a year, a class or a series, and even fewer who put together big numbers in a relatively short period of time. Jim Whiteley is in that group, as a matter of fact, after what he did the past few years he may be at the head of the group.
In years gone by there were always some great matchups in the alky classes, races that featured two really good teams. Races between Jay Payne and Chuck Baird, Tom Conway and Blaine Johnson or Bill Reichert and Duane Shields come to mind, but it's been a while since we had a pair bring as much excitement to the class as the meetings between Jim Whiteley and Chris Demke over the past few seasons. The two, polar opposites in personality, always seemed to bring out the best in each other and they certainly did during Jim's two championship seasons, 2012 and 2013, seasons that saw Chris
Jim Whiteley
finish second both times. "It was always fun racing them," Jim said. "That's why you do this, so you can race against the best and they were. I think it made both of our teams better." The two faced each other eighteen times with Jim winning thirteen of the matches including five of the seven final rounds where they met including that unforgettable final in Seattle in 2012. And as far as that "making both of our teams better" I don't know how much better Jim's team could have been, because in the past eight years, and over a span of just sixty-six races, he won a total of 151 rounds, went to thirty final rounds and won twenty-three of them. If you don't mind me saying it, that's the stuff that legends are made of, and all of that came after he crashed in just his fourth national event in the car.
Jim has not only been successful at racing he has also been very successful in his business ventures, Advanced Oilfield Services and J & A Services, and he has used the same philosophy in both endeavors. "To be good at anything you have to surround yourself with good people," he said. "I had a great group working on my dragster and I was just the lucky guy who got to drive it and who got his name in the headlines, but believe me, without them I couldn't have done it." Included on his team were crew chief Norm Grimes, John Layfield, Dirk Olsen, Jeff Perley, Donnie Pulliam, Robert Jonsson, Dave Weelie and Peter Muravez. Even though Jim owned the car if you want to know who really called the shots on the team just ask Jim about the final round in Pomona, a round where he smoked the tires and lost to Johnny Ahten. "I told Norm that I wanted to go fast because I think we could have gone over 278 miles per hour. He told me that he just wanted to win the race and I responded that I wanted to learn something. He just looked at me and said 'Why, you're going away next year' and that was it."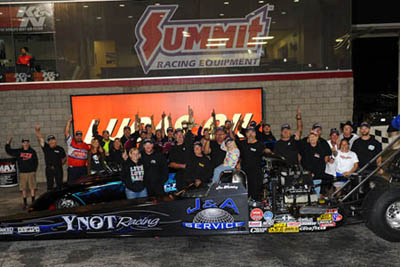 Annie and Jim Whiteley
both celebrate their wins
at the Division 7 race in Las Vegas.
Photo copyright 2013 Bob Johnson Photography
There are several reasons for Jim's decision to retire and the main one is family. "I want to be able to spend more time watching (his wife) Annie race and I want to help my son, Stephen, too." Annie, who had a great year in the alky Funny Car class, will return to run a full schedule in 2014 while Stephen will hit the road and compete in the Pro Mod class. "Annie had a great car this year and she made almost thirty runs in a row without shaking the tires and that's not easy to do in a Funny Car. I'm so proud of what that entire team has done. Stephen will run all of the Pro Mod races and I'll be at five or six with the torque-converter car," Jim said. "Annie has been so supportive of me and now I want to do the same for her." He went on to say that as great as winning the championship was the times that he got to share the winner's circle with Annie were extra special. "I wasn't able to do it at the national event but we did it several times at the divisional races and that was really a highlight for me." And even though they never won the same national event Jim said that when Annie won her first national race in Chicago it cemented his decision to retire. "I had been thinking about it for a while and when she won I said right there that's it, I'm done doing this full time." He also said that a vision problem which had been affecting his driving was also a factor. "I had a condition that made it tough for me to hit the shift points and do my job as well as I should. It's not something they can fix with glasses so I'm having it looked at now and we'll see what can be done in the future."
Even though Jim won't be driving in the dragster class next year his presence will still be felt. "My crew chief, Norm, is going to be working with Mark Taliaferro so that will be a good team. Mike Strasburg, who has been a friend of the family for a while, will drive my old car at six or eight races and we think that should be fun, too. Plus I'm going to help Joey Severance out with his engine program a bit so that should make things very interesting on the West Coast in the class next year."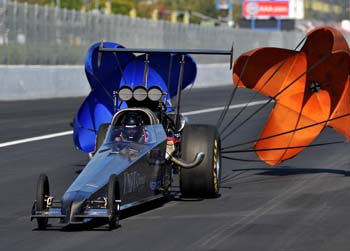 Jim Whiteley
The good news for drag racing fans is the fact that Jim will still be at the races, and like the alky Funny Car class there will be a new champion next year. The bad news for the Pro Mod class is that he will bring that same competitive spirit and intensity that won two championships to a new group which will make the 2014 Pro Mod races better than ever. "I've driven the car several times and we went to Salt Lake City and set the track record. It's funny but you really drive a Pro Mod car like a dragster, that is, you don't want to over-steer it down track or you will get in trouble. I'm looking forward to the challenge but I'm really looking forward to seeing how Stephen does and to seeing if we can't win a championship for Annie." When you have a track record as good as the one Jim has it's probably not a matter of "if" Annie can win, but "when" she will win. As far as Jim is concerned he leaves behind one of the great legacies in the history of the Top Alcohol Dragster class, one that will be tough for any other team to beat for a long while.




NHRA: 10 Most Recent Entries [ top ]

Apr 24- CHARLOTTE 1 - Steve Torrence Enjoying Four-Wide Success Heading to NGK Spark Plugs NHRA Four-Wide Nationals
Apr 24- CHARLOTTE 1 - Fact Sheet
Apr 24- Kalitta Motorsports Welcomes NASCAR Stars to the SealMaster Track Walk in Charlotte
Apr 24- zMAX Dragway Celebrates 10th Anniversary
Apr 24- CHARLOTTE 1 - NGK Spark Plugs NHRA Four-Wide Nationals Brings 40,000 Horsepower Thrill Show to zMAX Dragway
Apr 23- HOUSTON - Lucas Oil Drag Racing Series Wrap Up The NHRA Lucas Oil Drag Racing Series Wrap Up
Apr 23- CHARLOTTE 1 - J.R. Todd Aiming for Two Four-Wide Racing Wins in 2018
Apr 23- Mid America Dragway Joins NHRA Member Track Network
Apr 23- HOUSTON - Special Awards
Apr 23- HOUSTON - Sunday Video