Mon, 18 Nov 2013, 19:53 PM



Dale Gann Named Vice President & General Manager of Palm Beach International Raceway



Courtesy of Aidy Alonzo



JUPITER, Fla. --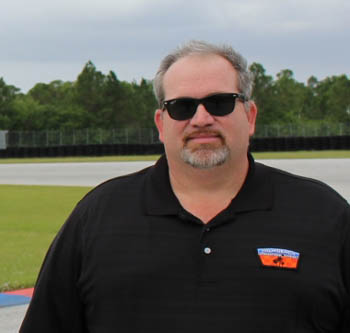 Dale Gann
IRG Sports + Entertainment™ (IRG), the parent company of multiple motorsports properties, announced that Dale Gann has been promoted from Executive Vice President of Operations to Vice President and General Manager of Palm Beach International Raceway™ (PBIR). Gann joined the team at PBIR in March of 2009 and earned promotions in both 2012 and earlier in 2013, assuming additional directorial responsibilities for the facility as a whole including staffing, budgeting and event management.
Born and raised in New Jersey, Gann began his career by studying business administration and later moved into information technology and network engineering positions for such companies as Planet Hollywood and Barnie's Coffee & Tea. With 14 years of experience in project management, system infrastructures and system integrations, Gann will oversee all aspects of PBIR's day-to-day management including private track rentals, corporate events, and major events.
"The last 5 years at PBIR have been incredibly rewarding for me and have expanded my understanding of the motorsports industry. I'm looking forward now to building and expanding on that knowledge and continuing to manage the planning and execution of our weekly racing events," said Gann.
"I am very pleased to announce this promotion for Dale. He has been my right hand since 2009 and is an incredible asset to the team," said Jason Rittenberry, CFE, President and Chief Executive Officer of IRG.




IHRA: 10 Most Recent Entries [ top ]

Mar 21- 2018 IHRA Summit Sportsman Spectacular Series on April 20-22
Feb 26- Weather-Related Construction Delays Postpone IHRA Xtreme Raceway Park Opener
Feb 16- IHRA Summit Sportsman Spectacular Schedule Announced
Feb 15- New York Track Finds Value for Racers with IHRA Agreement
Feb 15- IHRA Summit Sportsman Spectacular Debut Only One Month Away Now is the Time to Pre-Enter
Feb 15- Summit Texas Location is a Racers' Paradise
Feb 15- Canadian Track Makes Large Commitment to IHRA Drag Racing
Jan 27- Mid-Michigan Destination Joins IHRA Family
Jan 27- Mississippi Track Reaches Sanctioning Agreement
Jan 16- Michigan Track to Host IHRA Summit Sportsman Spectacular