Thu, 07 Nov 2013, 00:57 AM



Clinches Third Straight Painless Performance OFAA Championship



By Chris Graves


Photo copyright 2013 Bucky Farris, Max Cackle Photography





With Win at Texas Raceway



KENNEDALE, Texas --
The Painless Performance Products Outlaw Fuel Altered Series invaded Texas Raceway as thirteen cars came to strut their stuff under the lights on a chilly Friday night in North Texas. Jimmy Jones came into the event with a very slim points lead in this, the ninth and final event of the 2013 racing season. Tricky track conditions welcomed these 1500+ horsepower machines as the crew chiefs and drivers were doing all they could to get hooked up and lay down a number during qualifying.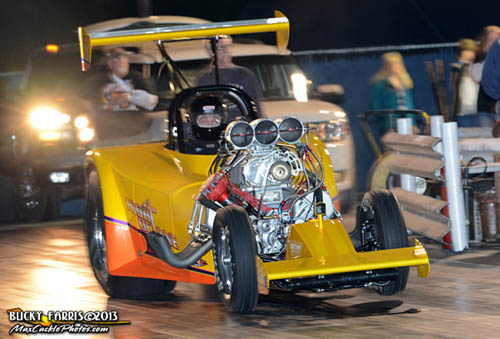 Raymond Dawson
The twentieth and final member of the OFAA 3 Second Club, Raymond Dawson and the "High Octane" team tuned by Danny Wright were able to lay down a solid 4.03 at 170 mph, which held up to earn the team their first ever number one qualifying spot. Dawson was followed closely by young gun John Broussard in the Louisiana based "Purple Haze" entry at a 4.04 at 188 mph. Points leader Jimmy Jones and the "Texas Tremor" qualified third with a 4.06 at 152 mph and Doyle Smith posted his best qualifying effort of the season in the "Chemical Reaction" with a 4.14, good for the number four spot. Mark Bowman's "Blown Income" and Bobby Marriott's "Shockwave" also earned spots in the top half of the twelve car field as the teams concluded their two qualifying sessions and returned to the pits to prepare for the opening round of eliminations.
Final Qualifying Order:
1) Raymond Dawson (Nevada, TX) - 4.03 @ 170
2) John Broussard (Lake Charles, LA) - 4.04 @ 188
3) Jimmy Jones (Cleburne, TX) - 4.06 @ 152
4) Doyle Smith (Paris, TX) - 4.14 @ 157
5) Mark Bowman (Oklahoma City, OK) - 4.23 @ 175
6) Bobby Marriott (Pilot Point, TX) - 4.35 @ 169
7) Terry Brian (New London, TX) - 4.49 @ 158
8) Donny McSwain (Rockwall, TX - 4.65 @ 113
9) DoDad Burton (Tyler, TX) - 5.22 @ 116
10) Howard Farris (Springtown, TX) - 5.55 @ 108
11) Nick Poloson (San Antonio, TX) - 7.02 @ 70
12) Donnie Massey (Little Elm, TX) - 7.75 @ 95
13) Mary Reep (Austin, TX) - 13.00 @ 35

Parts attrition after a long and hard fought season of racing unfortunately ended the day early for Doyle Smith, Donnie Massey and Mary Reep as the remaining ten cars were paired up for the first round. With many teams still unable to find their tune-up on the chilly racing surface, the first round was sure to be an exciting one as racers battle for a chance to end their season with a big win here in Kennedale. The two quickest winners of this round would advance to the final as the call went out to fire em' up.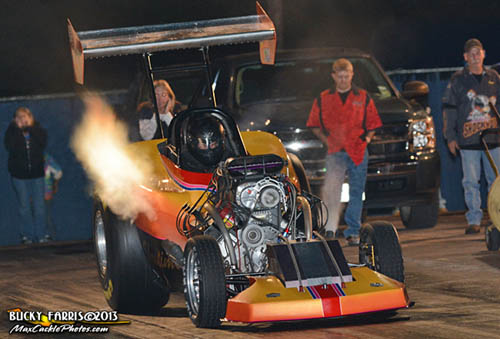 Donnie Massey
Number one qualifier Raymond Dawson rolled out in the opening pair and lined up with Terry Brian in the "II N'Tense" machine. Brian was off the line first and laid down the quickest pass of the event to this point, a nice 4.02 at 181 mph. Incredibly, Brian was left in the dust by Raymond Dawson's career best, a stunning 3.82 at 191 mph as Dawson's strong year end performance continued in this impressive round one win.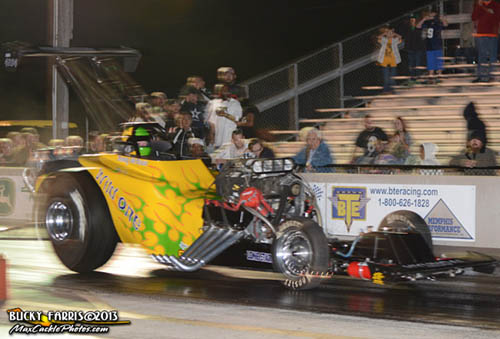 Donny McSwain
John Broussard and Donny McSwain came to the line next in a pair of heavy hitting blown alcohol entries. McSwain jumped the gun and went red off the line, while Broussard blasted straight down the eighth mile to a solid 3.97 at 191 mph as it appeared the teams may have finally found their go fast tune-ups.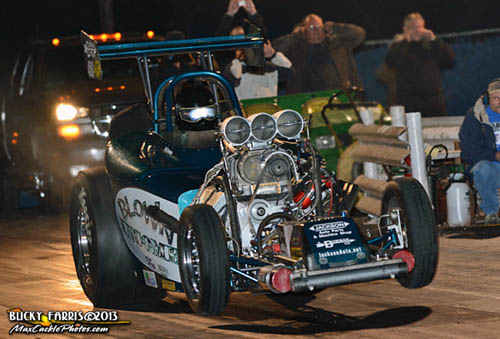 Mark Bowman
Mark Bowman wheeled his "Blown Income" entry to the line against Howard Farris, who was driving Paul Gordon's "Red Baron" nitro burner. Farris' usual entry, the "War Wagon" suffered extensive damage at the previous event and Gordon was kind enough to let Farris drive at Kennedale to keep him earning points to hopefully stay in the Top 10. Bowman, who not only attended every OFAA event this season, but also won the Central States Superchargers Championship and competed at the World Fuel Altered Nationals in Iowa, looked to end his season with a strong performance here. Bowman was off the line first and never trailed, as his 4.22 at 167 mph took out Farris' 6.76 at 78 mph. Bowman missed the final, but could load his car in one piece after a very busy and successful racing season.
Jimmy Jones brought the Jones & Kelley "Texas Tremor" to life ready to square off with DoDad Burton's "Free Spirit" machine. Jones owned this round from start to finish as he blasted off the line first and laid down a stout 3.88 at 183 mph to Burton's 4.46 at 173 mph. Jones bumped Broussard from the final and with one pair left, had to sit and watch from the top end to see if his 3.88 held up, as two strong running cars were ready to start in the waterbox.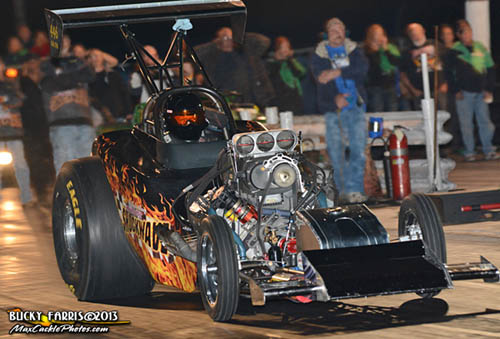 Bobby Marriott
Five time OFAA Champion Bobby Marriott brought the "Shockwave" fuel burner to life ready to dance with Nick Poloson's "Sundown" entry tuned by Tom Wood. Poloson brought a pocket full of three second elapsed times to this event, but was to this point unable to get his machine down the track under full power. Marriott had also struggled in qualifying but all that was out the window as the cars crept into the stage beams. Poloson took a huge starting line advantage but struck the tires immediately while Marriott blasted header flames high to a soft 4.19 at 181 mph, earning the round win but coming up far short of Jones' 3.88 as Jones and Dawson advanced to the final round.
First Round Results: (W) Raymond Dawson (.116 rt) 3.82 @ 191 mph vs. (L) Terry Brian (.074 rt) 4.02 @ 181 mph (W) John Broussard (.065 rt) 3.97 @ 191 mph vs. (L) Donny McSwain (-.163 rt) 16.41 @ 22 mph (W) Mark Bowman (.112 rt) 4.22 @ 167 mph vs. (L) Howard Farris (.149 rt) 6.76 @ 78 mph (W) Jimmy Jones (.078 rt) 3.88 @ 183 mph vs. (L) DoDad Burton (.250 rt) 4.46 @ 173 mph (W) Bobby Marriott (.194 rt) 4.19 @ 181 mph vs. (L) Nick Poloson (.046 rt) 9.29 @ 54 mph
Raymond Dawson and company were entering their first OFAA final as a team and with momentum on their side from back to back career best runs at the previous event and here in Kennedale, were the favorite to take home the final win of the season. There was only one problem, to do so they would have to beat the points leader and back to back defending series Champion Jimmy Jones in the final round. Due to a massive oil down by a test and tune car combined with just ten minutes remaining before track curfew ended racing for the night, the OFAA and TXR staff agreed to run two singles in the clean lane, with the driver with the quickest elapsed time to be declared the winner.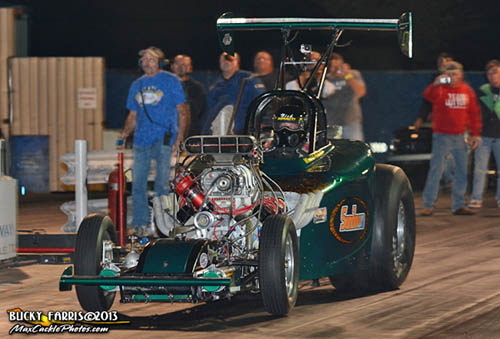 Nick Poloson
Jimmy Jones was out first and in fine form laid down a strong 3.90 at 182 mph as Dawson now knew the mark he had to beat to earn his first career OFAA win. Dawson was off the line first but was forced to pedal and his 4.43 at 122 mph fell short as Jimmy Jones and the "Texas Tremor" team claimed the win and in turn their third consecutive Painless Performance Products Outlaw Fuel Altered Championship.
Final Round Results:
(W) Jimmy Jones 3.90 @ 182 mph vs. (L) Raymond Dawson 4.43 @ 122 mph
"We feel very fortunate to win this year's OFAA Championship, especially considering the quality and quantity of great cars participating in this series. Again, it came down the the last race of the year which shows just how competitive the OFAA racing is. I could not have accomplished any of this success without the help and support of my wife Glenda and my long time racing partner Paul Kelly. I can confidently say we have the best crew in the pits, including John Jett, John Morris, Gary Greer, and Joey McCrory. I would like to thank OFAA's great title sponsor Painless Performance and associate sponsors Good Vibrations Motorsports, Wizard's Warehouse, Competition Sales of Dallas, Jim Overly's 3rd Coast Commissioning, and North Texas Diesel. Also, we would like to thank newlyweds Chris and Tera Graves for all of their great photos, race coverage and keeping this great series in the headlines as it should be. We are all very appreciative of the great race tracks that continue to book us year after year and especially to all the great fans that support this series!" said Jones.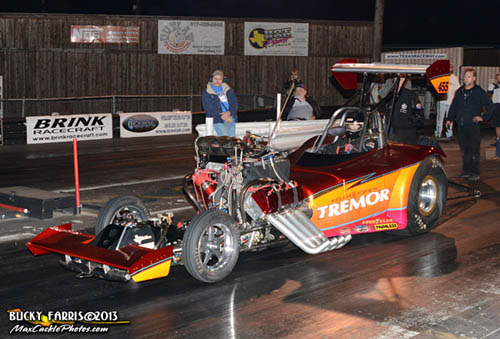 Jimmy Jones
For the Jones & Kelley team it was a great way to end yet another very successful season. It was an intense nine race series for the racers in the OFAA series and year after year it seems the Championship comes down to the elimination rounds of the final event of the season. Truly remarkable considering the level of competition and total of twenty four teams earning points in 2013. Kebin Kinsley and the "Nitro Junkie" team finished second while Mary Reep and Terry Brian had a tie in points for third. Per the OFAA rules, Reep was granted the top three finish with more round wins on the season. Donny McSwain rounded out the top five points finishers.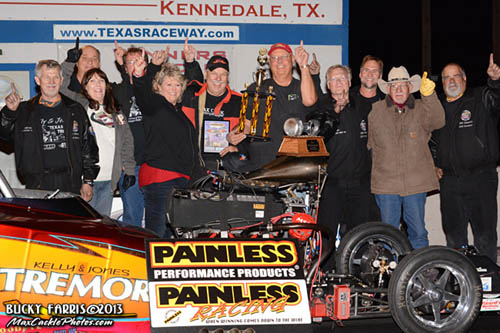 The Jones & Kelley team celebrate win and Championship.
The Outlaw Fuel Altered Association would like to thank its fans for their dedication to the Southwest's most exciting racing series, which wouldn't be possible without the additional support from the series sponsors. A huge thank you goes to Painless Performance Products for their continued support as title series sponsor. Additional support from the bonus program sponsors Good Vibrations Motorsports, North Texas Diesel, 3rd Coast Commissioning Services, Wizard's Warehouse and Competition Sales of Dallas combines to provide the OFAA racers a much appreciated sponsorship program.
A long off-season will give the OFAA competitors time to repair damaged parts and make adjustments to prepare for a full on assault in 2014. The season typically starts in early April, which will give teams time for pre-season testing. The rumors are already flying through the pits as early gossip suggests Terry Brian and team will be switching to a nitro powered combination in a new car. Additional pit chatter suggests we may see highly successful Texas based nostalgia funny car racer John Hale join the mix in 2014 in a car formerly campaigned by OFAA veteran Dick Demets. Whatever the case, the competition will be fierce and the action on the track unruly, in true fuel altered style. We'll see you next season!




Drag News: 10 Most Recent Entries [ top ]

Apr 22- K&N Spring Fling Million Final Day Results
Apr 21- K&N Spring Fling Million Friday Results
Apr 20- K&N Spring Fling Million– Thursday Results
Apr 19- K&N Spring Fling Million- Wednesday Results
Apr 18- Buckeye S/SS @ National Trail April 28th
Apr 18- Don "the Snake" Prudhomme Returns To Baja Competition After 50 Years
Apr 18- K&N Spring Fling Million Tuesday Results
Apr 17- K&N Spring Fling Million Pre-Race
Apr 12- Summit Racing Equipment is Newest Sponsor of Midwest Junior Super Series
Apr 12- Summit Racing Named Official MWPMS Sponsor and Event Title Rights Holder