Tue, 22 Oct 2013, 09:16 AM



Matt Hagan Ready for Countdown Battle with John Force



Courtesy of NHRA Communications



At NHRA Toyota Nationals in Las Vegas



LAS VEGAS --
Matt Hagan has certainly been through this routine before.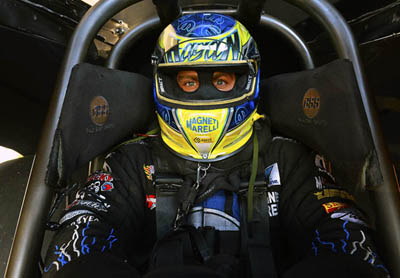 Matt Hagan prepares for a run.
Photo copyright 2013 Gary Nastase Photography
In fact, the Funny Car standout is starting to carve out quite a rivalry with John Force, who took over the points lead for the first time in 2013 after winning the Auto-Plus NHRA Nationals at Maple Grove Raceway on Oct. 6.
Hagan, who had been the points leader in the class for more than four months, now trails the 15-time world champion by 65 points with only two events left in the NHRA Mello Yello Drag Racing Series Countdown to the Championship playoffs. The season's penultimate race, the 13th annual NHRA Toyota Nationals, will be held Oct. 24-27 at The Strip at Las Vegas Motor Speedway.
Bob Vandergriff (Top Fuel), Ron Capps (Funny Car), and defending world champions Allen Johnson (Pro Stock) and Eddie Krawiec (Pro Stock Motorcycle) raced to victories last season at the popular event that will once again be televised on ESPN2HD.
Hagan will have his work cut out for him to track down the red-hot Force, who has won the last two events. But duking it out with the Funny Car icon is nothing new for the 2011 world champion.
"I think that three out of my five years in my NHRA career it has been me and Force battling it out," Hagan said. "It's kind of like 'Wow, we're doing this again.' It's a neat deal for me. If you're going to battle it out, why not do it with a 15-time champion? His bite is pretty bad, but we have a car that has led the points almost all year long. I feel like it's the car to beat. We've had a couple off races in this Countdown and our Don Schumacher Racing teammates have been beating the crap out of us. We've had to run some really good cars with the same parts that we have and we've raced on some tricky race tracks."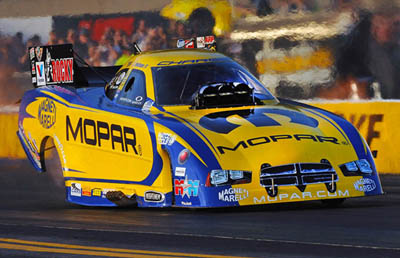 Matt Hagan
Photo copyright 2013 Gary Nastase Photography
Hagan and Force battled it out in both 2010 and 2011, with each earning a championship. In 2010, Hagan knocked off Force to win a Countdown race in Dallas and was the points leader and favorite heading into the final race, despite losing in the final to Force at Las Vegas. But Hagan fell in the first round at Pomona, opening the door for Force, who won the event and claimed the title in dramatic fashion.
A year later, Hagan stayed in control throughout the Countdown, winning in Pomona to close out the year and claim his first championship. Now, Hagan and his 8,000-horsepower Magneti Marelli/Rocky Boots Dodge Charger will need more late-season magic to jump past Force's familiar Castrol GTX Ford Mustang.
"I'm excited about Vegas and I feel like it will be great," Hagan said. "I understand that we still have to be humble because we aren't leading, but we still have to be aggressive. We have to play offense now because we don't have anything to defend. We have to go out there and put some points on the board and I feel like we can do that. We have a team that is strong. I've never felt this good about being in a situation where you're chasing someone. I just feel really good about it."
Hagan has plenty of reasons to be confident heading into the final two-race stretch of the season. He has won four events, most recently in Seattle, and has advanced to eight final rounds, which is all Hagan has to consider to realize his Dickie Venables-led team is more than capable of tracking down Force.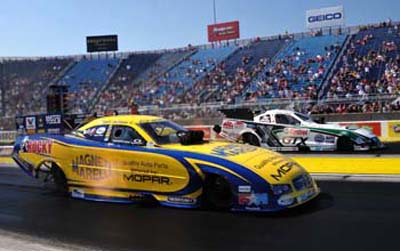 Hagan defeated John Force in Chicago final.
Photo copyright 2013 Auto Imagery, Inc.
"When you look at the competition and how hard it is to win, to have scooped up four wins at this point, how do you not have confidence in your guys?" Hagan said. "They know what it takes to get it done. We just have to have some good conditions and a good track to go out there and run well. Looking at some of the stuff in the last couple of races we've just had some crummy luck along the way. We have two good races left to go to. Vegas is always a good track and so is Pomona. I'm really looking forward to hopping in my Mopar Funny Car and digging deep, working hard and making things happen."
In addition to Force and Hagan, other notables in Funny Car who are still mathematically in contention in the Countdown are defending champ Jack Beckman, who trails Force by 126 points, Robert Hight who is 134 back and two-time champ Cruz Pedregon, who is in fifth place in his Snap-on Tools Toyota Camry, 150 back of the leader. Four-time series runner-up Ron Capps is also still in the conversation at 160 points behind.
NHRA teams in all four Mello Yello Series categories will be racing hard to earn every point that is up for grabs during the weekend, as they seek to improve their positions in the top 10 points standings. A single team can earn a maximum of 150 points during the race if they win, set a national E.T. record, earn the No. 1 qualifying position and are the quickest qualifier in each session.
In Top Fuel, it's a tight race between several first-time championship hopefuls that includes series leader and six-time season winner Shawn Langdon, who holds an 83-point advantage over Doug Kalitta and 85 points over Spencer Massey. Several others are still in title contention, but will need a strong showing in Las Vegas to boost their title hopes, including fourth place points-sitter driver Morgan Lucas, defending world champ Antron Brown and four-time event winner Tony Schumacher.
Pro Stock features a classic group of former world champions battling for the top prize, with everyone chasing JEGS.com/Mopar Dodge Avenger veteran Jeg Coughlin. Mike Edwards is in second place and is this season's winningest driver with six victories total, while Jason Line, who drives the Summit Racing Equipment Chevy Camaro, is currently in third. Defending world champ Johnson is 73 points back in his Team Mopar Avenger.
The battle in Pro Stock Motorcycle will showcase the brewing rivalry between 2007 world champion and points leader Matt Smith and Hector Arana Jr. Smith has a 125 point lead over Arana Jr. and could clinch the championship title if he can add 26 more points to his lead at this event. Arana Jr., Michael Ray, Hector Arana Sr., and Krawiec all will be racing hard to keep the championship battle in the two-wheel category going for one more event.
Fans arriving early for the penultimate race-weekend will be treated to the traditional NHRA Fremont Street Experience Fan Fest, annually one of the best-attended pre-race festivities on the circuit. The Fan Fest will be held Thursday, Oct. 24th from 5-7 p.m. on Fremont Street and will feature the sport's top drivers participating in one of the biggest autograph sessions of the year and will also showcase a spectacular NHRA-themed light show. Ticket giveaways and music will also be a part of this exciting kick-off event for the weekend.
As always, fans will have the opportunity to interact with their favorite drivers as they're granted an exclusive pit pass to the most powerful and sensory-filled motorsports attraction on the planet. This unique opportunity in motorsports gives fans direct access to the teams, allowing them to see firsthand the highly skilled mechanics service their hot rods between rounds, and enjoy some cherished face time with their favorite NHRA drivers.
Fans also will want to visit NHRA's popular Nitro Alley and Manufacturers Midway, where sponsors and race vendors create a carnival atmosphere, with interactive displays, simulated competitions, merchandise, food and fun for the entire family. Also in support of October's Breast Cancer Awareness month, the Tequila Patron Funny Car/Alexis DeJoria team has partnered with Nevada Health Centers to offer free mammograms all weekend long in the Midway for female race fans over 40. Join Alexis and the entire NHRA team in support of Breast Cancer Awareness month during the race weekend.
The NHRA Lucas Oil Drag Racing Series and the NHRA Pro Mod Drag Racing Series also will thrill the crowds during the weekend with intense competition on the track.
Families can take part in a special ticket offer for children 12 and under, who will be admitted free in general admission areas with a paid adult.
The NHRA Toyota Nationals qualifying sessions are scheduled for 1:15 p.m. and 3:45 p.m. on Friday, Oct. 25. Qualifying continues at 12:15 a.m. and 2:45 p.m. on Saturday, Oct. 26. Final eliminations begin at 11 a.m. on Sunday, Oct. 27.
Tickets are available for the NHRA Toyota Nationals online at www.LVMS.com or by calling (800) 644-4444.




NHRA: 10 Most Recent Entries [ top ]

Jun 23- NORWALK - Total Qualifying Bonus Points
Jun 23- NORWALK - Pro Stock Motorcycle Qualifying, Session #1 Bonus Points
Jun 23- NORWALK - Funny Car Qualifying, Session #2 Bonus Points
Jun 23- NORWALK - Top Fuel Qualifying, Session #2 Bonus Points
Jun 23- NORWALK - Pro Stock Motorcycle Qualifying, Session #2 Bonus Points
Jun 23- NORWALK - Pro Stock Qualifying, Session #1 Bonus Points
Jun 23- NORWALK - Pro Modified Eliminations Ladder
Jun 23- NORWALK - Pro Modified Final Qualifying, Session #2 Order
Jun 23- NORWALK - Funny Car Eliminations Ladder
Jun 23- NORWALK - Funny Car Final Qualifying, Session #2 Order