Wed, 18 Sep 2013, 00:22 AM



Whole Lotta Shakin' Going On



By Bob Frey


Photo copyright 2013 Auto Imagery, Inc.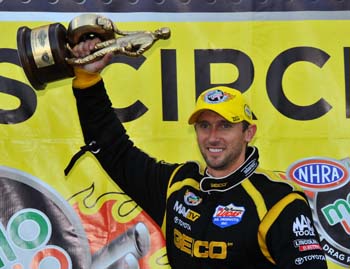 Lucas celebrates win.
There is a great old song by
Jerry Lee Lewis
that was popular many, and I mean many years ago. The song was called "Whole Lotta Shakin' Going On" and that would be an appropriate phrase for what took place in
Charlotte
this past weekend. When it was all over we had a new leader in the Top Fuel points, a couple of big moves in the Funny Car standings, some stunning races in Pro Stock and maybe the biggest surprise winner of the weekend in the Pro Stock Motorcycle class. In short, the "Countdown" is now officially under way and the fans and the racers better sit back and buckle up because the next five races are going to be exciting. Oh yeah, Jerry also had a big hit with his song "Great Balls of Fire" and we saw a lot of that in North Carolina, too.
The fact that Morgan Lucas won a Top Fuel race isn't a real surprise, after all, he had already won eight of them including one this year, but the fact that he was the top qualifier, set low elapsed time and looked like he had a car that could run with anyone in the class was a bit of a surprise. I have always said that consistency can win races and championships and if Morgan can get a little of that he could be a real factor. So far this year he has been spectacular at times and then he has struggled at times, but right now he is third in the points and that's a jump of five places for him, but let's get back to that consistency that I mentioned. Earlier this year he had a three-race span where he was the number eleven qualifier, then number one at the next race and he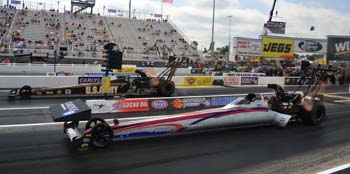 Pruett defeated Schumacher
followed that with a number fourteen spot. Not exactly consistent, is it?
Did you know
that coming into Charlotte Morgan had started race day from the bottom half of the field thirteen times this year? Still, he made the "Countdown" and now with his win he is a legitimate title contender, but the big question is which Morgan Lucas will show up in
Dallas
? As I always say, when you have a good race you need to go to the following event and win some rounds and not give back all the points that you picked up a week earlier. For his part Morgan has never been to a final round at the
Texas Motorplex
and this week would be a perfect time to change that...Maybe the most surprising thing in the dragster class was the fact that
Antron Brown
failed to qualify, and while that isn't necessarily fatal it sure hurts because Antron went from sixth in the points to ninth and he is now a full six rounds behind the new leader,
Spencer Massey
.
Did you know
that in his entire career, and that includes 280 races between his time in Top Fuel and Pro Stock Motorcycle, this was only the second time that Antron failed to make the starting lineup? The other was at the NHRA Finals in 2008 and that didn't hurt nearly as much as this one. The
Matco Tools
team is very good and they can rebound and they only have a few days to dwell on what happened in
Charlotte
because the
Dallas
event starts on Friday for the pro racers..Another surprise was the fact that
Leah Pruett
beat
Tony Schumacher
in the first round. Surprising because Tony doesn't usually lose in the first round and surprising because Leah started from the fifteenth spot in the field and you know how hard it is to win from that spot, don't you?
Did you know
that for his career Tony is an amazing 281 - 90 in opening round matches? That means he wins over seventy-five percent of his round one encounters and that's why it's always a surprise when he loses early in the show..Taking nothing away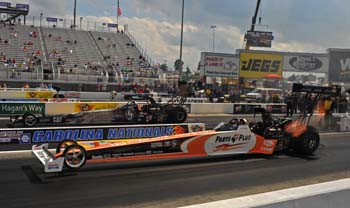 Millican defeated Vandergriff
from Leah and her team, after all they did run some career best numbers, but it's just tough to win from the fifteenth spot, and I don't mean win a race I mean win a round. Having said that this is two consecutive races where the fifteenth qualifier upset the number two driver in the Top Fuel field and that hasn't happened for a long time.
Did you know
that the last time the fifteenth qualifier won at back-to-back races was in 2006? Like I said, it just doesn't happen that often...
Shawn Langdon
, the leader coming into the event, was also an upset victim in round one and that cost him the lead in the standings.
Bob Vandergriff
beat Shawn on a holeshot, and stop me if you've heard this before, but Shawn losing on a holeshot is something that doesn't happen very often.
Did you know
this was just the fifth such loss for Shawn and the eleventh win for Bob on a holeshot in their careers?....With all of the talk about the
NASCAR
points and the shenanigans that went on there how about a big tip of the hat to Bob and his teammate,
Clay Millican
, for the race they had in the second round. Clay's 3.827 just did beat Bob's 3.825, and now that I think about it that means that Bob won and lost on holeshots in
Charlotte
. Hey, it happens, but nice job to the teammates for a good, heads-up race.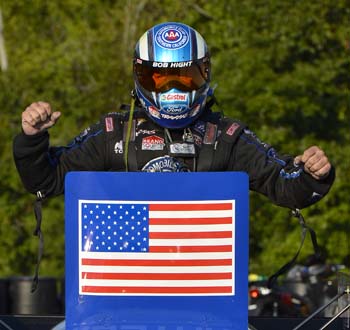 Hight celebrates second win in row.
Another one of the songs by Jerry Lee Lewis was a little thing called "You Win Again" and that can be said about Robert Hight who stopped Matt Hagan in the Funny Car final and moved from ninth place to third in the process. Robert, who hadn't won a race in over a year, has now won at back-to-back events, and as we have seen in the past there are very few drivers who can get on a hot streak like Robert can. Robert's win came on a holeshot, his 4.083 beating Matt's quicker 4.066. Did you know that this was Robert's ninth holeshot win of his career and his second in a final round? And do you know who he beat in that other final round? You guessed it, Matt Hagan and it happened at the opening race of the 2011 season. Robert made four runs between 4.055 and 4.083 on Sunday and that's the consistency that will win you races and championships...John Force, with all that is going on in his world lately, looks like a genius with the crew changes that he made, doesn't he? He is running well and Robert has been rejuvenated and both are in the thick of things in the standings..Did you know that Robert's four round wins gives him a total of 276 for his career and that moves him past Don Prudhomme (274) and into eighth place on the Funny Car list. Robert earned his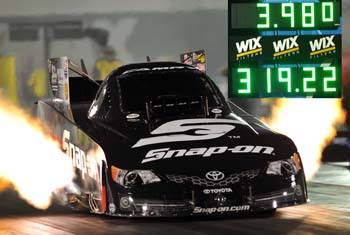 Pedregon ran the second quickest
pass in the history of Funny car.
round wins at 203 races while the "Snake" picked up his in 164 national events. Yeah, Don was that good....
Cruz Pedregon
made the second quickest run in Funny Car history during qualifying, a 3.980 pass that gave him the top spot. But, as we have seen before, it's hard for Cruz or any Funny Car driver for that matter, to win from the number one position.
Did you know
that the number one qualifier has only won four times this year in the Funny Car class and that Cruz has done it twice? Still, I'll bet if you asked him he will tell you that he had a car that could have won the race and this may be one that got away from the two-time champion. Having said that, as strong as the
Snap-On Tools
car is Cruz can never be counted out and he'll be in this "Countdown" right until the very end.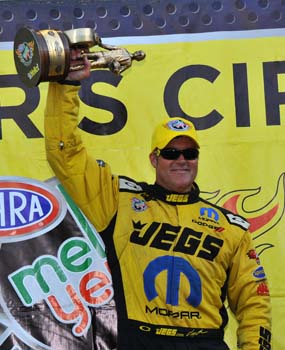 Coughlin celebrates his win.
The Pro Stock class was interesting to say the least. Jeg Coughlin won the race, Jason Line made the final round, Erica-Enders Stevens went rounds and Mike Edwards lost when he was outrun, and that doesn't happen very often..Jeg picked up the win in his Dodge and he has to be really pleased with his partnership with Allen Johnson. Jeg's win came on a holeshot over Jason and this was the 89th time in his career Jeg has won even though he had the slower car. Did you know that it was also the tenth time he won a final round on a holeshot?...I often hear from drivers, and more so in the fuel classes than Pro Stock, about how much staging, deep or shallow, can make a difference in reaction times and, in the end, holeshot wins and losses. And while I know that's true I simply respond by saying that all the fans know is that a slower time won the race, hence a holeshot. With that as a background the numbers are all relative. For example, Jeg beat Jason in the final round in Chicago in 2007, and at that race Jason had a very good .025 reaction time and was still second off the line. If he had that number in Charlotte he would have been first off the line and won the race, or as Alan Reinhart always says, "right place at the right time or the wrong place at the wrong time".The Pro Stock class is so competitive and driving is very important, and to illustrate that point did you know that this was the seventh time this year that the Pro Stock final round was decided on a holeshot?...With his final round appearance Jason moved from sixth to third in the standings and the Summit Racing driver is now just forty-seven points behind the leader who is still Mike Edwards. Jeg is in second just ten points back and that should make for a lot of drama and suspense for the next five races. Did you know that there are only ninety-nine points separating the top six drivers in the standings in Pro Stock?...I should mention that Greg Anderson, who went to the quarter-finals, has now competed in 819 rounds in his Pro Stock career and that moves him past Bob Glidden and into twelfth place on the all-time NHRA list of professional racers.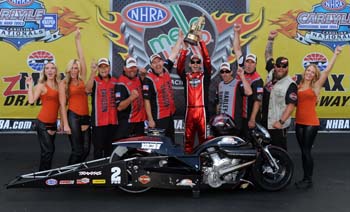 Hines and team celebrate
his first win this season.
Andrew Hines, yes you read it right Andrew Hines won the Pro Stock Motorcycle class in Charlotte and he did it in the most unusual fashion. Andrew, who started the day from the number nine spot, had three opponents foul out against him and that, like several other things that took place over the weekend, hardly ever happens. Did you know that in the history of the professional classes (TF, FC, PS and PSM) this was only the eighteenth time that a driver won the race with three (or more) red lights against him? And it has happened more times in the bike class (12) than all of the other classes combined...Andrew didn't make the 'Countdown" but he can make life miserable for those who did, and to make his weekend even sweeter he beat four riders who are in the top ten on Sunday. Did you know that with the win Andrew won as many rounds on Sunday as he had for the entire year coming into the event?...Hector Arana, the runner-up, made the biggest move in the points going from fifth to third and he is now just twenty-six behind the leader, his son Hector Arana Jr...Andrew's win from the nine spot was special for a couple of reasons. First of all it was the first win for Harley-Davidson under the new (2013) rules. It was also just the second time this year that a Harley had even made it to the final round, with the other one coming at the 4-Wide race at the same zMax Dragway. And it continued Andrew's streak of having won at least one race for ten consecutive seasons. Plus, as I mentioned, he won from the ninth spot in the field and that's not easy. Did you know that since the year 2000 Andrew is just the seventh rider to win a motorcycle race when starting from the number nine spot? One of the main reasons for that, of course, is the fact that if you do win your first round match you usually get the number one qualifier in round two, and beating him (or her) is never easy.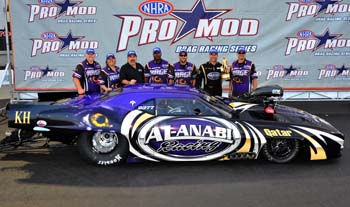 Smith and crew celebrate win.
Von Smith flexed his muscles, and he has a lot of muscles to flex, in the Pro Mod class when he beat Pete Farber in the final round. It should be noted that of all the classes that were racing at zMax the Pro Mod class was the only one that reached its full quota of race cars. The class seems strong and it looks like there are new drivers coming out at almost every race, so to win one of these takes a good car, team and driver. Like Robert Hight, Von was very consistent and he bunched four runs between a 5.93 and 5.99 in eliminations and that's tough to beat on any track and under any weather conditions...Von, who is a good and versatile driver has now won all five final rounds that he has been in while competing in the NHRA Pro Mod series, with three of them coming in 2010 and the other two this year. And just so you don't think that he was in a big drought did you know that Von only competed in two races between 2010 and this year? He also now has five wins in just nineteen starts in the series and that's very good. With the win Von moved into third place in the points with two races remaining in the series for this year. Rickie Smith is still the point's leader.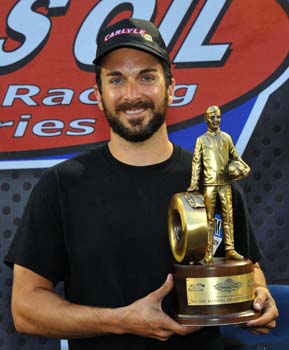 Booher celebrates his
first National event win.
Frank Manzo did it again. Oh wait, didn't I just use that line after the Brainerd race? And the Indy race? Well, what can you say when Frank just keeps on winning? Not only did he pick up his 102nd national event win in the class (103rd overall) but Frank also won his 42nd consecutive final round. And for the record, did you know that he has now won fifty-two of his last fifty-three final round matches? Unbelievable! And he did it with another sweep, that is, he was the number one qualifier, set low elapsed time, top speed and won the race. Did you know that this was the 50th time Frank has done that in his great career? By comparison Warren Johnson has recorded forty-one sweeps, Bob Glidden 35 and John Force 28, and when you look at those numbers it makes what Frank has done seem even more impressive..Brandon Booher is now officially just 102 wins behind Frank. Brandon picked up his first national event win when he beat Rich McPhillips in the final round. Congratulations to Brandon and his dad for winning that all important first race and I hope they get many more. They use a combination that is different than most (a torque converter) and it's nice to see that their ideas and determination have paid off.
With just a few days off before the Dallas race there isn't much time for the winners to celebrate or the losers to pout, so let's get back to racing and see what kind of wacky things will take place at the Motorplex...By the way, please don't forget the big DRAW auction on Saturday night after the races. It's always a fun time with lots, and I mean lots of the top drivers stopping by, and who knows you may just be able to pick up something special for your drag racing collection while helping support the folks who help injured racers across the country..Since I mentioned DRAW I have to acknowledge the passing of one of their great supporters, Tracy Winters. Tracy passed away a few weeks ago and I just learned of it this past week. She worked as the V. P. of sales and marketing at J.W. Performance Transmissions and was a tireless supporter of DRAW. She was just forty-six years old and will be missed by all of her friends both in and out of the drag racing community.




NHRA: 10 Most Recent Entries [ top ]

Apr 20- HOUSTON - Friday Wrap
Apr 20- HOUSTON - Saturday Schedule
Apr 20- HOUSTON - Top Fuel Qualifying, Session #2 Order
Apr 20- HOUSTON - Top Fuel Qualifying Notes, Session #2
Apr 20- HOUSTON - Pro Stock Qualifying, Session #2 Order
Apr 20- HOUSTON - Funny Car Qualifying, Session #2 Order
Apr 20- HOUSTON - Pro Modified Qualifying, Session #2 Order
Apr 20- HOUSTON - Funny Car Qualifying Notes, Session #2
Apr 20- HOUSTON - Pro Stock Qualifying Notes, Session #2
Apr 20- HOUSTON - Pro Modified Qualifying Notes, Session #2