Tue, 27 Aug 2013, 23:56 PM



It Should Be A Fun Week



By Bob Frey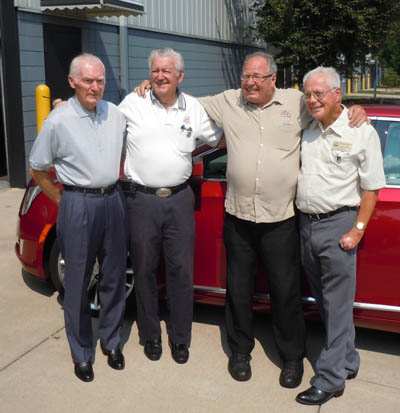 Buddy Martin, Bobby Allison, Connie Kalitta and Mel Kenyon
Photo copyright 2013 Rick Green
First off I want to say what a great thrill and pleasure it was to be at the
Motorsports Hall of Fame of America
induction ceremony last week. To be asked by the Chrisman family to be the one to introduce
Jack Chrisman
was quite an honor, and to be part of the 25
th
induction ceremony was really special. Just to be there and mingle with the greats of the automotive world was a thrill for me and to cap it off by introducing Jack Chrisman was a moment I will always remember and I would like to thank
Steve
and
Lana Chrisman
for allowing me to be a part of their special night.One of the highlights of the activities that surrounded the affair was a side trip that we took to the
Kalitta Motorsports
facility in nearby Ypsilanti, Michigan. I had never been there before and I was impressed and you can only imagine what some of the other guests thought of this drag racer's facility.
Todd Myers
and
Bob
Lawson
took us on the tour and they were great, and at one time when
Connie Kalitta
stopped by there was a photo op that included Connie,
Buddy Martin
,
Bobby Allison
and
Mel Kenyon
who are all in the Hall of Fame. Now I ask you, how cool is that? Thanks to Connie for opening his facility and what a revelation it was to those from other forms of motorsports who never knew what goes into racing in the
NHRA Mello Yello
series.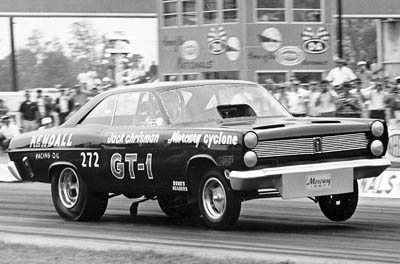 Jack Chrisman at the 1967 Indy.
Photo copyright 2013 NHRA
One of the things that I mentioned about Jack in my introduction was the fact that he was the number one qualifier at Indy in 1967, the first year that Funny Cars ran in their own eliminator bracket at the U.S. Nationals. I said how superior his car was and that he qualified number one and was more than half a second ahead of the number two qualifier, Doug Thorley. Jack ran 7.604 with the GT-1 Comet and Doug, who was driving a Corvair at the time, checked in with a time of 8.164. Did you know that over forty-five years later that is still the biggest gap between a number one and two qualifier in any of the top three classes in NHRA racing? Amazing, isn't it? In addition to that spectacular run Jack also won Indy in 1962 when he took the Mickey Thompson Pontiac-powered dragster to a win over Don Garlits...The 1967 Indy race was certainly one of the more famous, with the Funny Cars (and the stunning upset win by Doug Thorley), the equally stunning win by Don Cain in the Top Gas class and Bill Jenkins's win in the very popular Super Stock class. Oh yeah, it also featured Ben Wenzel's win in Stock Eliminator with his brand new Z-28 Camaro. It was a great race, one of the best, and the 2013 version will be hard-pressed to top it for thrills and excitement.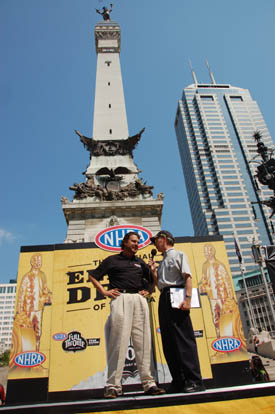 Last year at the Monument Circle
press conference/fan fest.
Photo copyright 2013 Rick Green
There will be several focal points this weekend for racers and fans alike and it will include the running of the Traxxas Nitro Shootouts for Top Fuel and Funny Car. With the format for entry into the Shootout the way it is there are seven locked-in spots for the eight-car fields with the final position being determined by fan voting. I wanted to vote but apparently the fact that I don't go to, know how to, never have and never will use Facebook kept me from casting my ballot. Maybe there is another way but I didn't find it so my ballot was left uncast. Anyway, it's a great program and I guess those who are younger and smarter than me (and that includes almost everyone) did get to vote and we will find out who the eighth and final entry will be at the press conference and Fan Fest in Indy on Wednesday. Several of the teams have been actively soliciting votes and it will be fun to see who actually makes the field, but my guesses are Brittany Force and Tim Wilkerson. Stay tuned to www.dragracecentral.com for the results and see if I'm right, or at least close..The Traxxas program continues a long tradition of having the big-money shootouts at Indy and it's a great deal for the racers and the fans. I know that all the years I was at Indy to see the teams racing for $100,000 was so cool and it really did add a spark to the festivities at the "Big Go."..While the drivers who are in the Shootout will all be gunning for the big bucks they have to keep their eye on the real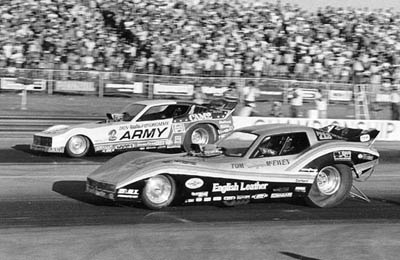 1978 Funny Car Final
Tom McEwen defeated Don Prudhomme
Photo copyright 2013 NHRA
prize for the weekend and that is the
Chevrolet Performance U.S. Nationals
title. Let's face it, $100,000 is great but winning Indy is every drag racer's goal, and remember back in 1999 when both
Kenny Bernstein
and
Larry Dixon
failed to make the field? At that same race
Mike Dunn
,
Gary Scelzi
,
Joe Amato
and
Doug Kalitta
were all upset in the first round. Indy is nothing if not unpredictable and this week will probably be no exception..And before I forget there is a special showing of the new movie, "
Snake & Mongoose"
in Indy this week and that should be a lot of fun for the special guests at the preview. From what I have heard it's a wonderful movie and the fact that folks will get to see it around Indy will make it even more special. The 1978 Funny Car Final, the one where
Tom McEwen
beat
Don Prudhomme
, was voted as the top moment in Indy history and that will be a real focal point of the movie.
Did you know
that Don won Indy seven times in his ten final round appearances and he is one of four drivers to have won it in both Top Fuel and Funny Car while that '78 final round was the only final for Tom in his great career? Don's first Indy race was 1965 and he promptly won the race in
Roland Leong's
car while Tom made his first appearance at Indy a year later. They both mean so much to the sport and the "Nationals" and I'm glad they will be a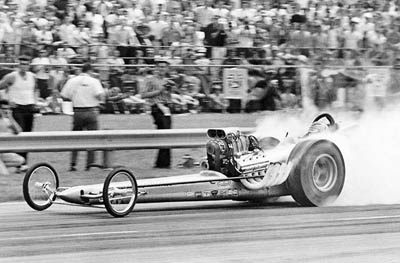 Don Prudhomme won Indy in 1965.
Photo copyright 2013 NHRA
part of it again this year. By the way, Don will be the Grand Marshall at the race while
Linda Vaughn
, who was at the Hall of Fame ceremony this past week, will be the Honorary Starter..Since I mentioned that '65 race
did you know
that's when the dragsters had to win class to earn the "sit out" position on Sunday, and then the class winner would race the winner of the Top Fuel elimination race from Sunday. In order to earn that "sit out" spot Don beat
"The
Grunt"
driven by
Larry Posluszny
,
Don Westerdale
in the
Ramchargers
car,
Bobby Vodnick
,
Danny Ongais
and
Jimmy Nix
. Not bad, huh? He then beat
"TV
Tommy" Ivo
for the title on Monday.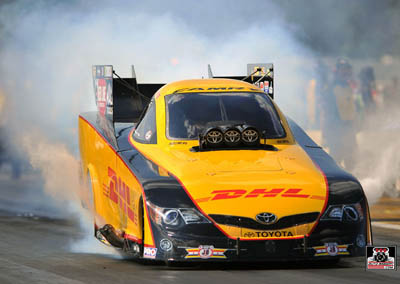 Del Worsham
The battle for the final spot in the "Countdown" for both Top Fuel and Funny Car will get a lot of attention with most of the drama being in the Funny Car class. That's where thirty-five points separate the ninth driver, Bob Tasca, from the eleventh driver, Del Worsham with Robert Hight sandwiched in between them. Even with the extra round of qualifying Del probably can't make up enough points in qualifying to get the margin below one round so he will need a good showing on Monday to overtake Robert. For the record Del has been to nineteen Indy races in his Funny Car career (and three in Top Fuel) and he has posted an overall record of 16 - 16 in the Funny Car class. Included in that total are three final rounds and a win in 2005 when he beat Frank Pedregon..For his part Robert is 15 - 6 at Indy with four final and two wins while Bob Tasca is 5 - 5 in the fuel car and that includes 2011 when he lost to Mike Neff in the final round. Did you know that Bob also raced in the alky Funny Car class and went to a pair of final rounds there? He made it to the money round in 2006 and 2007 and both times he lost to Frank Manzo. So who has the advantage coming into Indy? I would say Tasca and Hight since they are currently in the top ten and Del needs to have one of his best U.S. Nationals ever if he wants to make the "Countdown."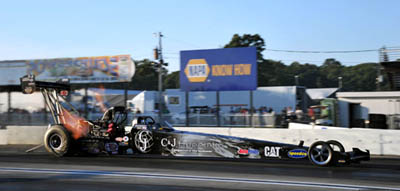 Bob Vandergriff
The dragster scenario is a little more clear cut with Bob Vandergriff holding a seventy-two point lead over David Grubnic. That's more than three full rounds so it would take an early exit (or a DNQ) by Bob and a final round by David for them to change places. It's a long shot but stranger things have happened (see 1999 above), and remember 2008 when David made the "Countdown" after Morgan Lucas failed to qualify at Indy?...I should mention that Steve Torrence is in ninth place and he is just five points ahead of Vandergriff so he isn't on safe ground yet, either. Should be fun, and that's easy for me to say because I won't be the one tuning or driving the cars so I have absolutely no pressure, which is more than I can say for Steve, Bob and David..The magic that is Tony Schumacher will be on display at Indy again this year. With his nine wins it's obvious that the "Sarge" has done well at the sport's premier event and maybe he can do it again. Tony won't be the top seed going into the "Countdown" but he will be a factor. Did you know that for his career at Indy Tony is a remarkable 47-7 and that gives him an 87% winning record on the sport's most hallowed track? Bob Glidden who did well (there's an understatement) at Indy went 61-14 for an 81% record wile Frank Manzo has a 66-20 mark and that's 77% and that includes an Indy record ten wins. Yes, I said ten wins. And in case you are wondering about "Big Daddy" wonder no more. Don racked up an overall record of 61-13 for a winning record of 82%, and yes, that does include his rounds when he had to run for the class eliminations in the 1960's as well as his overall record in Top Fuel. By the way, with all of the records that he holds, and that's a lot of them, did you know that there is one record that he has at Indy that will never be broken? I know what you're thinking, records are made to be broken, but this one won't be. Did you know that Don Garlits was the first driver in the Top Eliminator category to get a red light in the final round at Indy? The Christmas tree starting device was first used at Indy in 1963, and in the final round Don Garlits fouled out against Bobby Vodnick. Don never did like those new-fangled contraptions!!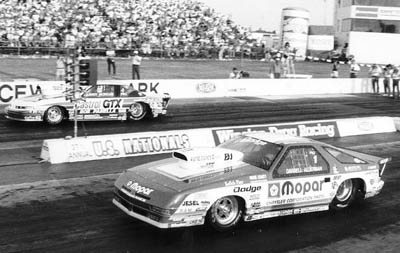 Darrell Alderman defeated Larry Morgan
in 1991 Pro Stock final.
Photo copyright 2013 NHRA
The Pro Stock class has had its ten members for the playoffs for some time. OK, so they may have jockeyed for position every now and then but basically the ten drivers have known for a while who would get to run for the championship. One of the big questions is will Erica Enders-Stevens make a run at the championship, after all, she is in ninth place and that's even with her missing a bunch of races. As I have said before Erica's is a saga of what ails the Pro Stock class, and that is money! It takes a lot of it to run one of those cars and the upside rewards can't seem to justify it for a lot of teams. Having said that there are twenty-six cars entered for the Indy classic and among those are Warren and Kurt Johnson. Did you know that this will be the thirty-eighth Indy race for the "Professor" and the twenty-first for Kurt? Those thirty-eight races are the most for any racer in the Mello Yello classes and I hope WJ can make the most of it this week, and by that I mean qualify and go some rounds...You know who is not entered this week, Dave Connolly the defending event champion. How about this for a strange little tidbit? Did you know that coming into this year, in the long history of the U.S. Nationals there have only been three times that the defending Pro Stock champ didn't return to defend their title and one of those times was Dave Connolly? He won in 2008 and was not at the 2009 event, and the only other times it happened were in 1992 when Darrell Alderman did not return to defend his title, and 1972 when Ronnie Sox was in Tulsa the week of Indy and therefore was not around to defend his championship. Maybe Dave can be a last minute addition to the program because it sure would be nice to see him make a run at another Indy title.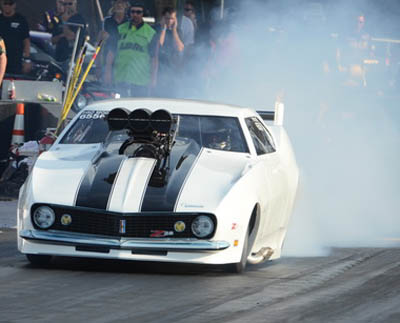 Craig Cawte at the
ADRL race in Memphis.
Photo copyright 2013 Roger Richards
Besides all of the normal activities and expected entrants for the race there are a few names that caught my eye. I always enjoyed seeing Harold Martin and his radical, even by Pro Mod standards, Corvette. This one is listed as a 2014 Corvette and knowing Harold it will be swoopy (my words, not his). Did you know that Harold competed at Indy in Pro Stock in 1973?...Another interesting entry is the one that will be driven by Tony Bartone who recently parted company with Rick Jackson. Tony will be driving Mickey Ferro's car and that could be a very interesting combination. Did you know that Tony has competed at twenty Indy races and he has done so in Top Alcohol Funny Car and in the fuel Funny Car classes? In the course of those events he has been to eight finals and won the big prize in 1993 and again in 1999. That '99 win was especially sweet for Tony since he beat Frank Manzo in the final round and anytime you beat Frank it's a big deal. Speaking of which, congratulations to Andy Bohl who did just that, beat Frank in the final round at the Division 3 race in Bowling Green this past weekend,...Another entry that caught me by surprise was that of Craig Cawte. What, you're surprised, too? I don't blame you because Craig will be making his NHRA national event debut at Indy and he'll do it in the Pro Mod class. Craig, who owns a '57 Chevy and a 1969 Camaro will be bringing the Camaro to town to try his hand at NHRA racing. Did you know that Craig has raced in the ADRL series, on the West Coast Outlaw Pro Mod tour and at various other events? This will be his first time at Indy and I wish the Canadian star good luck.




NHRA: 10 Most Recent Entries [ top ]

Mar 18- GAINESVILLE - Pro Mod Sunday Wrap Up
Mar 18- GAINESVILLE - Sunday Wrap Up
Mar 18- GAINESVILLE - Pro Mod Championship Points
Mar 18- GAINESVILLE - Bonus Points
Mar 18- GAINESVILLE - Championship Points
Mar 18- GAINESVILLE - Mickey Thompson Top Fuel Harley Series Championship Points
Mar 18- GAINESVILLE - Bonus Points
Mar 18- GAINESVILLE - Summary of Eliminations in Top Fuel
Mar 18- GAINESVILLE - Summary of Eliminations in Funny Car
Mar 18- GAINESVILLE - Summary of Eliminations in Pro Stock