Thu, 25 Jul 2013, 18:26 PM



He Just Loves Racing



By Bob Frey


Photo copyright 2013 Auto Imagery, Inc.





Mark Kirkman
It's no surprise that inside every one of us is the desire to succeed. We all want to be successful at our chosen endeavor, whether it's a hobby, a job or a vocation. As a young person we set our goals on what we would like to be and do in the future, and most of the time it's something that really fascinates us, and not surprisingly, it's usually something that we enjoy. I never liked math in school so I took four years of Latin, and that has really come in handy in my adult years. I even have a t-shirt that reads "Another day and I didn't use algebra." I did, however, enjoy talking (no comments, please) and I was able to parlay that talent (?) into a career. Taking this analogy to the racing level it always seems that men or women who race constantly strive to go quicker and faster. Those who grew up racing carbureted cars (yes, carburetors) seem to have a burning desire to reach the ultimate gas-burning class, Pro Stock, while those who spent their adolescent years around fuel, nitro or alcohol, eventually make their way to a Dragster or a Funny Car. Of course not everyone can drive, so those folks find employment and enjoyment doing something else around the sport, like building, tuning, serving on a crew or even cooking or driving the team's rig across the country. What I'm trying to say is that if you enjoy drag racing there is a place for you in the sport and you will eventually find your niche. Although, occasionally, there is that one special individual who is good at a lot of things and he can't seem to decide where he wants to be the most and Mark Kirkman is that kind of guy. Some people call it multi-tasking, Mark just calls it fun.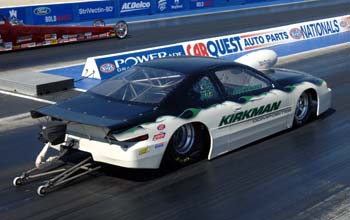 Mark Kirkman
Mark Kirkman is a forty-two year old transplanted Idaho native who now lives in Illinois. "I came here a while back to work with Rick Jones," he said. "And I have to tell you it's a lot different than Idaho." While Illinois and Idaho may be different in a lot of respects they are similar in one, and that's the fact they both have drag racing. "I had a pretty fast car in Idaho," Mark said. "It was a '68 GTO that I raced at the track in Pocatello." And while Pocatello may not be Indy or Gateway, it was enough to get those competitive juices flowing. "Besides my car, my brother had a 1966 Olds that he raced," Mark said. "We couldn't do much to the engine so we worked really hard to lighten it up so that it would go faster." After a steady diet of Mark's handiwork the brothers got the car down to a svelte 2,500 pounds and an idea was born. "I saw that there was more than one way to make a car go faster," Mark said. And who knows, that '66 Olds may have been the reason Mark has his own business today.
Once he moved to Illinois to work with RJ Race Cars, Mark says that he continued to do some work on some friend's cars and that he started getting busier and busier. "I eventually thought that maybe I could make a living making parts, creating new ideas for racers and generally building the better mouse trap, if you know what I mean." Not only do I know but so do a lot of racers from coast to coast, because his business, Kirkman Composites, is one of the most respected in the sport. "We create a lot of really good parts for racers, mostly door cars, and you can find our products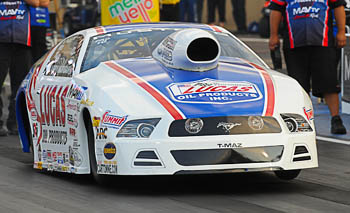 Larry Morgan's Pro Stocker
Photo copyright 2013 Roger Richards
on cars from Pro Stock down to the Super Gas cars." One of his latest creations is the new front end that he fabricated for his friend, Larry Morgan's new Ford Pro Stock car. "That has been quite a project," Mark said. "We've been working with NHRA since Gainesville of this year on getting this front end approved and we finally got it in Joliet. The new front end was on Larry's car in Denver."
Mark's association with Larry and Pro Stock goes back more than a decade. Early in 2001, after months and months of research and development, and a lot of trial and error, the new body for the Dodge Neon Pro Stock car was approved by NHRA and Mark played a big part in that. "Rick Jones developed the chassis and we did the composite work for it. The first time that I went to the wind tunnel was with a Pro Stock Truck that we modified from a Chevy to a GMC. What an eye-opener that was." I'm sure it was, after all, they probably don't have anything like that in Idaho. "I learned a lot there and it was quite an experience."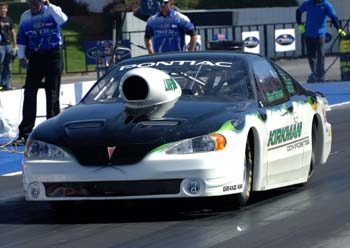 While Mark was busy building his business he also found time to race. "Racing served a couple of purposes," he said. "First, we got to try some of the new parts we were developing for our customers, and second, it was just a lot of fun and it gave you a little breather from the daily grind at the shop." One of his first serious race cars was a Pontiac that he raced in the B/AA class. "It was a really fast race car. We had a Larry Morgan Hemi engine in it and we wanted to be the first car in the class to make a six-second run." He had his shot at making history at Houston Raceway Park in 2006 but came up a bit short. "The air was great and so was the track and we had a feeling that someone was going to do it and we wanted it to be us," Mark said. "But we missed the call on the jets, hurt a few parts and had to watch as Sean Dodd ran that 6.99." But, like all good racers Mark did learn from the experience and moved on. "My buddy, Robin Lawrence, and I have actually worked on some fuel injection setups that will eliminate all of the jetting problems you have with carburetors. It's a work in progress but I think it's also the wave of the future."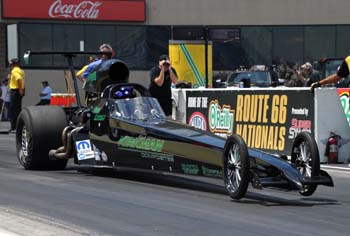 Another "work in progress" is the new car that he is running in Competition Eliminator, and if you think his Pontiac was fast you haven't seen anything yet. "Yeah, the new car runs in A/DA and it's a blast to drive. It has a Larry Morgan Hemi engine from one of his Pro Stock cars. Mike Bos did the chassis and body and we have added a lot of our own composite parts to it. It weighs about 1,740 pounds and we figure it makes around 1,400 horsepower." To date the car has run right on the national record of 6.45 and has a best speed of over 212 miles per hour. "It's every Comp racers nightmare," he added. "We get to leave second, which means the other guy can foul first, and at the other end of the track it's really hard for them to judge a car that's coming on like we do. The only drawback is that it's a little tough to handle off the starting line but we're working on that." When you have been as successful as Mark has at racing and in business, this latest challenge doesn't really seem like much of a challenge at all. "It's what we do," he said. "You see how things are now and try to improve on them and that's a formula that has worked for us and our customers for many years now."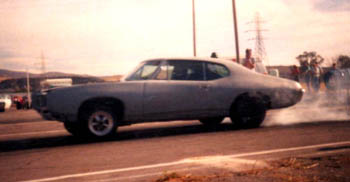 Mark's car from High School.
While he is constantly striving to make better parts for his customers Mark also admits to looking forward to the times when he can go out and race himself. "I would love to make Indy, and if all goes well, to be at the Dutch Classic at Maple Grove in the Fall. That's a great track and if the weather is good there's no telling how quick and fast we could go." For now, though, he'll stay at the shop trying to fill the orders for his customers while always thinking about the next big thing in drag racing. "I love everything about this sport and I hope to be able to do this for a long time." Based on the record that he already has, and that's a record both on and off the track, I think it's easy to see that Mark Kirkman will be making his mark in the sport for many years to come.




NHRA: 10 Most Recent Entries [ top ]

Apr 24- CHARLOTTE 1 - Steve Torrence Enjoying Four-Wide Success Heading to NGK Spark Plugs NHRA Four-Wide Nationals
Apr 24- CHARLOTTE 1 - Fact Sheet
Apr 24- Kalitta Motorsports Welcomes NASCAR Stars to the SealMaster Track Walk in Charlotte
Apr 24- zMAX Dragway Celebrates 10th Anniversary
Apr 24- CHARLOTTE 1 - NGK Spark Plugs NHRA Four-Wide Nationals Brings 40,000 Horsepower Thrill Show to zMAX Dragway
Apr 23- HOUSTON - Lucas Oil Drag Racing Series Wrap Up The NHRA Lucas Oil Drag Racing Series Wrap Up
Apr 23- CHARLOTTE 1 - J.R. Todd Aiming for Two Four-Wide Racing Wins in 2018
Apr 23- Mid America Dragway Joins NHRA Member Track Network
Apr 23- HOUSTON - Special Awards
Apr 23- HOUSTON - Sunday Video