Thu, 18 Jul 2013, 10:54 AM



Fifty Years Of Pouring Nitro



By Bob Frey


Photo copyright 2013 Mike Garland, Magic Photos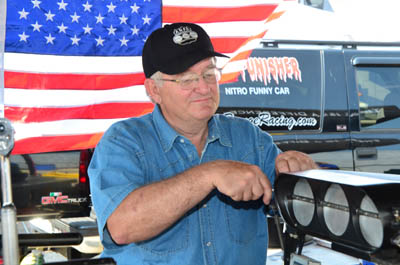 Jerry Newman
Everyone loves nostalgia or at least most of the people that I know do. Whether it's sitting back listening to some of your favorite music from days gone by, checking out the cars with the really big fins at a local car show or going to the races and watching the vintage racers do their thing, nostalgia and all things nostalgic are big business. Among the vintage races that fans can see are the ones that take place on the dragstrips across the country. NHRA has its Hot Rod Heritage series and those events are playing to standing room only crowds. I don't know if it's the race cars themselves, the great group of drivers who manhandle the machines down the track or just the chance that you may bump into a few members of the Drag Racing Hall of Fame that attracts the fans, but they come in droves to these events. At the recently completed NHRA National Hot Rod Reunion in Bowling Green, Kentucky, there were thousands of show cars, hundreds of race cars and a million fans who enjoyed a little look back at how drag racing used to be. Ok, so that million number may be a bit exaggerated but you get the idea, don't you? With drivers like Ron Capps, Del Worsham and Cruz Pedregon competing in the nostalgia Funny Car class it's easy to see why there is so much excitement around these races. But like every race at every level where the drivers get the headlines, it's the people behind the scenes who make these cars go, and there aren't many who have been more successful at that than Jerry Newman.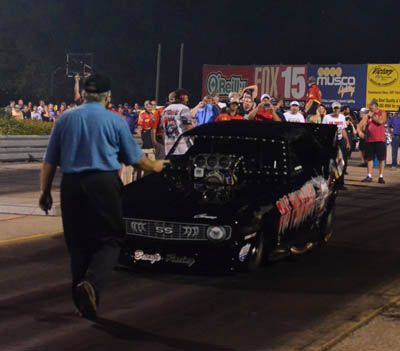 Newman backs up "The Punisher" at Eddyville.
I ran into Jerry over the fourth of July weekend at the Musco Nite of Fire at Eddyville Raceway Park. I was there as a special guest, along with "Big Daddy" Don Garlits and Jerry was there tuning two of the eleven cars that he is currently involved with. "They're all nostalgia cars," he said emphatically. "Those cars at the 'Big Show' require way too much work." That's an interesting statement coming from a man who works with almost a dozen teams that are located all over the world. "I have helped with the tune-ups in cars that run in the states and overseas," he added. "I could be at races a dozen times or more this year and that's a lot for a guy who tunes nostalgia cars." At the Eddyville race he was there with the "Punisher" car of Anthony Bronge and the "Down Under Thunder" entry of Barrie "Bazz" Young. "Anthony's team always comes in well prepared and this is the fourth year that I have been helping him out. "Bazz" is in his third season with the car and it runs well without hurting parts. The first year he just wanted to get his license. The second year he wanted to go to more races and pick up the performance level to run "teens" and this year he wants to run in the five's." Mr. Young has his own interesting story. He began racing a top fuel car in the 1970's and raced with some of Britain's best, like Dennis Priddle and Clive Skilton. Now he's very high up on the food chain at Snap-On Tools and travels all over the world, but he wanted to burn nitro again so he purchased a complete Funny Car and contacted Jerry to help him learn how to run it.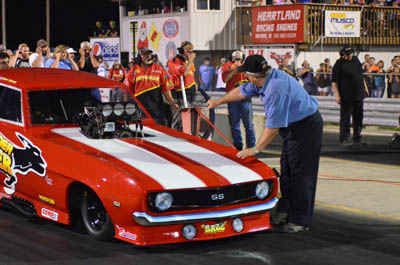 Newman with the final instruction as "Bazz" stages the car.
While "Bazz" keeps busy at his job Jerry was also a frequent traveler in his job with a worldwide construction firm. "I had a really good executive job, but was able to step away from it and go racing in the "Big Show" from 1984 to1992" he said. "But in'93 the corporate world came calling again so I went back to international construction work. Today I do some freelance work and I also serve as an expert witness in litigation cases that involve construction projects." But his first love is and always will be drag racing, and when you consider the fact that he has been doing this for half a century, it appears that racing will always be a part of his life. "I'll be racing at the World Series of Drag Racing in Cordova at the end of August, and that will make 50 years since I first went to that event. I guess you could say that I have been pouring nitro in a supercharged engine for fifty years."
In the beginning, and I mean the beginning of drag racing, Jerry had several cars that ran in what he calls "The Big Show." "It started in 1963 with a small block Chevy on nitro and then in 1964 I teamed up with a couple of guys named Andrews and Fisher and we ran very, very well. We had a brand new Don Garlits car with a Chris Karamesines engine, and back then that was as good as it got. We ended up #5 on the Drag News Mr. Eliminator list and that caused my addiction to the nitromethane." A few years later Jerry fielded his own dragster and it ran under the Hot Rod Shop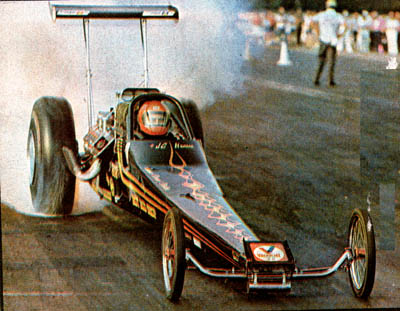 Jon Hansen in Newman's car in'73.
banner. "I had a series of cars and we had one of the very first Donovan engines in 1972. We ran the division races and National Events, we won the Division 3 title in 1973 with Jon Hansen driving the car. During the late '70s my career in corporate America required some traveling and that didn't allow time for a race car, so I worked for NHRA at national events from 1978 to 1983 in the manufacturer's program with my good friend, Carl Olson."
For a man who has been involved in the sport almost since its beginning Jerry is amazed at the performance numbers that the cars are running today. "Oh yeah, you have to be impressed, but there's no comparison with the supercharger technology that they have today. In the early '60s we used to start with a new stock 6:71 supercharger that we got from a bus company mechanic we knew, then we would sand the rotors to get better clearance, and nowadays they put new strips in them every run, plus they have blower dynos and internal stuff that we never imagined." Even though he is amazed at what the cars do today Jerry is perfectly happy to be working on the cars that he is associated with these days, and he's content to be running on the nostalgia circuit. "You can run 6.0's and 5.90's on some Midwestern tracks with these cars and not take the heads off at the race track, and normally not take the oil pan off either." He went on to say that another car he works on, the Telstar of Doc Halladay, once ran over twenty runs in one season and they never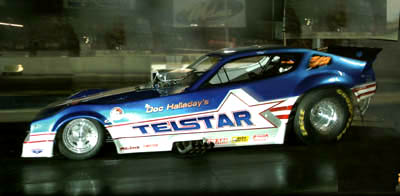 Doc Halladay's Telstar car.
took the heads or the oil pan off at the race track. He then added that there is a big difference between match racing, like they were doing in Eddyville, and racing for a big trophy or some money. "If you try to run hard, like you have to do at Bakersfield or some of those races on well prepped tracks, you'll put a lot more wear and tear on the engine and you'll put pistons in them like you do spark plugs."
Like a lot of the great crew chiefs in the sport Jerry has never had a desire to drive. "I'm German and have an engineering background so I was always fascinated by the mechanical part of it. I love the tuning of them and the preciseness that nitro requires. Now don't get me wrong, I hate working on the cars, but I like trying to figure out what will make them run better." Sounds like a lot of crew chiefs that I know. "I always felt good about making the car run well, but not hurt itself. I've come to be known as guy who doesn't hurt a lot of parts, and that's why I have become a nitro helper to a lot of limited budget guys. Paul LeSage, the famous welder at the NHRA events, used to say that some guys can run these cars on peanuts, but that I can run them on the shells." While I was talking with Jerry he reminded me a lot of Warren Johnson, both with his philosophy and his attitude. First, he never wanted to be a driver and we all know Warren's theory about drivers being nothing but necessary ballast. Second, when I asked him why he does it he says it's simple. "I started burning nitro at eighteen years old and I'm sixty-eight now. Hitting a golf ball doesn't interest me and I tried fishing once back in 1958 and that was enough. So, yeah, this is all I know."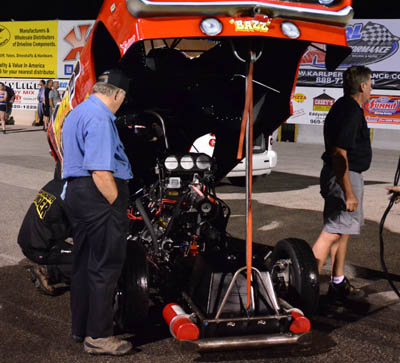 Newman oversees last minute
changes as they get ready to run.
While he may not be as well-known as some of the top tuners on the NHRA circuit Jerry is "the man" when it comes to the nostalgia cars. He works on, or I should say he oversees, several of the top cars in the class and has fun doing it. "After about fourteen hours at the track I must admit the fun meter gets pegged a little, but I have the perfect job. My motto is 'I do nitro and nozzles, nothing hot or heavy.' They call me the 'Nitro Helper' and my tag line is 'Entertainment from mixing Thermodynamics with money' and that's what I do." Then he added, "And since it's not my money any longer, this is the greatest time I've ever had in nitro drag racing."
You can see Jerry in action tuning four cars at the upcoming Night of Fire Nationals at Cedar Falls Raceway on July 19th and 20th or at the World Series of Drag Racing at Cordova in August. He'll be easy to find, he'll be hanging out with the quickest and fastest cars at the track, and he'll be the one who's NOT working on them.




NHRA: 10 Most Recent Entries [ top ]

Apr 19- HOUSTON - Friday Schedule
Apr 19- Tige Boats Named Presenting Sponsor of E3 Spark Plugs NHRA Pro Mod Drag Racing Series Portion of NHRA SpringNationals
Apr 19- HOUSTON - Previous Success, Early Win has Funny Car's Courtney Force Excited
Apr 18- Haney Headed for NHRA Pro Mod with Summit Racing on His Side
Apr 18- HOUSTON - Richie Crampton Enjoying Early-Season Success Heading to 31st Annual NHRA SpringNationals
Apr 18- 2018 Mustang Cobra Jet Celebrates 50th Anniversary of Racing Legend with Quickest
Apr 18- New Ford Mustang Funny Car Scheduled to Debut In 2019 NHRA Mello Yello Season Opener
Apr 16- HOUSTON - Fact Sheet
Apr 16- HOUSTON - After Early-Season Mishap Funny Car's Jonnie Lindberg Looks to Get On Track