Wed, 03 Jul 2013, 18:25 PM



Pruett Expects Racing Action to Heat Up



Courtesy of NHRA Communications


Photo copyright 2013 NHRA





At Summit Racing Equipment NHRA Nationals



NORWALK, Ohio --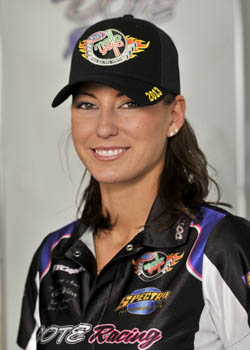 Leah Pruett
The racing action will be intense as the NHRA Mello Yello Drag Racing Series returns for the Summit Racing Equipment NHRA Nationals July 4-7. Leah Pruett, in her rookie Top Fuel season, will be looking for positive results during the holiday weekend event.
Pruett and her Dote Racing dragster team will enter the event with a dragster they believe is on the verge of a breakthrough. They raced to a semifinal appearance in Topeka, and Pruett is confident they are moving toward further success.
"I believe the semifinal appearance we had in Topeka was on par with our expectations that we have for ourselves," Pruett said. "That is where we think we should be racing, at that caliber at every single race and even expand from there. I truly believe we will reach a final round at some point this year."
Pruett and the racers in all four categories in the NHRA Mello Yello Drag Racing Series will look for wins at the 13th of 24 events in the 2013 season at the Summit Racing Equipment NHRA Nationals. Spencer Massey (Top Fuel), Mike Neff (Funny Car), Vincent Nobile (Pro Stock) and Andrew Hines (Pro Stock Motorcycle) took home event victories in 2012.
Though Pruett and the team have been hindered by parts gremlins following their success in Topeka and their results haven't met their expectations, their confidence isn't shaken.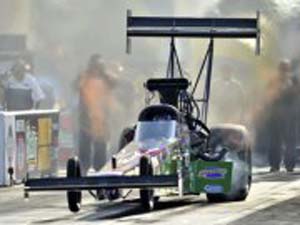 Leah Pruett
"My confidence is 100 percent there. You never go into it thinking, 'I hope this fly valve doesn't stick open,' " Pruett continued. "Those aren't things that you think about because they really shouldn't happen. Every time I go up to the line, I think this is going to be one of our best qualifying runs or that we are going to improve from here."
The team, owned by Mike and Connie Dote, has undergone a philosophical transformation and is looking for strong numbers with crew chief Doug Kuch each time the car rockets down the track.
"Our team owner has pushed us to get into the (3).70s, go more rounds, and his expectations are higher, and we are trying to achieve that," she continued. "When you are trying to move forward and try new things, obviously, they are not all going to work, and you have to try and figure out a new combination, and that is what has been happening."
The summer months are proving ground for the teams, and many crew chiefs have their cars prepped for success on a hot racing surface. Pruett and her team know what they will be facing at Summit Racing Equipment Motorsports Park.
"The first thing that comes to my mind when thinking of Norwalk is the heat," Pruett said. "Dealing with the heat and having a nice hot-track setup is what it is going to take to go rounds and win this race. Also dealing with the heat as a driver and trying to stay cool."
The team's race shop is in Monroe, Ohio, just outside of Cincinnati, so many friends and family will make the trip to Norwalk for one of the team's three home races during the year.
"The crew and Doug will have people up there in Norwalk for sure," Pruett said. "The team owners, Connie and Mike, are in Utica, N.Y., so it is kind of like we have multiple hometown races. My hometown would be Pomona, Norwalk will be hometown for the crew and Reading is hometown for the team owner."
Summit Racing Equipment Motorsports Park has long been known as one of the most fan-friendly and welcoming venues in all of entertainment. The Bill Bader-owned facility is not only a favorite of those in the grandstands, but also those competing at the track.
"It starts with the person that welcomes you and stamps your credential and says, 'Have a great day, and good luck this weekend,' to Bill walking around the pits and introducing himself to the teams he doesn't know," Pruett said. "Last year, being a relatively new driver, he was one of the most welcoming people I have ever met. I could have been John Force, and he treated me the exact same. You can tell he is passionate about putting on a good show for the fans, and that translates to the racers."
A trip to the track isn't complete until you can say that you have tried the famous $1 pound of ice cream on a hot summer day. People line up early for this decadent tradition, and besides winning at the track, it is something Pruett wants to experience.
"That is on my to-do list as I haven't had it before. Everybody talks about it, and I don't really eat a lot of ice cream, but I'm going to make it a point to try this ice cream this year and get some of the chocolate, which is my favorite."
In Funny Car, racers will continue their battle for the top points position, which multiple drivers - Matt Hagan, Johnny Gray, Ron Capps and Cruz Pedregon - have occupied this season. John Force and his daughter Courtney have both won races, and they and Alexis DeJoria, Del Worsham and 2012 world champion Jack Beckman will be searching for the win.
Last year, Nobile recorded his second Pro Stock win of the season, and he will be joined in the quest for the NHRA Wally trophy by Allen Johnson, Erica Enders-Stevens and points leader Mike Edwards.
The Pro Stock Motorcycle category has featured tight racing all season with a field that is separated by thousandths of a second. With three wins and the points lead, Hector Arana Jr. will be looking to hold off a tough field of competitors.
As always, fans can interact with their favorite drivers because every ticket is an exclusive pit pass, allowing them to see firsthand the highly skilled mechanics service their hot rods between rounds. While visiting the pits, fans won't want to miss the interactive NHRA Nitro Alley and the NHRA Manufacturers Midway.
The teams in several categories of the NHRA Lucas Oil Drag Racing Series also will thrill the crowds with intense side-by-side competition, and drivers in the NHRA Pro Mod Drag Racing Series will be competing in their sixth event of the 2013 season.
• SCHEDULE: NHRA Mello Yello Drag Racing Series qualifying sessions are scheduled for 4 and 6:30 p.m. Friday, July 5, and will continue Saturday, July 6, at 11:45 a.m. and 2:15 p.m. Final eliminations will begin at 11 a.m. Sunday, July 7.
• TICKETS: For tickets, call Summit Racing Equipment Motorsports Park, (419) 668-5555. Tickets also are available online at www.SummitMotorsportsPark.com.
• TELEVISION: ESPN2 and ESPN2HD will televise two hours of qualifying coverage at 6 p.m. (ET) Saturday, July 6, and three hours of eliminations coverage at 7 p.m. (ET) Sunday, July 7.




NHRA: 10 Most Recent Entries [ top ]

Apr 23- HOUSTON - Lucas Oil Drag Racing Series Wrap Up The NHRA Lucas Oil Drag Racing Series Wrap Up
Apr 23- CHARLOTTE 1 - J.R. Todd Aiming for Two Four-Wide Racing Wins in 2018
Apr 23- Mid America Dragway Joins NHRA Member Track Network
Apr 23- HOUSTON - Special Awards
Apr 23- HOUSTON - Sunday Video
Apr 22- HOUSTON - Sunday Pro Mod Wrap Up