Tue, 04 Jun 2013, 19:02 PM



Something Old And A Few Surprises



By Bob Frey


Photo copyright 2013 Auto Imagery, Inc.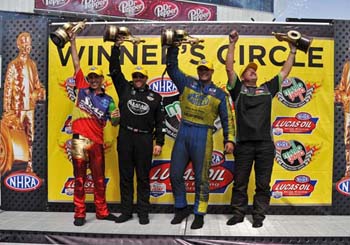 Ray, Langdon, Hagan and Edwards
They have been running the race in
New Jersey
and calling it the Summernationals (or some other wacky name) for forty-four years and over that time there have been a lot of special moments. Even though it has been moved around from May to July, and was once even held in September, it seems that people remember the heat and humidity, the wild wheelstands and stunning upsets that have been a part of this race for almost half a century. Well, 2013 offered more of the same, that is, hot weather, big surprises and a lot of great racing, and in the end it also saw wins by
Shawn Langdon
,
Matt Hagan
,
Mike Edwards
and
Michael Ray
. Of course some of the surprises started with qualifying and that kind of set the stage for the rest of the weekend.
With hot weather setting in on the Garden State it seemed imperative that if you wanted to get the top spot in qualifying you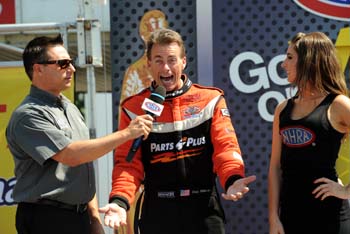 Clay Millican during the No. 1 qualifier
interview during prerace.
had to do it on Friday, and that's exactly what happened as all four of the number one spots were locked in after the only evening qualifying session. Two of the winners, Matt Hagan and Mike Edwards, grabbed the top spot in Funny Car and Pro Stock, and while that wasn't really a surprise, especially Mike, the other two number one qualifiers were. To be honest I don't know who was the bigger surprise,
Steve Johnson
or
Clay Millican
? Sure, Clay had never been number one before but he had only been to 155 events. I say "only" because Steve Johnson had been to 333 races before this week and he had only been the top qualifier twice..While I don't claim to be a technical expert, or a technical anything, it sure looks like the rule changes in Pro Stock Motorcycle helped level the playing field, or at least make the Suzuki riders and teams more competitive.
Did you know
that the last Suzuki before Steve to be number one was
L.E. Tonglet
who did it in
Atlanta
in 2011? If you're counting that's thirty-three races ago (bike races, that is) and that's a long time...While he did manage to get the top spot Steve provided more surprises when he was beaten in the first round by the sixteenth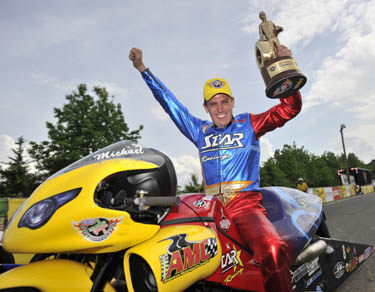 Michael Ray won his second career Wally.
Photo copyright 2013 NHRA
qualifier,
Shawn Gann
. Shawn then beat
Adam Arana
to go to the semi-finals and that was a surprise.
Did you know
that since the motorcycles joined the full tour in 1987 the sixteenth qualifier has only made the semi-finals nine times in the Pro Stock Motorcycle class? And with that as a background it's a real surprise that it has now happened four times at Englishtown...If the new rules did benefit the Suzuki teams they apparently didn't hurt the Buells because they have now won all four races this year.
Michael Ray
, who started from the fourth spot, beat
Hector Arana
, the fifteenth qualifier, in the final round and that, too, was a surprise. Not so much a surprise that Hector made the final round, although it was his first since Indy last year, but that he did it from the number fifteen spot.
Did you know
that in the history of the Pro Stock Motorcycle class this was just the fourth time that the fifteenth qualifier advanced to the final round? And, with that as a background, it should be a surprise that it has now happened twice at the Englishtown race. In 2006
Karen Stoffer
qualified fifteenth in
New Jersey
and she made it to the final round where she lost to
Matt Smith
who was the fourth qualifier. Do you see a pattern developing here?....For Michael Ray it was his second win and his first of the year and he now joins a group of just twenty-nine motorcycle racers who have won multiple times on the
NHRA Mello Yello
tour.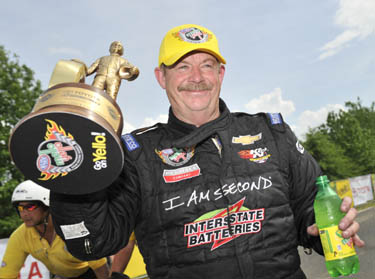 Mike Edwards celebrates third win this season.
Photo copyright 2013 NHRA
The fact that Mike Edwards qualified at the top shouldn't and didn't surprise anyone, and the fact that he went on to win on Sunday isn't a real shock, either. Mike has had, without a doubt, the best Pro Stock car in the pits this year, and if he doesn't I would like to know who does. Add to that the fact that, most of the time, he is making good runs on Sunday and it all adds up to a guy with a commanding lead in the points..Being the top qualifier is not a guarantee for success, especially at Old Bridge Township Raceway Park. Did you know that the top qualifier in Pro Stock had only won five times in the last nineteen years in New Jersey?...Not only did Mike pace the field and make the best run in each round of qualifying but he also ran low elapsed time in every round on Sunday and that's the kind of stuff that champions are made of. Now that doesn't mean I am conceding the title to Mike but until someone else puts a couple of good races back-to-back Mike is the man!...Jason Line and Shane Gray both made runs in the 6.5 range on Sunday and they,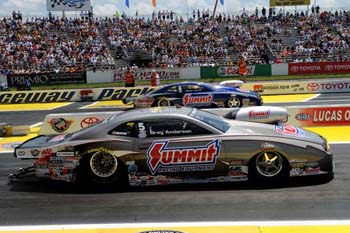 Greg Anderson vs. Jason Line
in round one.
along with the runner-up
Allen Johnson
, appear to have the best chance to beat Mike right now and they'll get another opportunity in two weeks in Bristol. Oh, right, that's where Mike has won the race four years in a row, isn't it?..Speaking of Jason, he and his
Summit Racing
teammate
Greg Anderson
met in the first round and that's a surprise. Since both drivers have good cars and teams, and since they both usually qualify in the top half of the field, they don't often square off in the first round. In fact,
did you know
that this was just the fourth time in their careers that they have raced in the opening round? And with that as a background it's a surprise that it has now happened twice this year already and Jason has won both of those matches..Mike is off to a great start and it all begins with qualifying.
Did you know
that he has now been the top qualifier at eight of the first nine races this year? And
did you know
that matches the best start for a Pro Stock driver since
Warren Johnson
did the same thing in 1995? Like I said, Mike's doing a good job and he will be tough to beat the rest of the year.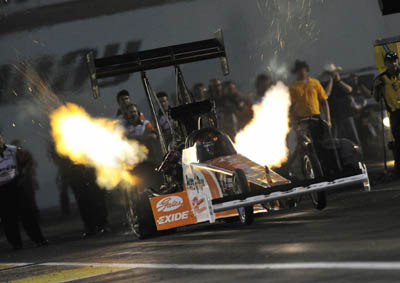 Clay Millican on his Friday night pass.
He qualified No. 1 for the first time in his career.
Photo copyright 2013 NHRA
As I mentioned one of the biggest surprises was when Clay Millican qualified number one and this was the first top spot for Clay in his 156 NHRA national events. And while that sounds like a long time to go without qualifying number one, and it is, did you know that it's not the longest drought in Top Fuel? In fact, it's not even second. Both Chris Karamesines (194) and Rhonda Hartman-Smith (161) went more races without a top qualifying spot than Clay did. I'm not sure that makes Clay feel any better but I thought I would point it out..As good as he was running he was not able to go the distance on Sunday, but Clay and his Parts Plus team continue to make improvement and that long-awaited win will come soon. With his search for a number one spot now checked off of his "to do" list Clay can focus on winning, as if he wasn't focused on it before. And when you think of his 156 races without a win you may be wondering what is the longest a racer ever went without winning an NHRA national event. Well, that dubious distinction would go to Arizona's Gordie Rivera who went to 257 races
Brittany Force defeated Doug Kalitta on a hole shot.
without a win. Gordie came close when he went to the finals at his home track in
Phoenix
in 1990. After beating
Joe Lepone
,
Scott Geoffrion
and
Bruce Allen,
Gordie lined up against
Bob Glidden
in the final, and despite a great reaction time he wasn't able to hold on and Bob picked up the win and that was as close as Gordie would get to a national event win.
Did you know
that Gordie did have a perfect reaction time in his semi-final match and that's something that even Clay has never accomplished? In fact,
did you know
that many more drivers have qualified number one in Top Fuel than have recorded perfect reaction times in Pro Stock..
Doug Kalitta
lost to
Brittany Force
in round one and that was already the fifth time that Doug has faced a woman racer in round one this year. He is 3-0 against
Leah Pruett
and now 0-2 against
Brittany
in those round one encounters.
Brittany
won the round on a holeshot, the first of her young Top Fuel career, and that equals something that her famous dad did.
Did you know
that it took John nine races to record his first holeshot win and that's exactly how many races it took
Brittany
to record hers? Now I don't want to start a family feud here but
Brittany
picked up her first holeshot win in her ninth race and that is quicker than either one of her sisters, Ashley or Courtney. I'm just sayin'..Shawn Langdon earned the win in Top Fuel and that is his third of the year and it moves him back to the top of the standings. It's a real power struggle at the top with the two
Al-Anabi
cars first and fifth in the points and the three cars from
Team Schumacher
holding down second thru fourth place.
Don Schumacher and Matt Hagan
celebrate his third victory this season.
Photo copyright 2013 NHRA
Speaking of Team Schumacher it was another good day for their Funny Car teams, especially Matt Hagan and Jack Beckman who squared off in the final round. Matt picked up the win and, in the process, completed a "sweep" of the event. Matt was the top qualifier and recorded low elapsed time and top speed on his way to victory and that's about as good as it gets for any driver. Did you know that this was the second time in his career that Matt has swept all the honors at a national event? The other time he did it was when he had that spectacular race in Charlotte in 2011..While you may think that drivers have great races all the time, and I guess anytime you win a race it's great, but those sweeps really are few and far between. In fact, did you know that Matt became just the third Funny Car driver in forty-four years to sweep the Englishtown race? He should be very proud of that, too, since he is in some pretty good company with the other two who swept Englishtown, John Force and Don Prudhomme..Speaking of John, he started from the bottom half of the field and that was only the seventh time in thirty-two trips to E'town that he did that. Did you know that John's first race in Englishtown, other than a match race, came in 1979? At that race he also started from the bottom half of the field and he managed to make it to the final round where he lost to Raymond Beadle..The racing was excellent in the Funny Car class and the eight winners in round one ran between 4.088 and 4.167. I know people often talk about the good old days but it would be hard to beat that kind of competition any day. By comparison, did you know that in the first year of the event the Funny Car winner's times ranged from 7.307 to 7.816, and yes I did say that was in the Funny Car class?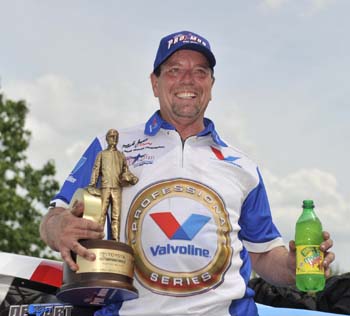 Mike Janis celebrates his first NHRA Pro Mod win.
Photo copyright 2013 NHRA
Mike Janis stopped Troy Coughlin in the Pro Mod final round to pick up his first win on the NHRA Pro Mod trail. Mike, one of the real veterans in the class, started from the eighth spot and went on to get the win. Mike had a rare bye run in round two when the top qualifier, Danny Rowe, left after qualifying to attend his daughter's graduation in California and didn't return. Danny might have been the only person at the race who was praying for rain on Saturday, because if the race did get rained out he would have returned to compete in eliminations. I know how much racers love to race and win but it was great to see Danny choose to be at his daughter's graduation, after all, there are more important things in life than drag racing. Really, there are!!....A couple of Englishtown favorites grabbed top honors in the Lucas Oil ranks when Sal Biondo won Comp and Lincoln Morehead took the Super Stock crown while Steve Sisko and Tom Goldman picked up their first NHRA national event wins in Super Comp and Super Gas. Don Pires and Top Sportsman specialist Marco Abruzzi were the other sportsman winners. Congratulations to them all.




NHRA: 10 Most Recent Entries [ top ]

Apr 24- CHARLOTTE 1 - Steve Torrence Enjoying Four-Wide Success Heading to NGK Spark Plugs NHRA Four-Wide Nationals
Apr 24- CHARLOTTE 1 - Fact Sheet
Apr 24- Kalitta Motorsports Welcomes NASCAR Stars to the SealMaster Track Walk in Charlotte
Apr 24- zMAX Dragway Celebrates 10th Anniversary
Apr 24- CHARLOTTE 1 - NGK Spark Plugs NHRA Four-Wide Nationals Brings 40,000 Horsepower Thrill Show to zMAX Dragway
Apr 23- HOUSTON - Lucas Oil Drag Racing Series Wrap Up The NHRA Lucas Oil Drag Racing Series Wrap Up
Apr 23- CHARLOTTE 1 - J.R. Todd Aiming for Two Four-Wide Racing Wins in 2018
Apr 23- Mid America Dragway Joins NHRA Member Track Network
Apr 23- HOUSTON - Special Awards
Apr 23- HOUSTON - Sunday Video