Tue, 04 Jun 2013, 16:48 PM



Biondo, Morehead Lead Winners in Englishtown



Courtesy of NHRA Field Marketing



ENGLISHTOWN, N.J. --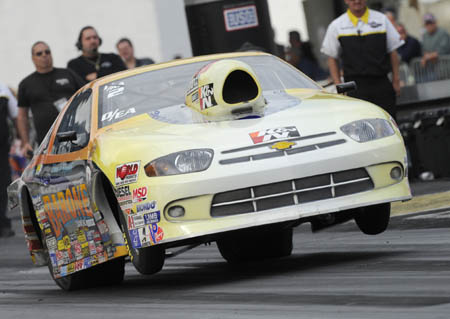 Sal Biondo raced to his 16th NHRA National
event win at this weekend's
44th Toyota NHRA Summernationals
in Englishtown, N.J.
Sal Biondo and Lincoln Morehead each picked up big wins this past weekend at the Toyota NHRA Summernationals in the NHRA Lucas Oil Drag Racing Series at Old Bridge Township Raceway Park.
Biondo, Maspeth, N.Y., earned his 16th national event win and his tenth in Comp Eliminator taking out Calvin Hill running 8.326 seconds at 139.41 mph in his '11 Cavalier. Hill clocked in at 8.507, 134.39 and had the early lead before Biondo came around him for the win.
Three time NHRA division champion Lincoln Morehead collected his eighth win in the Super Stock category beating former 2011 Stock national champion Joe Santangelo III. Morehead was better off the line and held on to win with a lap of 10.278 at 126.61 to Santangelo's 10.500, 125.47.
The annual Northeast event produced a pair of first time winners as Steve Sisko, Atco, N.J., and Tom Goldman, Allentown, Pa., each picked up their first NHRA Wally trophies in Super Comp and Super Gas respectively. Sisko and Mike Robilotto were close at the start but Sisko was a little better at the strip running 8.919 seconds at 160.04 in his '10 dragster. Goldman had a big advantage at the start and held on for the win over Ralph Musi covering the quarter-mile in 9.998, 152.04 in his '58 Corvette.
In Top Sportsman, Marco Abruzzi, Warren, Ohio, ran right on his dial with a 6.830 second lap at 194.18 mph to defeat Ronald Riegel, Fairless Hills, Pa., and Donald Pires, Somerset, Mass., went seven rounds for the Stock championship. The win was the second for both drivers at the national level. Pires beat the quicker Sterling Simmons, combining a 0.027 second reaction time with a run of 11.586 on his 11.52 dial.
In a special 11.50 Index 8-car shootout, David Harvey Jr. drove his Plymouth Valiant to the win against Bob Sanders and his Monte Carlo. Harvey went 11.487, 111.41 to Sanders' 11.466, 110.85 in a double break-out.
The following are the final results from the 44th Toyota NHRA Summernationals at Old Bridge Township Raceway Park, Englishtown, N.J., and the NHRA Lucas Oil Drag Racing Series:
Comp Eliminator -- Sal Biondo, Chevy Cavalier, 8.326, 139.41 def. Calvin Hill, Pontiac Grand Am, 8.507, 134.39.
Super Stock -- Lincoln Morehead, Chevy Camaro, 10.278, 126.61 def. Joe Santangelo, Camaro, 10.500, 125.47.
Stock Eliminator -- Don Pires Jr., Chevy Nova, 11.586, 107.25 def. Sterling Simmons, Chevy Camaro, 10.854, 121.30.
Super Comp -- Steve Sisko, Dragster, 8.919, 160.04 def. Mike Robilotto, Dragster, 8.883, 174.32.
Super Gas -- Tom Goldman, Chevy Corvette, 9.998, 152.04 def. Ralph Musi, Olds Ciera, 9.980, 154.94.
Top Sportsman -- Marco Abruzzi, Chevy Camaro, 6.830, 194.18 def. Ronald Riegel, Camaro, 7.304, 184.62.
11.50 Index -- David Harvey Jr, Plymouth Valiant, 11.487, 111.41 def. Bob Sanders, Chevy Monte Carlo, 11.466, 110.85.




NHRA: 10 Most Recent Entries [ top ]

Mar 20- Strong Stable of Contending Pro Stock Racers Vie for Final Starting Position for K&N Horsepower Challenge
Mar 20- GAINESVILLE - Special Awards
Mar 20- GAINESVILLE - Lucas Oil Drag Racing Series Wrap Up
Mar 19- GAINESVILLE - Sunday Video
Mar 18- GAINESVILLE - Pro Mod Sunday Wrap Up
Mar 18- GAINESVILLE - Sunday Wrap Up
Mar 18- GAINESVILLE - Pro Mod Championship Points
Mar 18- GAINESVILLE - Bonus Points
Mar 18- GAINESVILLE - Championship Points
Mar 18- GAINESVILLE - Mickey Thompson Top Fuel Harley Series Championship Points