Sat, 25 May 2013, 11:33 AM



$17,000 And Bob Tedesco



By Bob Frey



| | |
| --- | --- |
| | |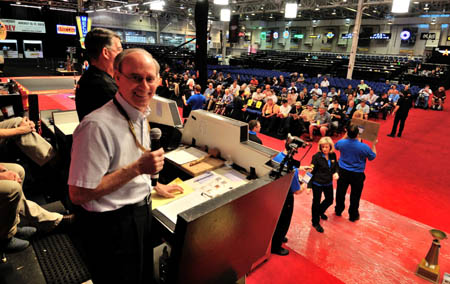 As most of you know I am retired, or as some people call it, unemployed, and with that comes an entirely new lifestyle. No longer do I have to think about what needs to be done in the twenty four hours that I'm home and hope that I have packed all the right items for my next trip. For years the question that I was asked the most at the drag races, or anywhere else I went for that matter, was "How is your Aspen?" Actually the real question was "How is your (fill in name of car here) since most folks got the car wrong but I knew what they meant. And for those of you who don't get it believe me, it's a long story. Anyway, the question that I get asked the most now is "How do you like retirement?" The answer is, I love it! Ok, so I'm busier now than I ever was but I don't miss the long flights and long lines at the airports or anything else that goes with the travelling. Another perk of being retired (or unemployed) is that I can now go to some events that I missed while I was working, and even though some of them involve going back to the airport, I do look forward to it. Case in point is the Mecum car auction that was held this past weekend in Indianapolis.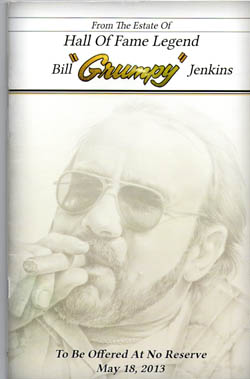 I have always been a big fan of car auctions and have been to a few over the years including the big Mecum auction in Kissimmee, Florida. This year, when I learned that the family of the late Bill "Grumpy" Jenkins had consigned a lot of his old trophies and awards to Mecum to be auctioned off in Indy I knew I wanted to go there. Sure it meant going back to the airport, but with my new attitude and a Pre-Approved flying status, I really looked forward to the event. That Pre-Approved deal is the best thing that has happened to air travel in years, but that's another story for another day. Suffice to say I was looking forward to going to Indy, this time for an auction instead of a race.
As a huge and I mean huge fan of the "Grump," I knew that there were a few items that I would like to own, and all that stood between me and them was a bid number. That was taken care of when a gentleman by the name of Mick Way contacted me and asked if I could help identify some of the trophies that they had. As hard as it may be to believe Bill hadn't kept these trophies in the best condition or in any order, so while some were easily identifiable, others weren't and that's what Mick wanted me to help him with. He sent me a list of what they had and asked if I could provide some information about the events, the cars, the classes and any other specifics that might help them at the auction. Since I have nothing but time on my hands now I readily accepted the challenge, after all, my grandsons only had four baseball games and a spelling bee that week so I had plenty of time. Little did I know how much "stuff" Mecum had, and when I got the list from Mick I knew that I had to own a few of these items.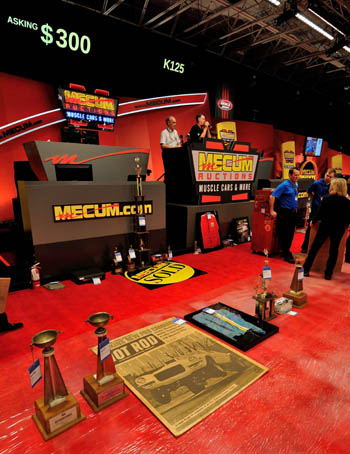 As I combed through the list I came upon one trophy that was listed as "AHRA winner, Tulsa, Oklahoma." As innocuous as that sounded I was stunned and surprised to find out that it was actually the trophy that Bill won at the "National Challenge" race in Tulsa in 1972. Since I was at that race, announced at that race and was in the winner's circle with Bill I put that trophy at the top of my "wish list." Another item that I, and any serious drag racing fan, would love to have on their shelf was the "Wally" that Bill won at the 1970 Winternationals. This was the first official Pro Stock race, Bill beat Ronnie Sox in the final round and National DRAGSTER covered the class with more enthusiasm than they did Top Fuel at that event. In my opinion this was the "must have" trophy of the entire collection and I knew that I wanted to own it.
There were lots of other trophies and as I went through them it was like a time capsule of my life. I announced at a lot of those races, from his NHRA, AHRA and IHRA days (Bill only won two IHRA national events but I announced at both of them), as well as various match races and other functions, like the 1972 Division 1 banquet when he was honored as the Pro Stock Champion. Since I already have Ed McCulloch's 1972 Division 1 Funny Car trophy it only seemed natural that I added Bill's to my collection. And there were more, lots more, and as I gathered information about them I came across a lot of names that I remembered but a few that I can honestly say didn't ring a bell. One of those names was Bob Tedesco, a name I came upon when I was researching one particular trophy. It was simply listed as "Keystone Dragway Ultra Stock Winner." Since I knew where Keystone was and what year the trophy was from it was easy to track down the results, and when I did the story said that "Bill had an easy time beating everyone at this race." It went on to say that he beat Bob Tedesco in the "Hustler Camaro" in the final round.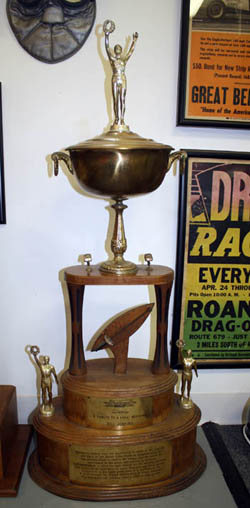 Jenkins 1964 Mechanic Trophy
Photo courtesy Mike Goyda collection.
When I arrived at the auction I was stunned to see all of these trophies along with Bill's tool box all on display, and as I picked out the items that I wanted I hoped that nobody else had the same idea. Well, apparently I was wrong. I was on stage with the auctioneers as Bill's "stuff" came up for bids. One of the first items was a trophy that didn't even have a plaque on it to identify it, no information about the track or the event, and that sold for almost $1,000. Shortly after that the 1965 Winternationals Top Stock trophy came up, and since that was the first NHRA national event that Bill won, and the only national event he won in a car other than a Chevrolet, I thought I'd bid on that. Well, about $1500 later I was still without a trophy, and so it went for almost two hours. As they came upon certain items I would chime in with what I thought were appropriate comments and information that may add to the value of the items. When it came to item #247, the Keystone Dragway trophy, I mentioned the ease with which Bill won it and I tossed out Bob Tedesco's name. "Any Bob Tedesco fans here?" I asked, and to my surprise three hands went up. I, of course, thought they were kidding, but they weren't. Each of those three came up to me after the auction and told me of their personal connection to Bob, his Camaro and the track he now runs. Who knew there were that many Bob Tedesco fans at a Mecum auction?
In the end I came away with nothing, zero, zip, zilch, nada, but I did have a wonderful time. I met Dana Mecum and a lot of his staff and they couldn't have been nicer. I spent time back stage with the television crew, got to hammer the final "sold" price on Bill's 2004 GTO and generally was treated like a rock star, and for that I thank Mick, Dana and everyone at Mecum. They run a great operation and it was fun to be a very small part of their event. By the way, that 1970 Winternationals trophy that I wanted so badly, sold for $17,000, which has to be a record for any automotive trophy, and needless to say I wasn't the winning bidder. Now that I think of it, maybe Bob Tedesco was. Oh, I did stay around to watch them sell the original "Eleanor" Mustang from the "Gone in 60 Seconds Movie and that went for a cool, $1,000,000, and no, I didn't buy that either.
One more thing. As they almost always do at the Mecum auctions they had a lot of drag racing cars up for bid and that just added to the excitement for me. Hemi Barracudas, Don Nicolson's Mercury Comet and many more all crossed the block and many of them sold, and while I came away empty handed there were a lot of happy folks there who got that special car or that hard to find "Grumpy" item that they can add to their collection. It was a great weekend and I was glad to be a small part of it even if I did have to get on an airplane.




NHRA: 10 Most Recent Entries [ top ]

Apr 24- CHARLOTTE 1 - Steve Torrence Enjoying Four-Wide Success Heading to NGK Spark Plugs NHRA Four-Wide Nationals
Apr 24- CHARLOTTE 1 - Fact Sheet
Apr 24- Kalitta Motorsports Welcomes NASCAR Stars to the SealMaster Track Walk in Charlotte
Apr 24- zMAX Dragway Celebrates 10th Anniversary
Apr 24- CHARLOTTE 1 - NGK Spark Plugs NHRA Four-Wide Nationals Brings 40,000 Horsepower Thrill Show to zMAX Dragway
Apr 23- HOUSTON - Lucas Oil Drag Racing Series Wrap Up The NHRA Lucas Oil Drag Racing Series Wrap Up
Apr 23- CHARLOTTE 1 - J.R. Todd Aiming for Two Four-Wide Racing Wins in 2018
Apr 23- Mid America Dragway Joins NHRA Member Track Network
Apr 23- HOUSTON - Special Awards
Apr 23- HOUSTON - Sunday Video