Thu, 25 Apr 2013, 22:19 PM



Getting Better With Age



By Bob Frey


Photo copyright 2013 Auto Imagery, Inc.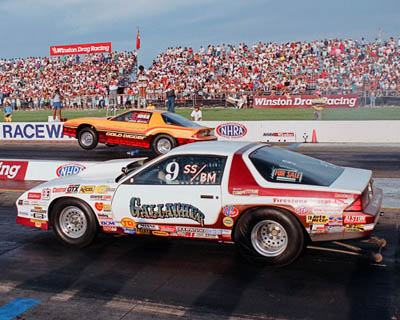 Chuck Gallagher defeated Elisha Boyd
at the 1974 Gatornationals.
As a lot of you may or may not know, before my days as the NHRA national event announcer I used to work all of the IHRA national events. I was also working at Atco and doing a lot of specialty races at the time so I was keeping pretty busy. With all of those races that I worked and all of the tracks that I visited I got to see a lot, and I mean a lot of different racers. Some may or may not be racing today while others I know are still very active in the sport. In my early days at the IHRA races I saw a Tennessee family and their familiar Mopar at almost all of the national events. The little Plymouth ran in one of the Formula Stock classes, a special designation that was used at IHRA and AHRA national events back then. Roy Johnson and his young son, Allen, not only raced a lot but they won a lot and they're still doing that today only now it's the son who is doing the driving while dad works his magic on the engine. Other racers like Mike Boyles, Vaughn Currie and Jerry Jennings were also regulars in the winner's circle in the early 1970's. And while I was watching those racers I kept reading my National DRAGSTER to keep up with what was going on at the NHRA races and I kept seeing one name pop up over and over again and it was a name that I was familiar with because he was winning on the IHRA tour, too. It didn't seem to matter if it was a national or a divisional race in the 1970's or the '80's, which sanctioning body it was or what track it was, Rockingham, Darlington, Gainesville or Indianapolis, the name Chuck Gallagher always seemed to be listed among the winners. There is an old saying that the more things change the more they stay the same, and today when you open the pages of National DRAGSTER you will still see Roy and Allen Johnson in the winner's circle and you will also see Chuck Gallagher there, too. Oh yeah, if you happen to have any old IHRA papers lying around you will also find the final round at Rockingham in 1977 that featured both Chuck and Roy, a race that Chuck went on to win.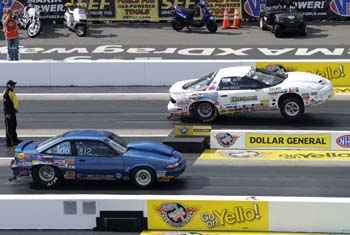 Gallagher defeated Peter Biondo
last weekend in Charlotte.
When he turned the win light on at zMax Dragway last Sunday Chuck Gallagher accomplished a couple of things including one that no other drag racer has ever done. The first thing he did was to check something off of his wish list. "The first race I ever competed in was held at the old Concord Dragway and that was in 1967," he said. "I thought, what a way to end your career by winning at the new track in Concord." And he did just that and in the process he became the only drag racer to win an NHRA national event in five different decades. "I've been very lucky to be able to drag race for so many years and to accomplish something like this just makes the win that much better." Of course beating the likes of Dan Fletcher, David Rampy and Peter Biondo had to make it special, too. "Well, yes," he said. "Those guys are so good and I enjoy racing with them. When I let the button go in the final round I thought I had maybe a '30' light, but it turned out to be better than that and I was fortunate enough to get the win." When he says his reaction time was better indeed it was, in fact it was a .006 and that went along with his .003 time against Rampy and a .010 against Fletcher in the first round. See, drag racers do get better with age and at sixty-eight years old Chuck Gallagher is living proof of that.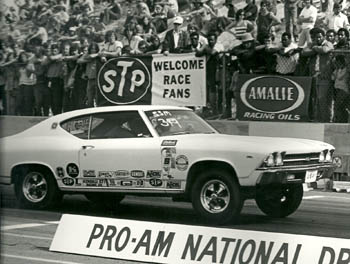 Chuck Gallagher at Rockingham in 1973.
Chuck's first ever national event win was in 1973 and it came at the IHRA race in Rockingham, North Carolina. "Roy Davis from Charlotte and I had built this 1965 Chevy II and we won the fall race at Rockingham and that was my first big win." He added a few more IHRA national event wins, including that one over the Johnson family, and he also started making a name for himself at the NHRA races in the mid 1970's. His first big NHRA win came in 1974 at the Gatornationals when he beat Elisha Boyd and he also won the U.S. Nationals in 1990 against Arnie Martel along with 1984 and 2006 wins at the Sportsnationals before making the five decade mark in Concord. Oddly enough, for as many years as he has been racing he has done most of it with two cars, a Camaro and the 1994 Pontiac Sunbird that he has now. "I guess I'm like a lot of Super Stock racers," he said. "When we get a car or a combination that works well we tend to stick with it." That may be true but not many racers compete in the same car for almost twenty years. "I got this car after it was a pilot-line test vehicle for General Motors. They would usually scrap them after they were done with them, but after winning Indy Pontiac said they would like me to drive one of their cars and they offered me my choice and I chose this one. It was a basic 4-cylinder car with no added features but I just knew that it would make a great race car." It has and it is among the quickest and fastest cars in the class. "It runs in the SS/AM class and I have gone as quick as 8.06 at a little over 166 miles per hour with it." Not bad for a car with a 382 cubic inch engine, is it? He went on to say that racing a car with that much power can sometimes cause problems. "You need a really good track for a car that goes that quick to be consistent. At zMax I didn't have one round where the track was a problem and that certainly helped me on Sunday." So did those great reaction times and over forty years of racing experience.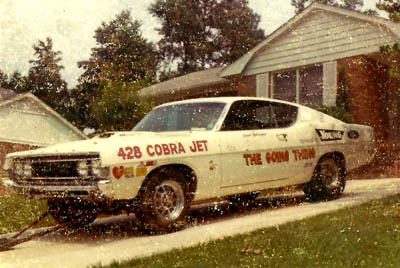 Chuck Gallagher's first race car,
a 1969 Torino.
While most people associate Chuck with the Michigan area and Division 3 he admits to being a Tar Heel at heart. "I grew up in Rome, New York with Richie Evans who later became a NASCAR Modified star and a Hall of Fame member. Even though he didn't drag race I learned a lot by hanging around with him." In 1964 he moved to North Carolina and then was transferred by General Motors to Michigan in 1979. "My children, one son and two daughters, all graduated college in Michigan and my son, who races with me when he can, still lives in Ohio, but Linda and I knew that when we retired we would come back to North Carolina." It should be pointed out that the Sunbird isn't the only car to be in the Gallagher family for a long time. "My son races the Camaro that I won Indy with in 1990," Chuck said. Now that's getting your money's worth from a race car, isn't it? And speaking of his wife, Linda, they celebrate their fiftieth wedding anniversary this year, and just what does a big time drag racer do to celebrate such an occasion? "We're going to New York to see a Broadway show," he said. Just what I thought!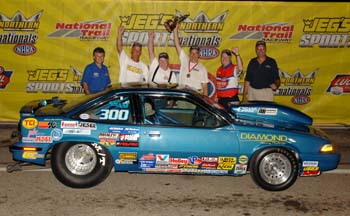 Gallagher celebrates SportsNationals win.
With his historic win and a victory in "our house" in North Carolina checked off of his bucket list Chuck says that he is laying low for a few months. "Oh I may go to Indy and I always enjoy the Sportsnationals in Columbus, and I may race the fall event here but other than that I won't do much racing the rest of the year." And why should he, when you have accomplished as much as he has it's nice to be able to just sit back and reflect on what has been a great drag racing career. "It's been a lot of fun and a lot of work. Anyone who races at this level will tell you that you have to have a passion for it because it is so tough." And nobody has had the passion for it, and nobody has had that passion for as long as Chuck Gallagher, and if you don't believe me, just ask Roy Johnson.




NHRA: 10 Most Recent Entries [ top ]

Apr 24- CHARLOTTE 1 - Steve Torrence Enjoying Four-Wide Success Heading to NGK Spark Plugs NHRA Four-Wide Nationals
Apr 24- CHARLOTTE 1 - Fact Sheet
Apr 24- Kalitta Motorsports Welcomes NASCAR Stars to the SealMaster Track Walk in Charlotte
Apr 24- zMAX Dragway Celebrates 10th Anniversary
Apr 24- CHARLOTTE 1 - NGK Spark Plugs NHRA Four-Wide Nationals Brings 40,000 Horsepower Thrill Show to zMAX Dragway
Apr 23- HOUSTON - Lucas Oil Drag Racing Series Wrap Up The NHRA Lucas Oil Drag Racing Series Wrap Up
Apr 23- CHARLOTTE 1 - J.R. Todd Aiming for Two Four-Wide Racing Wins in 2018
Apr 23- Mid America Dragway Joins NHRA Member Track Network
Apr 23- HOUSTON - Special Awards
Apr 23- HOUSTON - Sunday Video