Tue, 16 Apr 2013, 18:01 PM



Simoneaux Takes Inaugural Moser Sportsman Shootout



Courtesy of NHRA Field Marketing



BELLE ROSE, La. --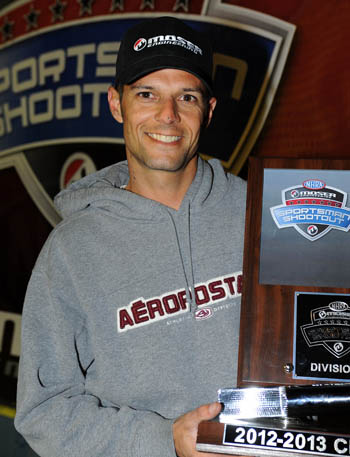 Jody Simoneaux
Jody Simoneaux captured the Inaugural NHRA South Central Division Moser Sportsman Shootout at the recent JEGS SPORTSnationals event at No Problem Raceway.
Simoneaux qualified in the Stock class and faced off with double-entry Slate Cumming who qualified for the 16-car field in both Stock and Super Stock. Simoneaux beat Cummings in the round one stock match up then had to face him again in round two when Slate beat his dad Larry in his round one Super Stock match up.
The Napoleonville, La., racer took out S. Cummings in round two with a 6.280 second pass on a 6.26 dial-in, then beat series hitter Jimmy Lewis in the semifinals before pairing up with Super Gas racer John Slater in the final. Simoneaux's '99 Firebird clocked in at 6.268 for the win and the Moser Sportsman Shootout trophy.
The 16-car field was stacked with competition including reigning Lucas Oil Drag Racing Series Super Gas World Champion Jeff Lopez, five NHRA South Central division champions and seven other divers that finished in the top 5 divisionally last year.
Racers from Super Stock, Stock, Super Comp, Super Gas, Super Street, Top Dragster and Top Sportsman qualified through a season long points competition with the top two Moser points seeded into the field. Two randomly drawn entries from an online registration program with Moser Engineering rounded out the 16-car field. To level the playing field for the wide variety of NHRA sportsman classes involved the race was contested on the eighth-mile with a full countdown starting 'Tree. Racers selected their individual dial-in index for the handicap starts and breakout eliminations.
Points to qualify for the 2013 NHRA Moser Sportsman Shootout in the South Central Division started last month at the Lucas Oil Drag Racing Series event at Royal Purple Raceway and will continue through the 2013 season ending event at Thunder Valley Raceway Park, Noble, Okla., in October.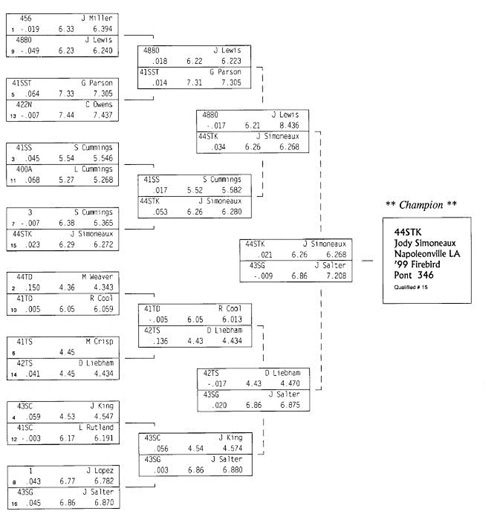 LODRS: 10 Most Recent Entries [ top ]

Apr 20- LODRS 1-1 - Stock Eliminator presented by ATI Qualifying, Friday Order
Apr 20- LODRS 1-1 - MXI/Magnaflux Top Sportsman presented by Select Performance Qualifying, Friday Order
Apr 20- LODRS 1-1 - MXI/Magnaflux Top Dragster presented by Select Performance Qualifying, Friday Order
Apr 20- LODRS 1-1 - Super Stock presented by ATI Qualifying, Friday Order
Apr 20- LODRS 1-1 - Competition Eliminator Qualifying, Friday Order
Apr 20- LODRS 1-1 - Top Alcohol Funny Car Qualifying, Friday Final Order
Apr 20- LODRS 1-1 - Top Alcohol Funny Car Eliminations Ladder
Apr 20- LODRS 1-1 - Top Alcohol Dragster Eliminations Ladder
Apr 20- LODRS 1-1 - Top Alcohol Dragster Qualifying, Friday Final Order
Apr 18- LODRS 1-1 - Event Preview