Tue, 16 Apr 2013, 17:03 PM



Nitro Harley's Dynamic Duo Headline Bradenton Nitro Jam



Courtesy of IHRA Communications



Turner Looks to Keep Winning Streak Alive in Nitro Jam's Thrilling Nitro Motorcycle Class



BRADENTON, Fla. --
It doesn't matter what bike Jay Turner is riding, he is one fast dude.
As defending champion of the International Hot Rod Association's Nitro Harley class, Turner has big plans in 2013 that include challenging decades-old records and continuing to pile up wins on the Nitro Jam tour. The only problem facing him this year? He doesn't have his secret weapon anymore.
While Turner dominated the field in 2012 on his way to six wins - including five straight early in the year - and a championship to cap his season, Turner will face a bit of a tougher task this season thanks to his new riding mate, Pennsylvania native Tracy Kile, and the fact that he will be without his innovative and now legendary "Big Pig" nitro bike.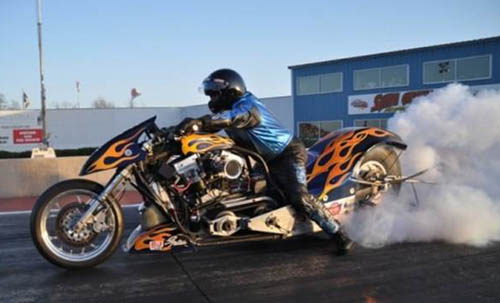 Jay Turner is one of the best in the business in nitro motorcycle drag racing.
An elite rider himself, Kile will actually take over riding duties for one of Turner's old bikes while Turner will compete on the same bike that Randal Andras drove to two wins during the 2012 season. As for Turner's "Big Pig" bike, that machine is in the shop as the Jay Turner Racing Team prepares a second, identical "Big Pig" to debut next year.
Until then, Turner is left riding a now - to him at least - old-fashioned bike, but don't think for a second that will slow him down. Turner has already started 2013 with two wins at the San Antonio Nitro Jam and is looking to add to that total this weekend at the Bradenton Nitro Jam presented by CarSafe, Metro PCS and Southern Ford Dealers.
"The 'Big Pig' was a bit hit last year. Everything worked out well and we showed everyone what that bike could do. Unfortunately, we have had to put the big pig in the stable while we prepare a second bike we hope to debut next year," Turner said. "Until then I will be riding Randal's bike and Tracy will be riding my old bike. It won't be easy watching him on my old ride, especially if he starts firing off some really competitive laps, but he is a great rider and I look forward to competing against him this season."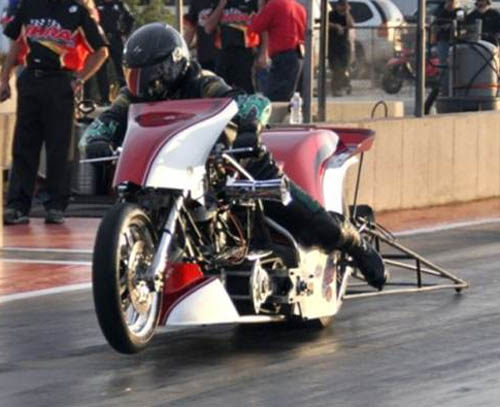 Tracy Kile is hoping to make a name for himself as Turner's teammate and chief rival.
Turner put together a solid weekend in San Antonio earlier this month on his way to a 4-0 record against Kile, but that is far from what fans can expect this season. While Kile is new to Nitro Jam, he is far from new to the sport as the veteran rider has logged hundreds of laps over the years in cars, gas-powered bikes and now on a nitromethane-powered ride.
Kile has been given free rein to tune, adjust and make Turner's old bike his own as the two extremely competitive racers try to match wits on the track at over 220 miles per hour to the delight of fans. With fire blazing from the pipes and the front wheels rarely touching the ground, it is one of the greatest spectacles in all of drag racing and fans at Bradenton will witness the best-of-best in Turner and Kile this weekend.
"We travel together, we pit together and we work on our stuff together, but when we get on the track we are both going for the throat," Turner said. "It is a fun little rivalry and I think it is something the fans will enjoy this weekend."
Turner and Kile will race each other twice each night with the winner of the final pairing taking home the Ironman trophy. In San Antonio, that man was Turner both nights as he also took home honors with the best lap of the weekend, a 6.458 at over 214 miles per hour.
Joining Turner and the incredible Nitro Harley battle are three additional nitro-powered classes. Top Fuel will make its return to Bradenton as former IHRA World Champion and former Bradenton finalist at the 1999 IHRA national event Bruce Litton battles Kyle Wurtzel.
Also in competition will be four of the fastest nostalgia Nitro Funny Cars in the land headed by two-time IHRA World Champion and world record holder Peter Gallen in the "Poverty Stricken" Monza. Having already won once this season, Gallen will be joined by fellow competitors Mike Halstead in the "Candies & Hughes" Barracuda, Mike McIntire in the "McAttack" Camaro and the world famous "Chi-Town Hustler" driven by Mike Minick.
Rounding out the nitro action will be the world famous "Rat Trap" and "Super Nanook" Fuel Altereds driven by Ron Hope and Kyle Hough respectively.
Bringing both days of racing to a close will be the incredible "Super Shockwave" jet-powered truck battling Grave Digger, the Super Winch wheelstander, fireworks and much more.
The 2013 Bradenton Nitro Jam presented by CarSafe, Metro PCS and Southern Ford Dealers will take place June 19-20 at Bradenton Motorsports Park. For tickets or for additional information visit www.nitrojam.com or call (941) 748-1320.




IHRA: 10 Most Recent Entries [ top ]

Apr 24- Racers Receive Prizes at IHRA Summit Sportsman Spectacular Opener
Apr 24- Comeaux, Hughes Make History at IHRA Summit Sportsman Spectacular
Mar 21- 2018 IHRA Summit Sportsman Spectacular Series on April 20-22
Feb 26- Weather-Related Construction Delays Postpone IHRA Xtreme Raceway Park Opener
Feb 16- IHRA Summit Sportsman Spectacular Schedule Announced
Feb 15- New York Track Finds Value for Racers with IHRA Agreement
Feb 15- IHRA Summit Sportsman Spectacular Debut Only One Month Away Now is the Time to Pre-Enter
Feb 15- Summit Texas Location is a Racers' Paradise
Feb 15- Canadian Track Makes Large Commitment to IHRA Drag Racing
Jan 27- Mid-Michigan Destination Joins IHRA Family