Tue, 16 Apr 2013, 16:49 PM



Nitro Jam Makes it Triumphant Return to Bradenton Motorsports Park April 19-20



Courtesy of IHRA Communications



BRADENTON, Fla. --
After two memorable trips to Bradenton Motorsports Park in the late 90s, the International Hot Rod Association's Nitro Jam series didn't visit the state of Florida again until 2010 with two very successful trips to the southern end of the state. Now, 14 years later, Nitro Jam is finally back at Bradenton Motorsports Park with the first of two consecutive Florida events the weekend of April 19-21 with a show fans won't soon forget.
The 2013 Bradenton Nitro Jam presented by CarSafe, Southern Ford Dealers and Metro PCS will feature a thrilling lineup of must-see drag racing action spread over three days all during one of the most exciting Nitro Jam debuts in some time. Among the stars of the April 19-21 event will be the return of 320 mph Top Fuel Dragsters plus three additional flame-throwing, nitro-powered classes, the 30,000 horsepower Super Shockwave jet truck, fireworks, two full days of sportsman drag racing and the Bradenton debut of the drag racing Grave Digger monster truck.
"This is by far one of the most exciting events we have done in some time. The last time we were in Bradenton we had two memorable events and we are looking forward to our return with an exciting show fans will have to see to believe," said Aaron Polburn, President of IHRA Motorsports. "To see four nitro classes plus the biggest, meanest race machine on the planet in Grave Digger racing a jet truck, it will just be one of those nights that screams 'wow' when you see it in person. We are expecting a great event at a place known for its incredible fans."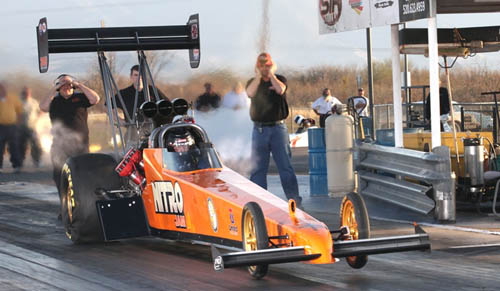 Top Fuel returns to Bradenton Motorsports Park
In the professional ranks fans will revel in the return of Top Fuel racing at Bradenton Motorsports Park as 2007 IHRA World Champion Bruce Litton battles newcomer Kyle Wurtzel in a showdown of side-by-side 8,000 horsepower machines traveling the quarter-mile at speeds in excess of 320 mph.
Joining the "Kings of the Sport" in Bradenton will be four of the most well-recognized Funny Cars in drag racing history in AMSOIL Prostalgia Nitro Funny Car. The world famous "Candies & Hughes" Barracuda Nitro Funny Car piloted by newcomer Mike Halstead will battle defending IHRA World Champion Peter Gallen in the "Poverty Stricken" Monza along with the famous "McAttack" and "Chi-Town Huster" machines.
Rounding out the nitro portion of the schedule are two of the most famous and out-of-control nostalgia Fuel Altereds in the world headed by defending Nitro Jam World Champion Kyle Hough in the "Nanook" machine and Ron Hope in "Rat Trap". Daredevil Jay Turner and the "big pig" Nitro Harley will also be in action in a battle of side-by-side 220 mph motorcylces.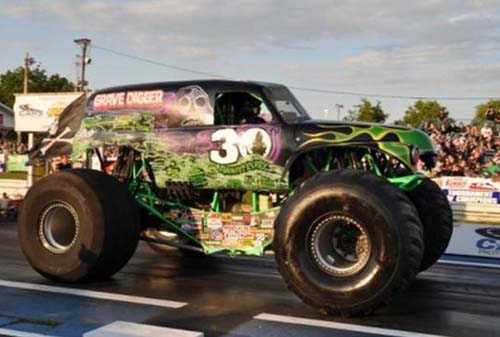 Grave Digger takes on the Florida quarter-mile April 19-20
The 30,000 horsepower Super Shockwave jet-powered truck will bring the evening to a close as the flame-throwing machines goes head-to-head with the most recognizable name in all of motorsports - Grave Digger.
Fireworks and an incredible pyrotechnics display will close the evening.
Sportsman racers will be in for a treat as this large-drawing event gives racers in Division 2 an opportunity to compete in front of packed stands full of eager race fans. The 2013 Bradenton Nitro Jam will feature a double Summit Racing Equipment Pro-Am Tour presented by AMSOIL weekend with points racing Saturday and Sunday and, new this season, a single round of qualifying Friday night.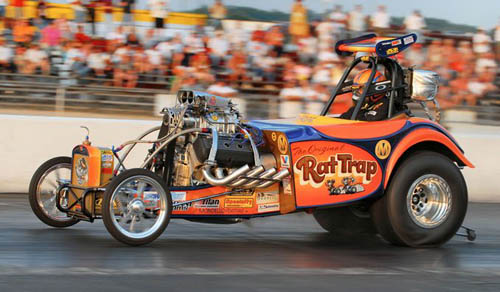 Don't miss the Bradenton Nitro Jam
The single round of qualifying on Friday will eliminate a time run on Saturday to accommodate the growing number or racers participating in this event and to ensure that the final rounds of Saturday's competition are finished in front of the full grandstands.
Tickets to the Bradenton Nitro Jam presented by CarSafe, Southern Ford Dealers and Metro PCS are $30 for adults and $10 for children. Adults can save $5 if they purchase their tickets in advance at www.nitrojam.com.
Showtime is scheduled for 7:30 p.m. with two rounds of Nitro Jam. Sportsman racing will take place throughout the day.
For more information on the 2013 Bradenton Nitro Jam visit www.ihra.com.




IHRA: 10 Most Recent Entries [ top ]

Mar 21- 2018 IHRA Summit Sportsman Spectacular Series on April 20-22
Feb 26- Weather-Related Construction Delays Postpone IHRA Xtreme Raceway Park Opener
Feb 16- IHRA Summit Sportsman Spectacular Schedule Announced
Feb 15- New York Track Finds Value for Racers with IHRA Agreement
Feb 15- IHRA Summit Sportsman Spectacular Debut Only One Month Away Now is the Time to Pre-Enter
Feb 15- Summit Texas Location is a Racers' Paradise
Feb 15- Canadian Track Makes Large Commitment to IHRA Drag Racing
Jan 27- Mid-Michigan Destination Joins IHRA Family
Jan 27- Mississippi Track Reaches Sanctioning Agreement
Jan 16- Michigan Track to Host IHRA Summit Sportsman Spectacular