Tue, 16 Apr 2013, 14:11 PM



Drag Racing and Cricket!



By Bob Frey


Photo copyright 2013 Auto Imagery, Inc.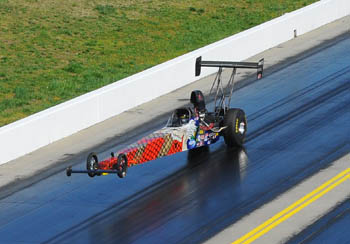 Manuj Rishi Kanick
Photo copyright 2013 Phil Hutchison
There are a lot of things that I have seen in my drag racing announcing career and a lot of very interesting people that I have met, but in all these years I have never met a driver who lists "cricket" as one of his favorite pastimes. But then I haven't met many drivers who have a certificate in Bible and Theology from the West Indies School of Theology, either. I mention this because
Manuj Rishi Kanick
(my spell check should have a field day with that) is on the entry list for the
4-Wide Nationals
this week and he will be making his national event debut in the Top Alcohol Dragster class. Mr. Kanick will be driving a car that is owned by
Anthony DiCero
and he'll be jumping right into the deep end this week. A quick glance at the entry list shows that the reigning
Lucas Oil World Champion, Jim Whiteley
, is coming to town and so is
Chris Demke
, the runner-up in Las Vegas as well as
Bill Reichert
the five-time NHRA World Champion along with some of the other top cars in the class. It should be fun and if it doesn't work out for Mr. Kanick there is always a good cricket match going on somewhere in North Carolina, isn't there?... I mean this when I say it, it's things like that I really miss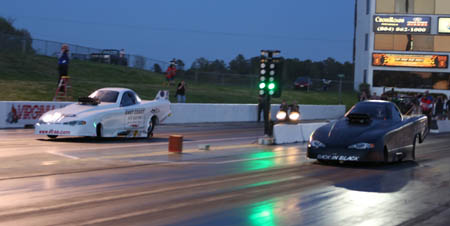 Dan Pomponio defeated John Anderika
Photo copyright 2013 David Smith Photos
this year. I would love to be doing the alky show on
ESPN
with a great field of cars and a new driver because that was always a lot of fun?.By the way, Rishi, as he is called, qualified for the Lucas Oil race in Virginia this past weekend and did a huge wheelstand in the first round where he lost to Dan Page.
Did you know
that he is the first driver from
Trinidad and Tobago
to ever qualify in the alky dragster class? Or any class for that matter. Ok, so I didn't actually check my records but I'm taking a wild stab on that one. I wish Mr. Kanick the best of luck this week and I hope the fans enjoy the alky cars as much as they do the ones in the
NHRA Mello Yello
categories?.Also at the D-1 race in Virginia this past weekend
Dan Pomponio
took home top honors in the Top Alcohol Funny Car class and qualified to be one of the Jegs Allstars in the process. Along with winning the Gatornationals Dan has checked a couple of things off his "to do" list this year and he finds himself in first place in the points. Nice job, Dan and have fun when you get to Chicago?.And
Joe Santangelo
joined the growing ranks of sportsman racers who have "doubled-up" at a divisional race when he won both Super Stock and Stock Eliminators at the Richmond race. Congratulations, Joe.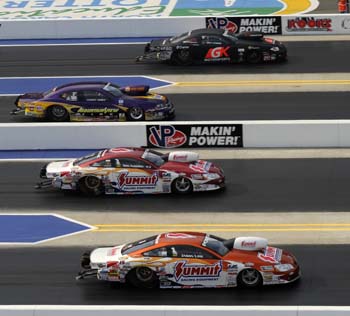 2012 Pro Stock final
Line, Anderson, Nobile and Enders
I used the word "wacky" last week when talking about the annual 4-Wide Nationals at zMax Dragway and I hope I didn't give you the wrong impression of my feelings for the event. As much as I am a purest when it comes to drag racing, and by that I mean that I like Top Fuel Dragsters, quarter-mile racing (sorry, but I do) and a really good Pro Stock show, I have to admit that I thoroughly enjoyed the 4-Wide race and I think the fans do, too. All you have to do is take a look at the stands at the track this weekend to see what I mean. While I am certainly not privy to the exact numbers from each race I honestly believe that the crowd at the 4-Wide race last year was one of the best of the entire season, and if they have good weather I expect it will be again this year?..Having said that there certainly have been a fair share of "wacky" moments at the race and I think they just go to add to the character of the event. Of course it's easy for me to say because I don't have to try to stage with three other drivers and I don't have to be aware of where the others are as we go down the track. Still, the sheer excitement of watching four cars, or in the case this year, four motorcycles, go down the track really is a thrilling sight to see. But let's get back to the "wacky" moments and I guess the Pro Stock Car class would be a good place to begin. Did you know that at last year's event two of the best drivers in the class were timed-out in the first round? Dave Connolly and Greg Stanfield were in the "pod" with Vincent Nobile and Shane Gray and neither Dave nor Greg staged their cars in time and both were disqualified. And then there was the incident in the final round of Pro Stock when the correct win light didn't come on and Erica Enders-Stevens' team thought that she had won. That was wacky and a little sad since I kept trying to announce that is was actually Greg Anderson who had won but that didn't stop Erica's team from celebrating?.Then there was Jason Line's red light in the final round which may have kept him from winning the race (we'll never know, will we?). Did you know that was one of only two fouls that Jason had all year long in 2012?...At the race in 2011 there were a couple of glitches and again most of them happened in Pro Stock. In the first round Rodger Brogdon and V. Gaines both fouled out while Shane Gray was timed-out?.And in 2010 there was that wacky incident between Robert Hight and Jeff Arend. Oh well, stuff happens, it just seems to happen more often at the 4-Wide race than at other events. Or maybe, just maybe, they are magnified because it is the only race of its kind on the schedule. Still, I love it?.Did you know that in the three years of this event Greg Anderson is the only racer in the Mello Yello classes to win it more than once? Three different drivers have won in Top Fuel and Funny Car, Greg has won it in each of the past two years and Mike Edwards took home top honors in Pro Stock at the inaugural race in 2010.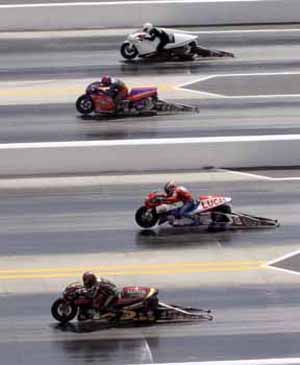 2010 Pro Stock Motorcycle final.
M. Smith, Arana, Phillips and Johnson
The Pro Stock Motorcycles make their return to the 4-Wide event and that is always entertaining. The bikes were part of the 4-Wide race in 2010 but not since then so it will be a new experience for a lot of them and a refresher course for the others. Did you know that of the sixteen riders who qualified at that 2010 event five of them were not part of the first bike race of this year in Gainesville? That's a big turnover in just three seasons, isn't it?...In 2010 the bikes had a couple of fouls, a "left before the tree" and one bike that broke on the track so it was, how can I put this, wacky for them the first time around. In the end it was Matt Smith winning in front of his home town crowd in North Carolina and I'm sure he would love to repeat that this week. Matt was the top qualifier in Gainesville this year and then lost to Chip Ellis in the first round, and when that happens the next race can't come soon enough for you. Did you know that Matt has been the top qualifier nineteen times in his career and has won seven times from the top spot? And did you know the last time he won after being number one was at the 4-Wide race in 2010?....When Matt won in 2010 his opponents in the final round were Hector Arana, Steve Johnson and Michael Phillips and all of them will be in attendance this week?.Staging the motorcycles is always an art form and doing so at the 4-Wide event is even tougher, I would assume. That's why the rider who is mentally tough this week will have an advantage, and by that I mean the one who takes care to understand the staging procedure, do it correctly and not give anything away on the starting line. It's easy for me to say because I don't have to do it, but believe me, there will be at least one and maybe more of the top rated riders who will lose on the starting line this week.
Bob Vandergriff
Photo copyright 2013 NHRA
All of the classes should be very competitive this week but before I go into that there are a few things from the last race I want to acknowledge. In the Top Fuel class Bob Vandergriff set top speed in Las Vegas and that is noteworthy for a couple of reasons. The first is the fact that it was only the second time that Bob has had the fastest car on the property. Did you know that the only other time he set top speed was thirteen years ago? At the Sonoma race in 2000 he recorded top speed and that is the only other time in his career that he has done that. Bob and his team should be encouraged by that fact because when you have the fastest car it means that you're making a lot of power so that next win can't be far off, can it? Of course now that I've said that I remember that Spencer Massey set top speed at eight consecutive races in the middle of the year last year and he only won one of them. Did you know that streak was the best in Top Fuel since Gary Ormsby set top speed at eight in a row in 1990? And for the record Gary won three of those races. There was a time in our sport when setting top speed, or "top time" as it was referred to back then, was the best thing you could do at a race. I still think, and always will, that you should get points for setting the speed record just like you do for setting an elapsed time mark, but then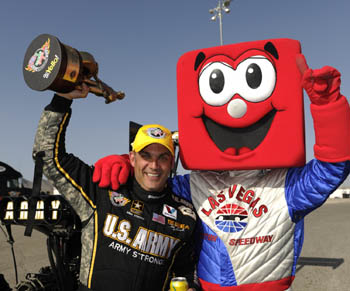 Schumacher celebrates win in Las Vegas.
Photo copyright 2013 David Allio, LVMS
maybe those days have passed us by?.Just for fun
did you know
that among the other drivers, besides Bob, with two top speeds to their credit are
Carl Olson
,
Whit Bazemore
and
Bob Struksnes
?....Still in the dragster area
Tony Schumacher's
final round in Las Vegas was the 122
nd
of his career and that ties him with
Bob Glidden
for fifth place on the all-time list?
Did you know
there was another racer who won in Las Vegas who has also been to 122 final rounds?
Dan Fletcher
, the Super Stock winner, joined Tony and Bob with 122 final round appearances, and for the record Bob won eighty-five of his final rounds, Tony has won seventy-one and Dan has won eighty-one?..Also at the last race when
Tony Bartone
made it to the final round
did you know
that was five finals for Tony in his last six national events?
Shane Westerfield
also made it to the final round where he lost to Tony.
Did you know
that Shane has been to three national event final rounds in his career and he has lost all of them to Tony?....And
John Force
qualified for the show in Las Vegas and that ran his consecutive qualifying streak to 101 races.
Did you know
the last time John failed to make the show was at the Charlotte event in 2008? Of course John also had that massive streak of 395 in a row that ended in Las Vegas in 2007. To show you how good that current streak is
did you know
that the second longest active qualifying streak in the Funny Car class belongs to
Robert Hight
who has made the show at fifty consecutive events?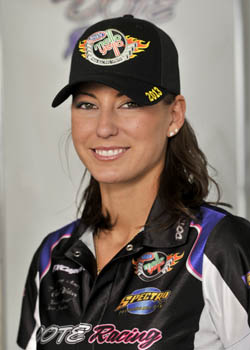 Leah Pruett
Photo copyright 2013 NHRA
Leah PruettSidnei Frigo and Brittany Force will all make their first starts at a 4-Wide event and that should be an eye-opener for the three of them. Any time you are going up to the starting line at the 4-Wide event is special but when you're doing it for the first time it can be down right scary. I suggest the three of them spend the first part of the day on Friday watching the Pro Stock Motorcycles, Pro Stock Cars and then the Funny Cars and see how they approach the staging and starting process. As important as that is during qualifying you don't want to end up in the "wacky" column on Sunday, do you?....It's way to early to talk about "Rookie of the Year" stuff, and most people would agree that Brittany came into the year as the odds-on favorite to win it, but Leah and Sidnei could throw their helmets into the ring with a couple of round wins over the next few weeks. There are four races scheduled over the next five weeks and it looks like Leah is entered in a couple of those races. If she were able to win a round or two at those maybe the Dote family would consider going to more events to make a run at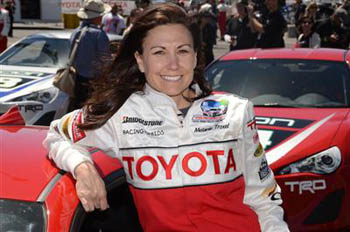 Melanie Troxel at the
Toyota Celebrity Grand Prix.
that rookie award. She certainly has the tools to be a good dragster driver and is always a welcome addition to the field?..
Melanie Troxel
was in the news this week but not on the drag strip. Melanie was selected to be part of the
Toyota Celebrity Grand Prix
in Long Beach this coming weekend. While I am sure she would rather be at the 4-Wide race in a Top Fuel Dragster or a Funny Car I hope she enjoys herself going around in circles (or whatever they go around at that race), makes some contacts and gets a sponsor so she can become part of the drag racing scene again real soon?.After skipping the Las Vegas race
Larry Dixon
and his team are back in action this week.
Did you know
that Larry competed at two of the 4-Wide races and qualified second and third at those events? I hope the ESPN folks show the footage of Larry's wacky incident when he and the team raced in Australia. It really is pretty amazing and just another thing to add to the r?sum? of one of the sport's best drivers and top personalities??Speaking of adding to their r?sum?,
did you know
that Tony Schumacher has won at twenty-five different events during his career but he has not won at the 4-Wide race.
Finally, it's always difficult to report on the death of a racer, especially when the death is the result of an accident on the track. Super Gas racer Derek Sanchez succumbed to injuries that he sustained in a crash at Las Vegas last week. As always, in cases like this, the drag racing community mourns the loss of one of its own, but at the same time comes together to help the surviving family members. The Drag Racers Benevolent Fund is taking donations for Derek's family and there are several ways you can help. To donate via PayPal send money to  raclown2@yahoo.com (please note for Derek Sanchez). PayPal takes credit cards or debit cards and it is very easy and simple to do.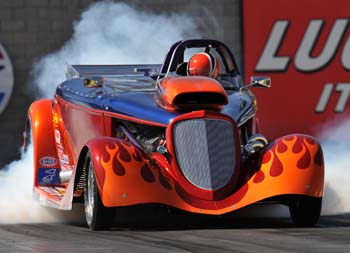 Derek Sanchez
If you would like to donate by phone just call
Tammy
at 972-937-4336 (
Ellis County Auto
). Or if you would like to donate by mail you can make you check payable to "The Drag Racers Benevolent Fund in Care of Derek Sanchez" and send to 3643 N Hwy. 77 Waxahachie, Texas 75165. If you would like more information on how you can help the family please contact
Craig Anderson
at
raclown@aol.com




NHRA: 10 Most Recent Entries [ top ]

Apr 24- CHARLOTTE 1 - Steve Torrence Enjoying Four-Wide Success Heading to NGK Spark Plugs NHRA Four-Wide Nationals
Apr 24- CHARLOTTE 1 - Fact Sheet
Apr 24- Kalitta Motorsports Welcomes NASCAR Stars to the SealMaster Track Walk in Charlotte
Apr 24- zMAX Dragway Celebrates 10th Anniversary
Apr 24- CHARLOTTE 1 - NGK Spark Plugs NHRA Four-Wide Nationals Brings 40,000 Horsepower Thrill Show to zMAX Dragway
Apr 23- HOUSTON - Lucas Oil Drag Racing Series Wrap Up The NHRA Lucas Oil Drag Racing Series Wrap Up
Apr 23- CHARLOTTE 1 - J.R. Todd Aiming for Two Four-Wide Racing Wins in 2018
Apr 23- Mid America Dragway Joins NHRA Member Track Network
Apr 23- HOUSTON - Special Awards
Apr 23- HOUSTON - Sunday Video