Fri, 12 Apr 2013, 09:29 AM



K&N Spring Fling Vegas Results Day 1



Courtesy of John DiBartolomeo



LAS VEGAS --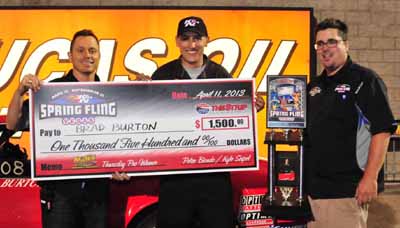 Brad Burton wins Day One Pro.
Unusually cloudy skies greeted racers on the first day, Baldwin Racing Thursday, of the K&N Spring Fling Vegas. With $3,000 for the winner of Super Pro and $1,500 up for grabs in Pro, over 375 racers came through the gate at The Strip at Las Vegas Motor Speedway. While further south on the infamous Las Vegas Strip people were running the tables at the casinos, these racers were gambling with a real chance to win money.
The semifinals of the Pro category had two NHRA national champions, Stock champ Brad Burton and e.t. Pro class national champion Seth Polvadoer, both out to prove their worthiness. And then there was the other semifinalist, John Victorino driving his "shopping cart", a 1973 chop top Datsun. Victorino was sharp all day with numerous double-0 lights but an .038 reaction time did him in against Burton's .029. Both drivers were under the dial but the win light still shined in Burton's lane while Polvadoer soloed for his bye run.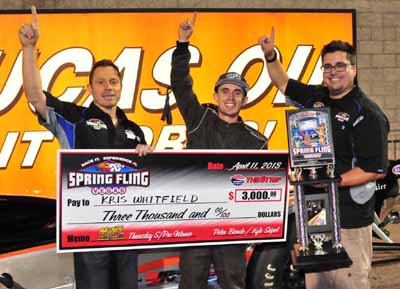 Kris Whitfield wins Day One Super Pro.
The final turned ugly with Polvadoer's .046 reaction time to Burton's .033. At the finish line, Burton tightened up the stripe with a .0224 over the dial for the win over Polvadoer's .0212 over his dial. Burton said afterward, "I've followed all the big money races that are on the east coast and it's nice to have one here."
In the semifinals of Super Pro, Moe Trujillo squared off with Kris Whitfield and his Super Gas roadster, while Dustin Hentges soloed with the bye. Whitfield's roadster was having battery problems but it was enough to get by Trujillo.
And with a .004-second package in the final, Hentges didn't have a chance against Whitfield. And some 16 hours after it all began, the very first K&N Spring Fling Vegas Super Pro crown went to the man from Littleton, Colorado. "We were having problems all day," said Whitfield, "but I got great bunch of guys who helped and to have a .004 package in the final is unbelievable."
Day 2 of the K&N Spring Fling Vegas, Carrier Friday will start all over again with $10,000 to the winner of Super Pro and $5,000 to Pro. Follow all the action live as it happens at www.bracketraces.com/live.




Drag News: 10 Most Recent Entries [ top ]

Apr 22- K&N Spring Fling Million Final Day Results
Apr 21- K&N Spring Fling Million Friday Results
Apr 20- K&N Spring Fling Million– Thursday Results
Apr 19- K&N Spring Fling Million- Wednesday Results
Apr 18- Buckeye S/SS @ National Trail April 28th
Apr 18- Don "the Snake" Prudhomme Returns To Baja Competition After 50 Years
Apr 18- K&N Spring Fling Million Tuesday Results
Apr 17- K&N Spring Fling Million Pre-Race
Apr 12- Summit Racing Equipment is Newest Sponsor of Midwest Junior Super Series
Apr 12- Summit Racing Named Official MWPMS Sponsor and Event Title Rights Holder