Fri, 29 Mar 2013, 10:15 AM



Welcome To The Hall



By Bob Frey


Photo copyright 2013 Auto Imagery, Inc.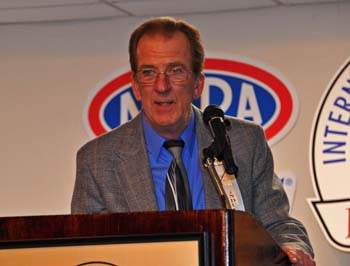 Dave Boertman
I have been very fortunate over the course of my involvement with drag racing to be able to have seen most of the great stars of the sport. Certainly not all, but most. I told someone the other day that I have been actively involved since the days of Bob Muravez to Robert Hight, from John Mulligan to John Force, from Jack Chrisman to Jack Beckman and from Don Garlits to Don Schumacher. Ok, so Mr. Schumacher could be included in both the early and latter days of the sport but you get the idea. But before I got to watch them race and before I got to know any of those great stars personally I was a fan watching local cars go down the track at Atco Dragway in New Jersey, and it was watching them that made me fall in love with the sport. You often hear the phrase that the sportsman racers are the "backbone of the sport" and that's true, and for every Bob Muravez, Robert Hight or even Don Garlits there are hundreds, maybe thousands of sportsman racers competing for the sheer love of the sport. I have always enjoyed watching the "little guys" race, whether it's at a national event or on one of my many trips to the area tracks around the country, and that's why I'm happy that some of those racers are finally getting recognized for their accomplishments. Three years ago sportsman legend Bobby Warren was inducted into the International Drag Racing Hall of Fame and just this year another one of the truly great sportsman racers joined him. Dave Boertman was as good as they came in the sportsman ranks and it's great to see him be a part of the class of 2013 at the Hall of Fame. Dave said "I have to tell you that I was stunned and amazed when I got the letter from Don that I had been inducted. I never thought that a sportsman racer could be honored like that, and then when I saw Bobby got inducted a few years ago I thought maybe there's hope for me."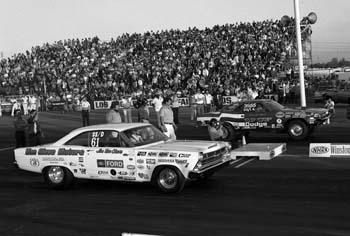 Dave Boertman (far lane) against
Jim Van Cleve Jr. in the '77 Winternationals.
There are a lot of really good sportsman racers today and Dave Boertman certainly admires them for what they have done. He raced in an era when you only had a handful of races a year and yet he still managed to win sixteen NHRA national events, sixteen IHRA national events and five NHRA World Championships. He also won an IHRA world title, five Division 3 championships, five Car Craft Magazine Driver of the Year awards, a Driver of the Year award from Division 3 and another from IHRA along with a Person of the Year award from D-3, and with a resume like that it's easy to see why he was inducted with the class of 2013 into the Hall of Fame. "I had a lot of fun and worked hard and I wouldn't have done it any differently," he said. "It was a fun ride."
That ride started innocently enough when a friend of Dave's talked him into going to a drag strip in his home state of Michigan. "We went a couple of times one year and I was hooked and the very next year was when I began racing." That would have been in 1963 when Dave's very familiar 1959 Chevrolet hit the drag strips of America. "It had a little 283 cubic inch engine with a two-barrel carburetor that was rated at 185 horsepower," he said. "And it had a four-speed transmission and that was a fun car to drive." That '59 Chevy was the car that first propelled Dave to national prominence. "In 1967 we earned enough points to go to the World Finals but we just weren't quick enough to make the field. Remember, they had the seven division champions who automatically got in the eliminator finals and then there were nine other spots open to the quickest qualifiers." In 1968, after that initial disappointment, Dave teamed up with a friend, Tom Elk, to build a quicker car, another '59 Chevy, and this time when they went to Oklahoma they qualified and won the race. With his Chevy called the "Budget Breaker" Dave met Bill Izykowski in the finals and took home the trophy. "I remember going through the traps and yelling 'I won, I won.' And when I got back to the scales (Division Director) Bob Daniels came up and patted me on the back and said congratulations. I remember saying to him I can't believe it, I'm just a Joe nobody from nowhere USA and I'm the World Champion" and he said, "Well, you're somebody now." That was so cool.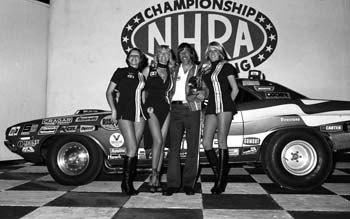 Boertman celebrates '77 Winternationals win.
After Dave's early success as World Champion in '68 and after winning the Division 3 Stock Eliminator championship in 1969 & 1970, along with national event wins at York, Pennsylvania and Indy, he caught the attention of Gil Kirk who owned "The Rod Shop" who was putting together a "Super Team" to go racing with the Dodge Division of Chrysler Corporation. "I had never met him before but he called me up and said he had a great deal for me and that we should talk. I went to his place in Columbus, Ohio and we struck a deal. We went right over to Northland Dodge and bought a brand new 1971 Dodge Coronet station wagon." That was early in 1971 and two weeks later Dave had a car ready to go to California. Dave said "I'll never forget that Carl, one of the employees for Gil Kirk, told me that I was crazy if I thought I could win with a car that I had for only two weeks. 'You don't have a chance,' he told me, 'you can't win.'" To that Dave responded, "I told him that he didn't have a chance because he wasn't going to the race, but I did because I was going." That rather simple philosophy proved to be true since he did win the Winternationals with a car that still had that new car smell. When he returned home Dave found Carl and said, "See, I told you so, you have to go to the race in order to be able to win the race. Carl just looked at me and said, 'Boertman, you're unbelievable.'" It was that kind of thinking that made Dave so tough to beat. "I always thought I could win every time I went to the track." And he did, most of the time, including three wins in that 1971 season in five trips to the final round at the national events. "I had a great year, and if you don't count that race that I gave to my wife (the finals in Englishtown) I really did win more than I lost that year." That dream season included seven wins at the NHRA points' races out of the eight events that he attended. "I lost that eighth race because I broke a rear end," he said almost apologetically.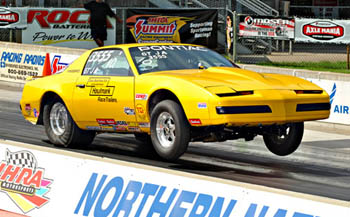 Boertman at Martin in 2010.
Photo copyright BME Photography/Chris Simmons
While Dave was always optimistic about his chances he does recall one particular race where he thought he was in big trouble. "I remember one time when I was racing Don Bowles in the final at Indy in '76. He had a very fast car and I had to spot him and I didn't think I could beat him. He was a tenth of a second faster if we ran heads-up and on this run I had to spot him a tenth of a second. Remember, in '76 the final run was no breakout." Like all great racers Dave rose to the challenge, had a great start and held on for the win. "I kept waiting for him to come by me, but I had such a great reaction time that he never did catch up." After the race Don came over and Dave said he asked him why his car was leaning over. "Don looked down and saw that he had a flat tire and said that if it weren't for that he would have beaten me. I responded by saying that I chopped the tree down so hard that he ran over the glass and that's why he got the flat tire. He didn't think that was very funny." Go figure!
After a nice seven-year run with the Rod Shop Dave decided to step back and concentrate on other things and he quit racing. But, like all great racers, he couldn't stay away for very long. "I went seven years without ever going to the track," he said. "And then Gil called again in 1985 and said he had another offer and so I went back." Now driving a Pontiac Trans Am it resulted in three more very good years for Dave and three very tough years for the competition.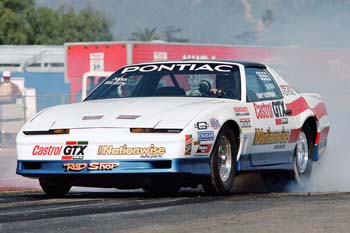 Boertman at the 1985 Winternartionals.
While most sportsman racers often think about moving up in class Dave never really did. "One of the Rod Shop cars I had was a 426-max wedge car that was very fast. I never felt really comfortable in it and that's when I knew that I was happy right where I was." When you consider the fact that he won his first World Championship with a P/S car, not exactly the fastest in the world, it's easy to see why some of those faster cars may have seemed like a real handful. Still, regardless of what car he drove, what make or model it was and what kind of transmission it had there was one constant, Dave Boertman was a winner.
Today Dave picks and chooses his races and he goes to the track about four or five times a year. "All that electronic stuff really took away a lot of the advantage that I had," he said. "It always seemed like when the competition was really good I rose to the occasion. I enjoy racing today but I enjoy it on my terms, but like I said, I had a good ride and to make it into the Hall of Fame really is the highlight of my career." When you have accomplished everything that he has in his career that's saying a lot. Take it from me, a guy who has been fortunate enough to see a lot of the great sportsman racers in the past forty-five years, there weren't many better than this newest member of the Drag Racing Hall of Fame, Dave Boertman.




NHRA: 10 Most Recent Entries [ top ]

Apr 22- HOUSTON - Sunday Pro Mod Wrap Up